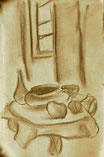 The weather is at its best in Provence now, and the last thing I want to do is to think about hot meals for cold nights.  As much as I love gathering around the fire to warm stay warm with chestnut soup, fresh hearty bread and butter, it's time to prepare the walnut wine that accompanies this great winter meal.
It's time to pick 30 green walnuts from their tree in mid-June.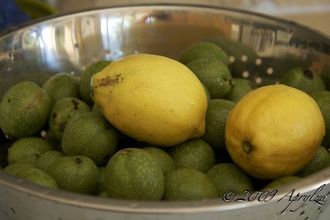 Wear rubber gloves to quarter them with a sharp knife if you want to avoid stained hands.  Pack in a 3 liter capacity glass jar with: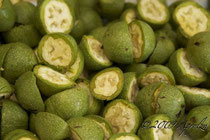 1 ½ liter (1 ½ quart) 190 proof alcohol
750 g (3 C) sugar
10 whole cloves
½ t ground cinnamon
½ liter (2 C) water
sliced rind of an unsprayed lemon
Let steep in a dark cupboard for 40 days, agitating it every other day.
Taste; dilute with fresh water if it's too strong.  Strain and bottle.
Age for 6 months in wine cellar, and then serve it with chestnut soup.
This recipe comes from Kyle Phillips' About Italian Cooking website.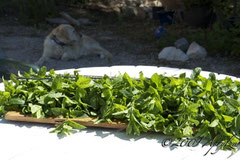 While you're out in the garden, it's time to start harvesting the mint crop.
Cut it, wash it, remove creepy crawling things, and shake off as much water as possible.
Spread it on a wire rack, and be sure to keep it from blowing away.
Let the sunshine do its wonderful work, or dry in a low oven (50°-80°C) until crispy but not brown.
I follow the sun!
by
AprylZA
Create
kitchen aprons
at zazzle.com