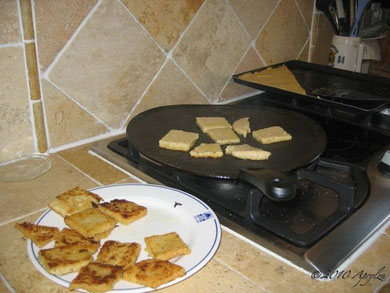 This is Formule 342. Bouillie a la Farine de Maïs ou de Pois Chiches (Called Brigadèu or Panissoin Provençale) from J B Reboul's famous cookbook, la Cuisinière Provençale:
Here is the typical country cuisine, quite similar to polenta of the Italian Piedmont region, in which we present a documentary for the sake of introduction to the amateurs.
Le Brigadèu, in Provençale, is a rather thick dumpling consisting of finely-ground corn or chickpea (depending on taste preference), and la Panissois the same dumpling chilled and shaped into flat, small bowls, etc., then fried in oil as usual. Lacking a mold, it's prepared by spreading the mass flat on a plate or baking sheet, and then cutting into small diamonds, rectangles, or other shapes.
Preparation of the batter:
Combine in cooking pot:
 1 l (4 C) water           
2 T olive oil
1 t sea salt
generous amount of freshly ground black pepper
Bring to a boil, and then remove the pan from heat.
Using a wooden spoon, gradually whisk in:
 200 g corn meal or chickpea flour
Stir vigorously for a smooth, lump-free mixture. We've seen the good old girls use a stick of bay in place of the wooden spoon, according to tradition.
When the flour is well mixed, return the pot to the stove, and simmer gently, stirring constantly, for 15-20 minutes, until sufficiently cooked.
If this is to be used for dumplings, it can be a bit lighter, but if it will be made into panisso, it must be thicker. If necessary, work in an additional 50 g (about 1/4 C.) corn or chickpea flour. The porridge is served as is.
Les Panisses: the dumplings are prepared as above, spread into their small flat molds, or shape tartelettes; let chill.
Turn out from their molds, and then to finish cooking, plunge them into boiling fryer oil until they color, about 2 minutes. Take them out when they are crisp and golden. It goes without saying that the oil may be replaced with butter, or lard, or any other fryer fat.
For an additional modification, it is permissible to add a little grated cheese to the batter at the last moment before shaping and cooling.
 Also, you may choose to spread the thick batter very thin on a greased baking sheet, using well-greased hands. Bake or grill until crisp and golden, about 20 minutes. Cut into individual slices--I use the kitchen scissors.
Perfect with cool drinks, olives, and Provençal warmth.
the Mediterranean Chef
by
AprylZA
Design a
kitchen apron
with zazzle