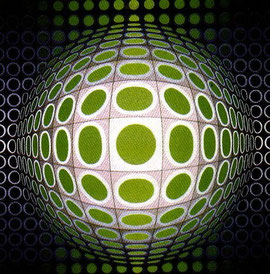 …So claims the English language brochure, although I don't suppose I believed it. Why else would I have waited 10 years to visit? Because I had no idea how fascinating this stack of dominoes could be! The drab exterior belies the energetic works that fill the place. The photos can't do justice to the honestly exceptional experience of being surrounded by towering walls of form, visual movement and color.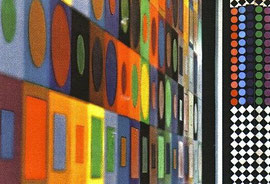 Victor Vasarely was born in Pécs, Hungary, in 1906, eventually reaching the age of higher learning. He abandoned his medical studies to enter the academy of painting, retaining a well-established foundation of scientific method and discipline. Afterwards, acquiring an education in the graphic and industrial arts in the studio of Alexandre Bortnyik, a figurehead of the Bauhaus School of Budapest. This minimalist approach, with a prominent use of pure geometric line, prepared Vasarely for a successful advertising career in Paris by 1930, where he developed tendencies of constructivism and discovered abstract art by 1946. By this point, he had abandoned the decorative arts in order to concentrate entirely on painting, exploring the natural world, and the artistic transformation of materials.
1954-1960, l'experiénce cinétique, the feeling of movement on a flat surface created by optical effect. Vasarely is now named "the father of Op Art."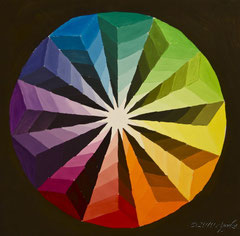 1960-1964, l'unité plastique, the juxtaposition of contrasting color composed of two forms (square, circle, oval, or elliptical) placed inside other forms creates nuances. This period is called Folklore Plantétaire. Vasarely created an alphabet of 30 forms of progressive size, with 30 colors, giving an unlimited combination of possibilities. His ‹‹Vegas›› tapestries are inspired by the planets, constellations and cosmic space; and the light colors advance while the darks recede so that Aubusson & la Savonnerie des Gobelins dance on the walls.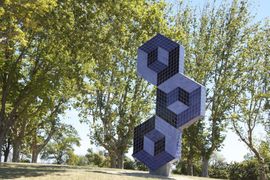 1964-1971, homage à l'hexagone, based on cellular structure. "Impossible structures" Juxtaposed forms of color create a perception of depth and relief that play in constant transformation. The eye is confused just enough to be caught in the indecision of two hypothetical perspectives. Vasarely was fascinated with the Kepler cube: a simple system of definitive construction; two equilateral triangles joined to form an equilateral losange. The assembly of three losanges makes a cube of centered perspective based on a hexagonal contour. It's a visual enigma.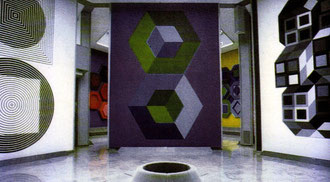 I like the way the grand hall on the main floor is a series of 16 hexagons—called ‹‹Alveole››--connected and separated from one another by narrow openings. It's enough to expose the next set of 6 without distracting from the room you're in at the moment. There are 7 display rooms, featuring 42 works, up to 5 metres by 8 metres.
Vasarely's mission statement was that art is intended to change lives, and he wanted to give a look. He used geometry, associated forms and colors, and created an illusion of space, volume and movement in order to combat visual nuisance and create a polychrome place of goodness.
His son, Jean-Pierre Vasarely, called Yvaral (1934-2002), followed his father's footsteps, continuing the development of art regulated by number, ‹‹Art Numerique››. A few of his works are on the 1st floor, currently in a state of remodeling.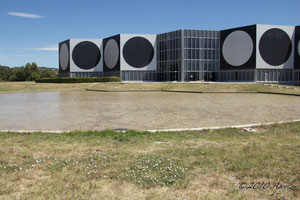 Vasarely's wish in 1966 was not to found a museum, but a veritable laboratory of ideas. Ten years on, he created his foundation in Aix, ‹‹le centre architectonique›› with the assistance of the chief architect of historic monuments adjunct inspector general, Jean Sonnier, and the architect of the school of fine arts in Aix, Claude Pradel-Lebar. The building materials consist of those popular in the 1970s: glass, aluminum and Carrera marble.
These walls really must be experienced! Photos or video can't do it justice. The works seem extremely dated, and the building is slightly depressing. She's like a retired film star who's "still got it," but the public doesn't want it. This is a bad mistake, because she has so many fascinating revelations to share with the next generation, especially with our current fascination of the visual. Anyone who's looking to create the next viral YouTube moment would be wise to take some time in this quiet place to find out what's going on inside.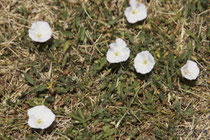 Studio workshops and special exhibitions are offered by the foundation. Check their website or join their facebook group.
Open Tuesday through Sunday, 10-13h & 14h-18h; closed Mondays, open holidays.
Adult entry €9; reduced €6; children €4
Groups of 10 or more €6/pers.
Guided student groups €30; adults €60
Fondation Vasarely
1 ave Marcel Pagnol
13090 Aix-en-Provence
tel 0442 20 01 09
http://www.fondationvasarely.org