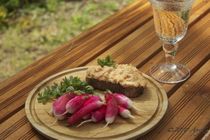 I realized in June, that we are now residents of Aix-en-Provence for 10 years.  How did that happen?  What seems even more impossible, so thoroughly impossible, that I didn't stop to think about it:  is that Tim accepted his assignment in Munich in June, 1990.  It took a nice, refreshing brotzeit--goûté--snack of Obatzda to realize the significance of this event.
To mark this historic occasion, I offer you the recipe:
…to the creamy cheese spread, not how to become a cultural enigma.  That only comes with practice.
Obatzda
Mash well:
250 g (8 oz) very ripe Camembert
125 g (4 oz) cream cheese
3 T butter
Stir in:
1 grated or finely-chopped raw onion
1-2 t paprika
1/2 t caraway or cumin seed
1/4 t ground black pepper
2-3 T beer (I used Porto this time, and I LIKED it!)
It tastes even better the next day, and I suppose you could keep it, chilled, for up to a week, but ours never lasts that long.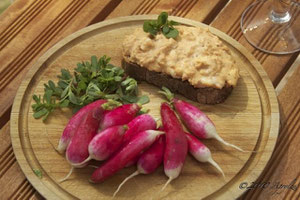 Serve it with radishes, pretzels & beer.
…or on pain de campagne with purslane and chilled wine.
You don't know about purslane?  It's usually considered a garden weed, but stop and look again!  It's cool and refreshing, with a taste slightly of a peppery cucumber, and it's loaded with vitamins.  I'll blog about this as soon as I have a fresh ball of mozzarella for my ripe garden tomatoes.
Meanwhile, I'm celebrating summer with more AIXplorations on my scooter, writing, painting, and keeping cool in the pool.  Life is good!
la Fontaine de Vaucluse
by
AprylZA
Shop the other
art
at zazzle