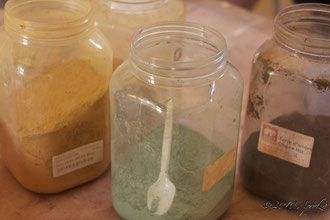 I took a wonderfully scenic early scooter ride toward the Luberon this morning for a 2-hr class on natural painting media. Conservatoire des ocres & de la couleur is located in the usine Mathieu, a former pigment manufacturer just outside of Rousillon in the Vaucluse.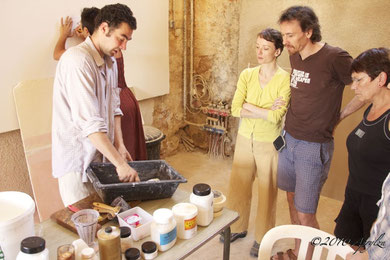 As an artist, I have an interest in pre-industrial materials, and this was my purpose for attending. Others came for education about home renovation, and another party passed their time while the children were in a hands-on painting class. (I had the pleasure of seeing their work. My loud complaint about French studio workshops is that they rarely allow anyone over age 12 to participate. This is most unfortunate.)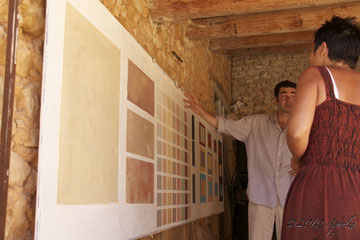 I won't disclose the Alchemist's secrets here. Recipes are readily available. What was most valuable for me was to experience the traditional methods firsthand, and I recommend the same. These natural materials have been used by artisans—skilled craftsmen—for generations. They have learned how to use stone to decorate stone. This becomes a living, breathing statement for those who follow. I love that!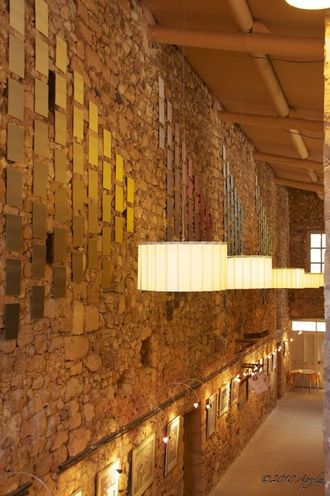 It was mentioned that the application of ‹‹Chaux aérienne››, chalk or lime, dries and becomes part of the stone surface, allowing the rock walls to release their humidity with the changing seasons. Rocks really do breathe! So, as I pass through this region, and start singing for joy at the beauty, and am shushed in the hallowed halls of Sénanque, it's my consolation that if I somehow manage to remain silent, even the rocks will cry out.
Let them speak!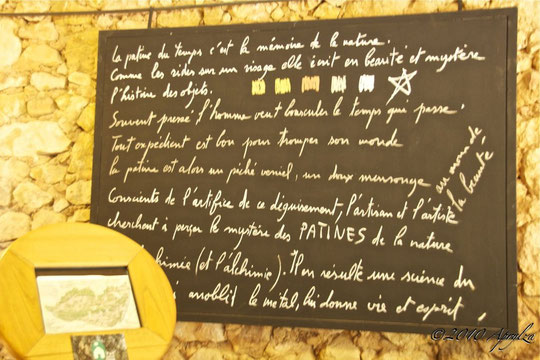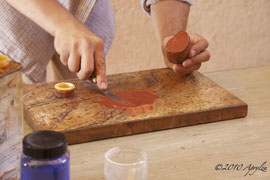 Blending natural Rousillon red pigment with linseed oil and turpentine for a beautiful oil paint.
That's not a potato in his hand--it's a smooth stone that's used as a pestle.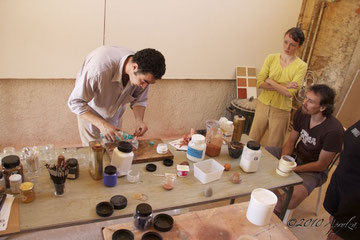 Cassin paint is a blend of non-fat fromage blanc and lime.  The chemical reaction creates an amonia, pigment is added, and the paint is a long-lasting finish for outdoor wood (shutters, for example.)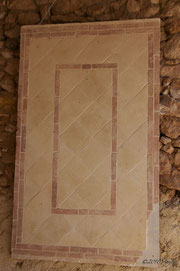 This is not stone tile, but painted stucco!
It's a variation on the traditional fresco…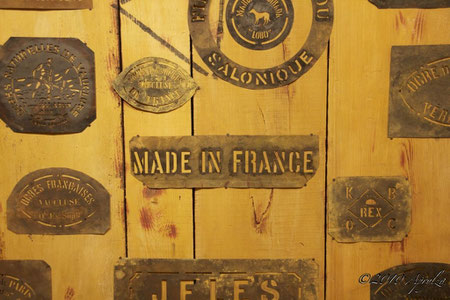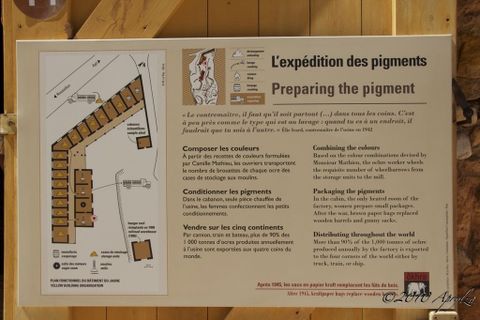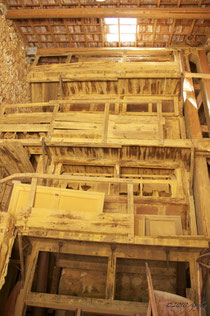 Initiation aux peintures naturelles is offered in French every Tuesday & Thursday from 10-noon; €17 by reservation. A wide range of classes is available, some even in English. Be sure to check their website, or phone for information.
conservatoire des ocres et de la couleur
usine Mathieu 84220 Roussillon
0490 05 66 69
open daily from February through November 9h-13h & 14h-18h
Phone for open hours during December and January.