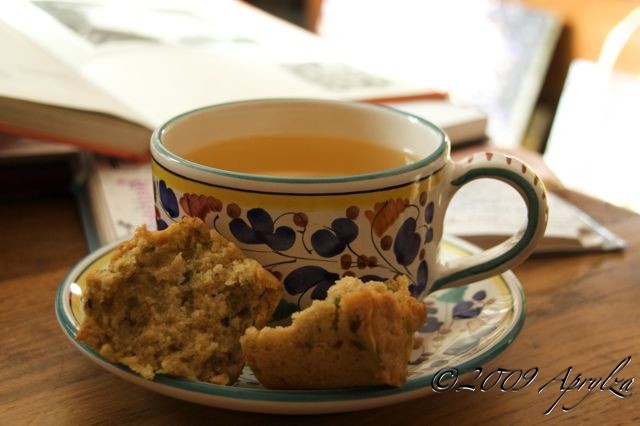 I love zucchini, I really do!  It's so versatile in all its stages of raw to over cooked. Sadly, my daughters protest when the summer squash makes its daily appearance.  These freeze well, so it's a nice way to remember the garden delights of summer in the dead of winter.  Viola, the best of both worlds:  I can have my zucchini and eat it, too.
Classic Zucchini Bread
Shred 3-4 fresh zucchini, about 500g (1 lb)
Sprinkle with 1 t salt
Let stand for 5 minutes, while you assemble the other ingredients.
In a large bowl, combine:
375 g (3 C) flour
½ T baking powder (that's 1 + ½ teaspoons)
1 t ground cinnamon
½ t grated nutmeg
In a smaller bowl, blend:
200 g (1 C) sugar
3 eggs
250 g (1 C) soft butter or cooking oil
2 t vanilla
grated lemon zest
Squeeze water from the shredded zucchini; add to wet ingredients.
Stir wet ingredients into dry, and mix well without over beating.
If desired, add:
1 C chopped nuts
½ C dried fruit
¼ C poppy seeds
Pour into 2 greased and floured loaf pans, or spoon into muffin cups.
Bake 180°C (350°F) until springy and golden, about 50 minutes for loaves, and 25 minutes for medium-sized muffins.
Let cool for about 5 minutes before removing from pans.
I follow the sun!
by
AprylZA
Make your own
apron
on zazzle
I'd rather be 40 than pregnant greeting cards
by
AprylZA
Create card
designs on Zazzle