How often do you make a visit to the public sites in your region? In most cases, we need to make an assertive commitment to get out there and see what's right beside us. I'll admit that I had to create a rendez-vous in my own agenda for ‹‹le jardin des 5 sens et Formes Premières››, and I'm so glad that I did!
The senses are celebrated here, with a visual feast for the eyes; treats for the ears with birdsong, cicadas, wind and wind chimes; collections of native and Mediterranean plants to touch, taste and smell. In addition, there are themed areas of color and shape, the sacred and the profane, and falling water, to name a few.
Monsieur Jean-Jacques Santiveri's winding three-hectare park invites artists to display here, and the work of Helene Barbe and Francis de Hita are currently installed on the grounds.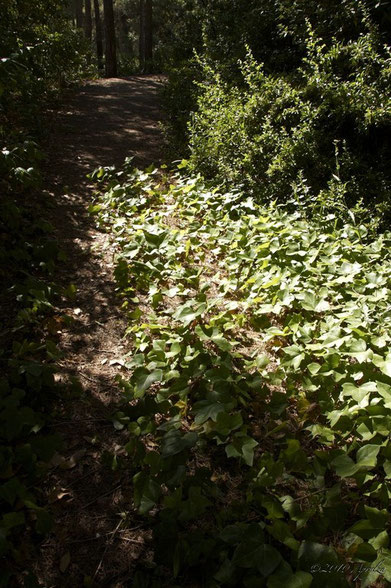 le jardin des 5 sens
220 chemin de Repentance à la forêt
13100 St Marc Jaumegarde
tel/fax 0442 24 95 11
email cinqsensaintmarc@yahoo.fr
Open 2-7pm
1 June through 1 July
and 15 September through 1 October: Saturday-Sunday-Monday
1 July through 15 September: daily, except Wednesday
Entry (over 12 years) €6
Reduced rates for your 2nd visit, students, military, out-of-work, over 65, and groups of 10 or more: €4