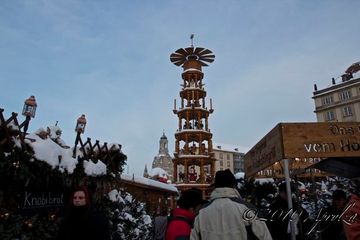 Temperatures have dipped and winter has come upon us in full force! How's a body to keep warm these days?
It seems that the old ways are often the best ways, and so we chase the chill in a celebratory toast to the worst that the season has to offer. Let it snow, let it snow, let it snow!
In Germany, they're thawing at the Kristkindlmarkts with Glühwein; in frozen France, it's vin chaud; the British yuletide carols are being sung by the fire with a round of hot mulled wine; and IKEA brings us grogg from the north countries.
The Anderson kitchen is heating up with my Bavarian recipe…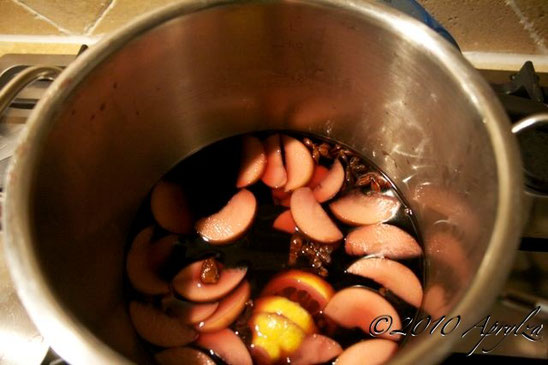 Glühwein
 (makes 1 liter=about 1 quart) that's ±8 servings
Heat to a gentle boil in 1 litre (4C) saucepan:
         250 ml (1 C) water        
         125 g ( ½ C) sugar
Lower heat, and stir in:
         750 ml (1 bottle or 3 C) red wine
         1 stick cinnamon
         3 whole cloves
         1 orange peel
optional:
         sliced fruits (apple, kumquats, grapes, etc)
         2 T brandy or fruit liqueur
Heat without boiling. Keep it warm on the back burner while you're out Christmas caroling or shoveling the path.
A group of us went caroling around our neighborhood in Aix one Christmas. It was great fun. It had even snowed that year, and so there were still patches of ice to surprise the unwary. Our neighbors didn't quite know what to make of us. Some came outside to watch, others hid behind their curtains. What a welcoming scent greeted us upon our return!
For those of you Down Under, celebrating Christmas by the barbie, I offer you Spanish Sangria: Prepare the sugar syrup, add the remaining ingredients, and then serve chilled with sliced fruit.
Deck your halls with an original oil painting this year!
"Still Life with Jug and Apple" by Apryl Zarfos Anderson
24cm high x 36 cm wide (13 x 9 ½ inches), packing and insured postage included
Available
Delivery Time: 3-5 days1
Also available as quality printed postcards and notecards:
More recipes for all seasons here.