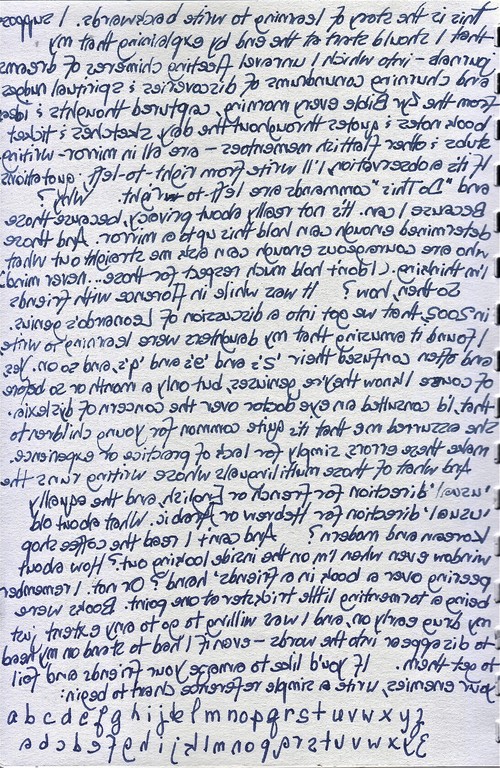 This is the story of writing backwards. I suppose that I should start at the end by explaining that my journals—into which I unravel fleeting chimeras of dreams and churning conundrums of discoveries and spiritual nudges from the One Year Bible every morning, captured thoughts and ideas, book notes and quotes throughout the day, sketches and ticket stubs and other flattish mementoes or quirky brain ticklers—are filled with mirror-writing. If it's an observation, I'll write from right-to-left. Quotations and DO THIS NOW commands are from left-to right. Why?
Because I can. It's not really about privacy, because those determined enough could hold this up to a mirror. And those who are courageous enough can ask me straight-out what I'm thinking. So then, how?
It was during a trip to Florence with friends in 2002 that we got into a discussion of Leonardo's genius. I'd found it amusing that my daughters were learning to write, and often confused their 's's and 'e's and'p's, and so on. Yes, of course I know they're geniuses, but only a month or so before that, I'd consulted an eye doctor over the concern of dyslexia. She assured me that it's quite common for young children to make these errors, simply for lack of practice or experience with their letters. And what of those multilinguals whose writing runs the 'usual' direction for French or English, and the equally 'normal' direction for Hebrew or Arabic? What about old Korean and modern?
And can't I read the coffee shop window even when I'm on the inside looking out? How about peering over a book in a friends' hand? Or not. I remember being a tormenting little trickster at one point. Books were my drug early on, and I was willing to go to any extent just to disappear into the words—even if I had to stand on my head to get at them.
If you'd like to amaze your friends and foil your enemies, write a simple reference chart to begin:
abcdefghijklimnopqrstuvwxyz and then underneath that work out their mirror images.
Wow. That was surprisingly difficult, now that I've gotten the hang of the letters. You'll notice, to your advantage, that the alphabet is loaded with freebies: i, l, o, t, v, w, x. The rest are fairy straightforward. I found the most difficultly in the maternal twins: db, qp, zs. It helps to keep your reference chart handy until all the letters flow naturally from your pen.
Knock yourself out, and please send me a postcard boasting your genius. If I can do it, so can you!