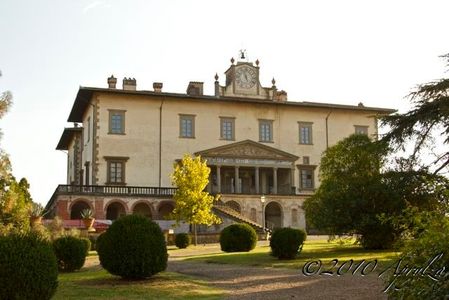 Here's a delightfully serendipitous treasure trove of Renaissance spectacle not far from Florence, Italy. The gardens are serene, and the palace is spectacular, considering that a 30-minute drive brings you into the heart of a tourist mecca. Because this country house is off the well-beaten track, it doesn't get the attention that it deserves…especially by those with an interest in classic Italian still life painting.
I didn't expect the extreme variety in the genre of this period, and the Museo della Natura Morta has it all!
Back in the days before people ate dinner in front of the TV, there was no worry about a lag in conversation, because they simply stared at their paintings. Well, not exactly. A fine house would include a collection of artworks, and a clever host knew how to entertain with tales revolving around the scenes. Naturally, the Medicis weren't found lacking.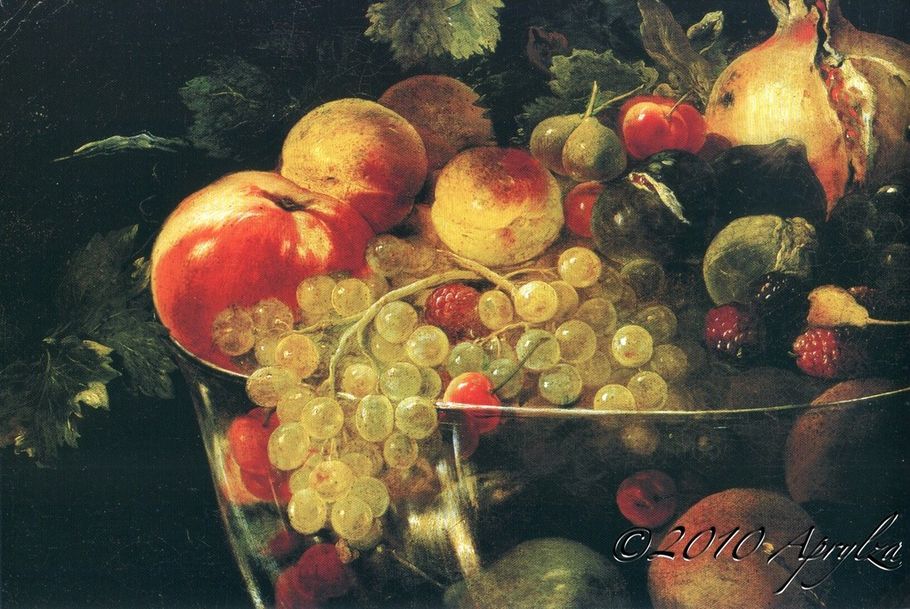 I could spend weeks and months here, studying the techniques of the old masters!  Unfortunately, because the works are open for touring on the hour, and we were nearing lunchtime, I felt more than a bit rushed.  Considering the size of this collection, I suppose it was to everyone's advantage that I only had one hour.  It was truly overwhelming!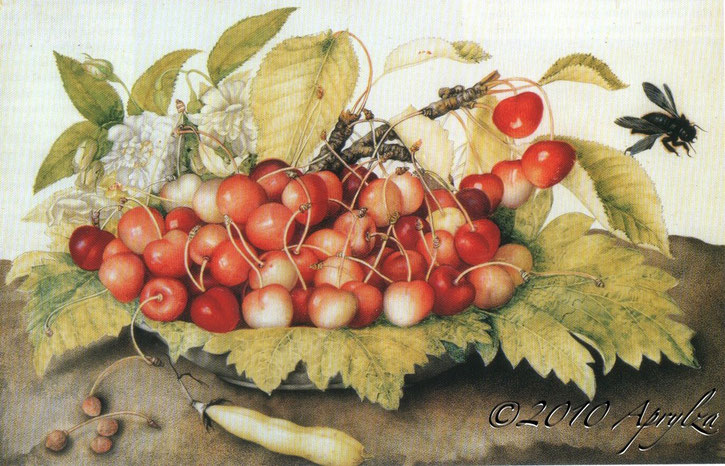 There were hundreds of still lifes—every kind of fruit and vegetable, livestock (including a 2-headed calf), and game, in mid-leap through the fields, or carved and sliced on priceless platters.  Some were dark and foreboding, while others were luminous and clear.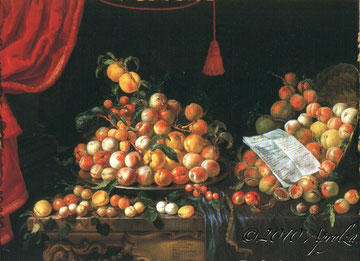 One room is dedicated to Bartolomeo Bimbi's incredibly precise representations of the fruit species: every known variety of cherries, peaches, plums, figs, cherries, citrus…were cleverly numbered, labeled and presented for our edification and salivation.
You can see that these peaches are identified on the crisp sheet of paper that looks as real as the fruit and draperies.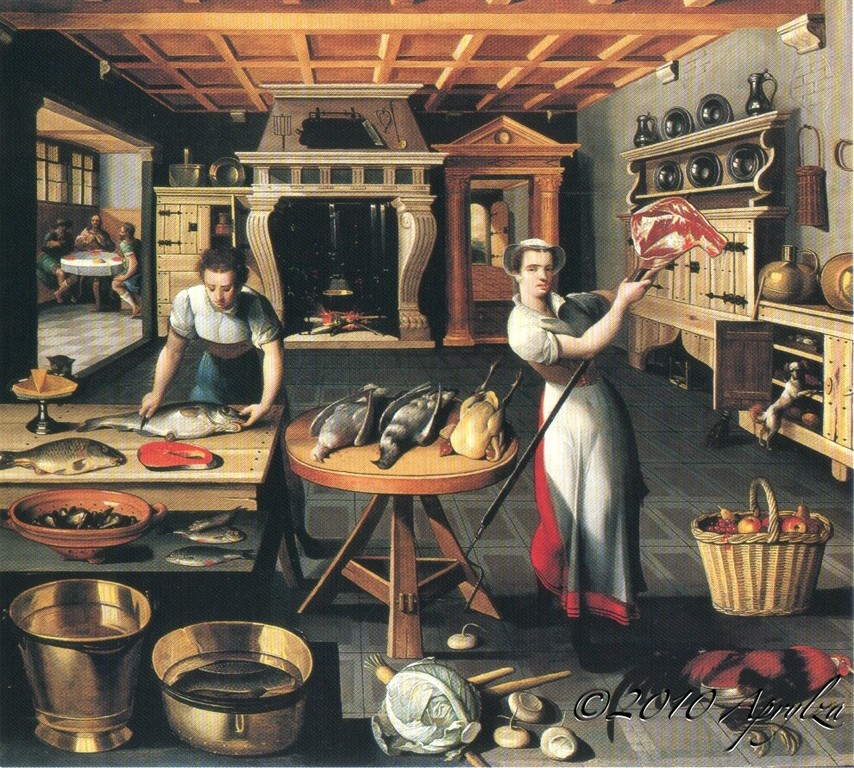 Another work captured my attention with its surprising title.  You can see the typical Flemish style of the 16th century.  It's a busy kitchen, and the little dog poking in the cupboard is rather amusing.  There's so much detail here, that it surely entertained and enchanted its viewer.  Shouldn't the main subject of this painting be at the forefront, bold as brass?  What sort of shock is it to realize that the theme is Cucina con Cena in Emmaus—cooking dinner in Emmaus?  Now do you see what's happening in the top left corner?  It's the story of Jesus appearing after his Resurrection, Luke 24:13-35.  I love that we can experience that same jolt of understanding!  "Oh, that's who it is!"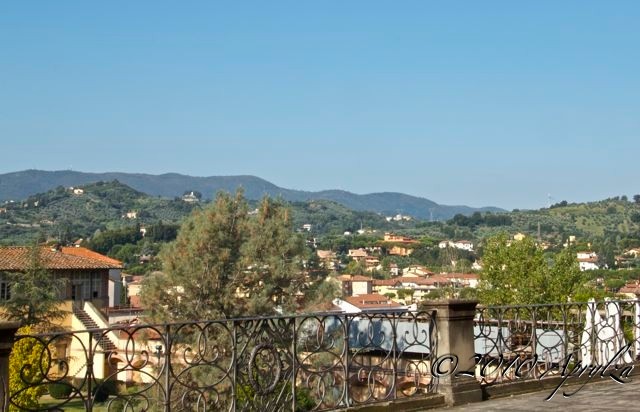 I suppose that sums up my little discovery, too.  The country hotel was neat and relatively quiet, the food was very good, and the staff of the Hermitage was courteous and helpful.  I'm grateful to the receptionist who pointed me in the direction of Museo della Natura Morta, in the Villa Medicia di Poggio a Caiano, and I'm happy to recommend both hotel and museum to you.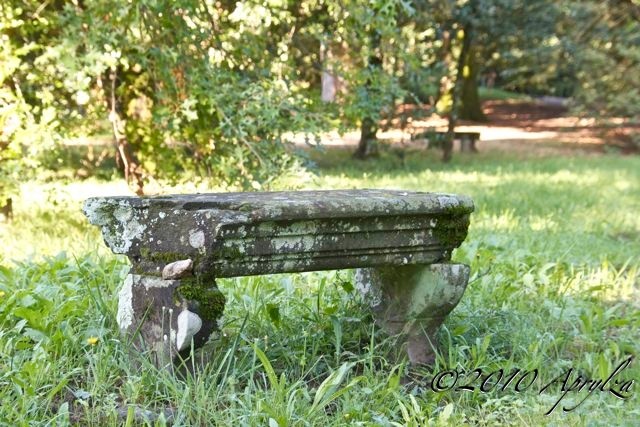 Here's a little challenge for you:  How well do you know your neighborhood?  What's waiting to be discovered, and what wants to be shared?  How does a certain place inspire you?  When I come to visit, what unexpected corner of the world can you introduce to me?
Orange you glad there's coffee?
by
AprylZA
Create a
Travel mug
on zazzle