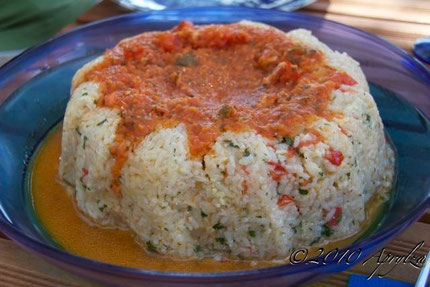 This is a favorite at our house, because it's never the same thing twice, and always hot and filling. It comes from the popular classic cookbook, la Cuisinière Provençale, locally referred to as "the Bible of Provence."
351. Rizoto à la Financière
Heat butter in a casserole; add:
            1 chopped onion           
            300 g rice (washed and well-drained) I prefer Arborio, the northern Italian short-grain rice that's perfect for risotto.
Add:
            2 T tomato puree           
            1-l (4 C) hot bouillon
            S & P, nutmeg, bouquet garni, stick celery
Bake 20 minutes, or over a gentle flame using a heat diffuser. I use a lidded, heavy-bottomed skillet, bring the stock to a steady, gentle simmer, and then keep it covered for the full 20 minutes.
Meanwhile, prepare the filling. This cookbook recommends
717. Garniture à la Financière
This garnish is composed of blanched chicken livers fried in butter, petits quenelles, small escalopes of cooked chicken, ham or finely-chopped tongue écarlate, cooked ris de veau and brain cut as above, truffles and mushrooms. In certain cases, one also adds spiral-cut blanched olives (tournées).
D'ailleurs, this garnish is always élastique; it goes very well with numerous choices, to add or delete others. In simple English, this is where you hide the tasty bits. Chop up all those yummy, meaty leftovers, being sure to mix in a few truffles…provided you've gotten to them before the wild boar. If not, then consider adding assorted mushrooms or sliced olives. I'll often stir in chopped cooked veg and roasted garlic.
Remove the bouquet garni and celery stick; stir in:
            100 g grated cheese
Spread in a greased mold or timbale of choice; using a spoon, create a well in the center and fill with a garniture financière (N°717) described above; cover with remaining rice to pack the mold solid. Bake 180°C (350°F) for about 20 minutes to heat through.
At the moment of serving, invert the mold onto the serving plate, and decorate with several spoons of tomato sauce. Be sure that the rice is firm and compact before unmolding. If not, it will fall apart.
A simpler method of presenting this dish is to prepare the rice in a cylindrical mold or a buttered bordure. Turn out from the mold onto the serving platter just before serving, either surrounded with a combination of garniture financière and tomato sauce. Or one demolds onto the serving platter at the moment of serving and garnish the center or the empty space surrounding with a combination of #717 and tomato sauce to be served at the table. This dressing applies to all the risotto recipes described here, and possibly augmented with a small decoration of truffles, mushrooms, ham, all of which arranged harmoniously on the surface.
What's your favorite combination?
La Cuisinière Provençale
by
AprylZA
Create youir own aprons
onzazzle"
apron
at zazzle