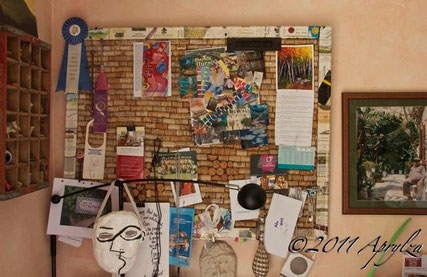 For those of us who are visually inclined, motivated, stimulated and breathing, we want all the help we can get to get the boring things done. What's boring? Paperwork! Black & white, read the fine print and sign on the bottom line, can't put it off any longer Paperwork.
One of the action steps to Being Effective is to get organized. Rather than piling papers up on my desk, it's helpful for me to spread them out where I can see them, et voila! I've nailed them to the wall (in a manner of speaking). Here's how it's done: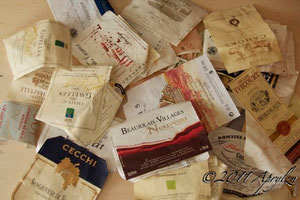 1. Start drinking. Okay, so I'm not encouraging any bingeing here. This step could take you a very long time, depending on average consummation of your household. It goes considerably faster living in France. Visit your local restaurants (depending on your locality, of course), and offer to haul away their wine bottles if you can also have the corks. It's not likely that the cork will still be in the bottle, but it's certainly worth a try.
2. Soak the labels off the bottles. Good luck, because certain adhesives render label removal impossible. You won't need many, though. For a 60cm x 40cm (23 ½ in. x 16 in.) frame, I used 17 labels.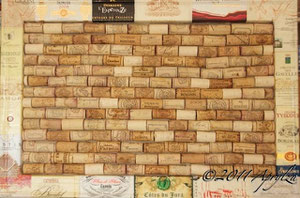 3. Get your hands on a crappy old picture frame. Check your attic, ask your aunties, visit the local junkshop or flea market, or assemble one from old boards. Clean up and glue any wobbly bits, and then let it dry while you prepare a découpage glue:
Découpage Glue
Combine in a wide-mouthed glass jar with a tight-fitting lid:
3 parts white glue
1 part warm water
Shake until thoroughly blended.
4. Brush the back of a wine label with a thin layer of découpage glue, and gently smooth it onto the picture frame. Cover the entire frame this way, brushing the applied wine labels with more glue. This gives it a smooth, varnished look. Lie flat on a clean surface to dry, being sure to do the same with the picture frame. Kidding! There's no lying down on the job here! Keep the picture frame flat to dry, and you go find a knife…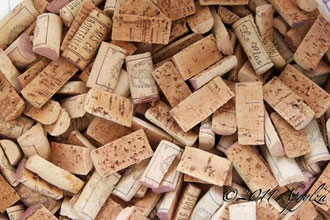 5. Using a serrated knife and a cutting board, slice each cork in half lengthwise. For the 60x40cm board, I used approximately 42 corks. Don't worry if some break. You'll need a few short pieces to fill in the gaps at the sides [see photo below]. I found that younger corks are much easier to cut than the older ones. Once out of the bottle, they dry and are more likely to crumble.
6. Does your frame have a backing? If not, cut a very sturdy piece of cardboard or plywood to fit. Assemble the backing inside the frame with glue (clamp until dry), staples or picture nails.
If there's a design on the board, perhaps you'll want to paint it all one color. Because the white glue dries clear, you might not like to see hints of the colored backing peeking out between the corks. Let the paint dry completely before the next step.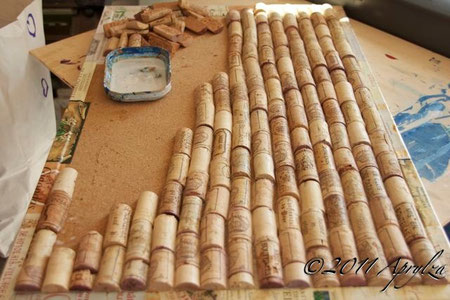 7. Here's the fun part: You'll need a saucer of undiluted white glue, the sliced corks and your prepared picture frame with its backing.
Dip the sliced half of each cork in the glue, and start covering that board. I like the standard brickwork pattern, but if all your corks are the same, perhaps you'll attempt a fishbone or spiral design for visual interest.
Be generous with the glue, but don't let it cover the rounded side of the cork, or you won't be able to pin into them afterwards. Keep a damp rag at hand to wipe up the dribbles.
Work all the corks into the frame while the glue is still wet. You have about an hour, depending on the heat & humidity of your environment. Before the glue dries, it's easy to gently slide them around to fill the space. Add small pieces of cork to fit the gaps.
Let the finished piece dry flat for at least 24 hours to allow the corks to settle into their snug new home. (You have my permission to lie flat now, too.) Be absolutely certain that the glue is dry before placing the board upright, otherwise you'll find thick blobs of half-dried glue gumming up your fine workmanship.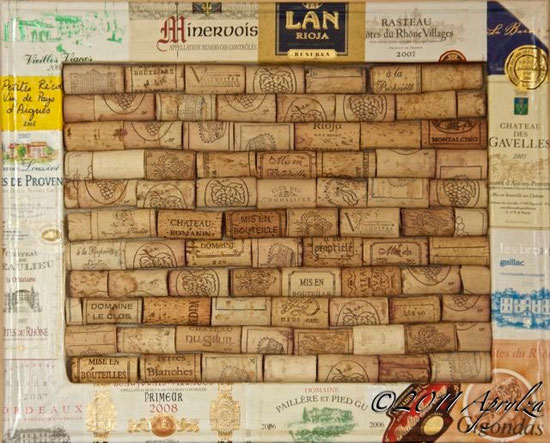 8. Finally, add screw-eyes and hanging wire, if your frame doesn't already include this. Get your hands on a hammer-drill and go hang.
I'll be offering these for sale at my expo next weekend, Saturday, 7 May, 16h00-19h00 at L'Oustau de St Marc.  You'll find all the details on the facebook event: Wine, Woman & Song
Have you ever made one of these corkboards?  Do you have any tips or tricks I may have overlooked?