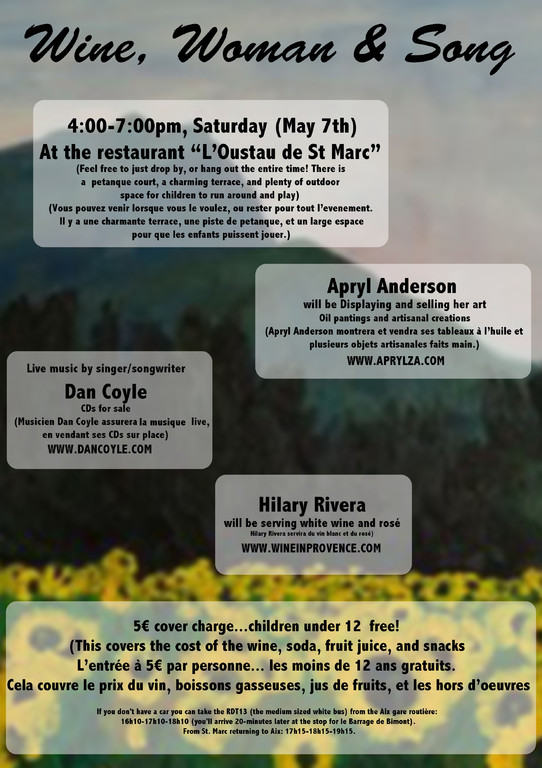 YOU ARE INVITED!
To enjoy art, live music, and wine with us in the gorgeous Provencal countryside.
WHEN This Saturday, 7 May, from 4:00-7:00pm
Just drop by, or hang out with us the entire time! There is a boules court, a charming terrace, and plenty of outdoor space for children to run and play.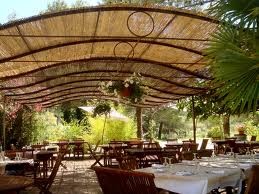 WHERE L'Oustau de Saint Marc, Route de Vauvenargues (D-10) across the road from the turn to le Barrage de Bimont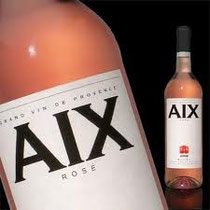 Only a €5 cover charge...
to cover the cost of the wine, soda, fruit juice, and sucré & salés snacks
Children under 12 years of age are free
Dan will be selling his CDs for 

€6

Apryl will have many things available to buy: postcards, painted wine glasses & bottles €25, 

corkboards

€30-€50, painted lavender sachets €30, and her oil paintings which range from €54-€3432 according to size
BUS Information
If you don't have a car you can take the RDT13 (the white bus) from the Aix gare routière: 16h10-17h10-18h10
you'll arrive 20-minutes later at the stop for le Barrage de Bimont
From St. Marc returning to Aix: 17h15-18h15-19h15. 
www.infotele.com 08.05.71.50.50
Everyone is invited, so please share this link with your friends!