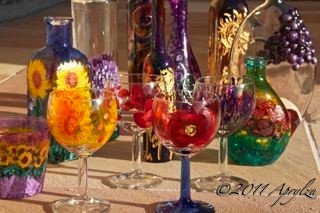 Now that we're chilling the rosé and eating in the garden again, bright bottles celebrate the spirit of the season.  This medium is so fun; it's like painting with colored light! 

Pebeo's Vitrea 160 comes in 35 colors, plus markers and raised outliners, are intended for any surface that can take the heat. Baking at 160°C (325°F) in a normal household oven makes it permanent, microwavable and dishwasher safe to 50°C (100°F). Because it's non-toxic, it's perfect for decorating tableware. It's water-based, so clean up is simple with soap and water; once baked, it's resistant to solvents.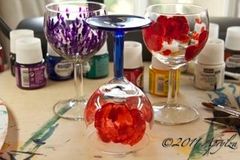 Start by thoroughly cleaning the glassware with white spirit to remove all residue. I speak of 'glassware,' but this can include metal, enamel, crystal surfaces, as mentioned above, any surface that can tolerate baking temperatures.
Vitrea 160 is available in a range of brilliant gloss or frosted colors, with various mediums for thinning, iridescent and crackling. Any paintbrush will do, but I prefer natural hair (squirrel is recommended). It can also be applied with an airbrush at the proper consistency. Instead of the thinning medium, it's possible to thin with water up to 10%, being careful to avoid creating bubbles.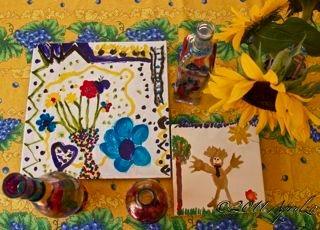 Those are the details. Really, Vitrea is such an easy paint to use, that it's child's play. My girls had a wonderful time decorating items for grandmother gifts when they were 5 years old.
I'm not allowed to identify the artists, but after 10 years, I love these creations more than ever!
Once dried and baked, bubbles in the glassware are permanent. To avoid bubbles, paints should be stirred, not shaken. (No worries, it's not a martini, Mr. Bond.) Remove any bubbles while the paint is still wet using a fine-tip brush or a sharp pin. Bubbles may also occur if the paint has not sufficiently dried. That's why the suggested 24 hours drying time; thicker paints may need 48 hours. It's best to err on the side of patience.
When you're certain that the piece is thoroughly dried, place it in a cold oven; turn on the heat to 160°C/325°F. Set the timer for 40 minutes when the oven has reached temperature. Be aware that baking temperatures that are too high will cause the colors to darken and burn. After the time, turn off the oven, open the door, and let the glassware cool completely before removing. This will reduce the risk of breakage due to extreme temperature change, or you accidentally dropping your unexpectedly hot artwork.
Pieces can be baked 3-4 times without damaging the paint. So, if you want to rework a certain area, it's entirely possible.
Go ahead, be inspired!
These pieces will be on sale with more of my artwork, tomorrow afternoon at L'Oustau de St Marc Jaumegarde.
Further details on my blog, or the facebook event page.
See you there!