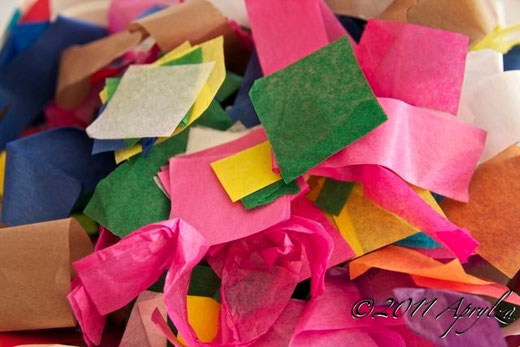 It's time once again to gather our tongue depressors and glitter glue, because ICCP Kids' Camp is preparing for launch!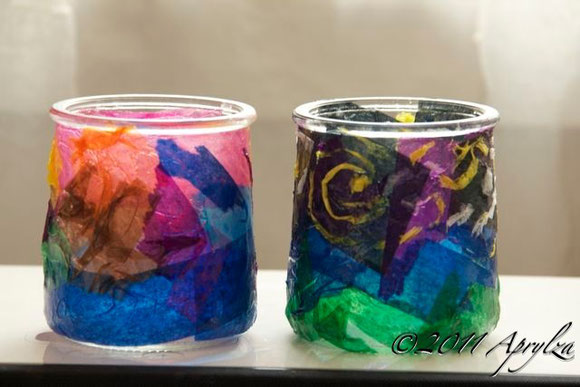 The theme this year is Mission to Planet AIX: Discovering True Life. We're aliens in this world when we choose to be a Christian. What does it mean to live the way Christ taught?
Don't copy the behavior and customs of this world, but let God transform you into a new person by changing the way you think. Then you will learn to know God's will for you, which is good and pleasing and perfect.  Hebrews 12:2, NIV
We don't press the children to make a commitment to Christ in this short week! Instead, it's a precious time of music, drama, crafts, fun & games, all in the Spirit of love and joy—that applies to the big kids in charge, too! We courageously adhere to the principles of the Christian faith, inviting everyone to participate.
Here's a how-to on the crafts I've chosen: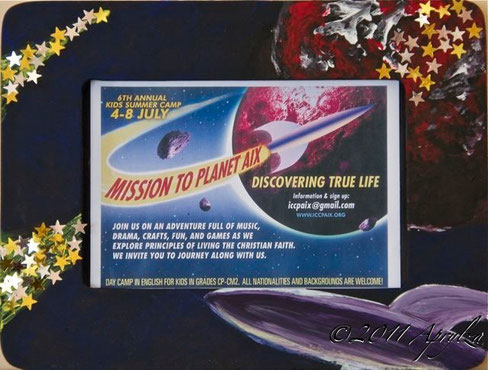 It's a frame-up! This is always fun & easy. Our team from the USA brings the readymade frames, and the children decorate them to hold the team photo they'll receive during the week. Previous years looked like this...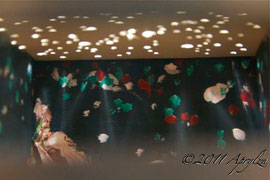 The Atlantis shadowboxes went over really well last year, so we're going to take this one into the galaxies! The downside of this is that it takes a lot of pre-prep, raiding the local shoe stores for their cartons, and then cutting out 'windows' in each box.
The children can complete this in 40-minutes, but it's going to take a lot of organization on our part:
The children can be separated into the different stations to start, and then zip from one to the next as they progress. They'll need plenty of assistants to help them think through the steps, and to keep a protective eye on those nails & hammers.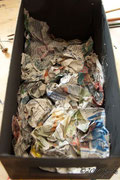 Station 1: Dip a scrumpled piece of newspaper through a 1:1 glue-water mixture, and arrange it inside the box
Station 2: Paint the scenery.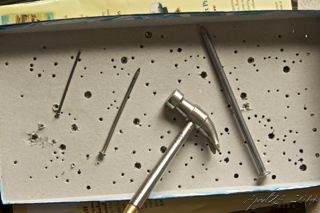 Station 3: Sit or kneel on the ground to tap 'stars' in the shoebox lid. This takes a lot of work if you want it to look its best.
If anyone really cruises through this project, they may be interested in adding an alien or two to their scene.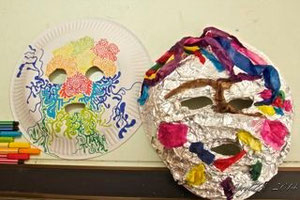 Creating a mask is the free-for-all decorating opportunity. With plenty of white glue, paper, fabric, yarn, foil, and no end of doo-dads, the skies the limit for the silly faces we can come up with! Even a quiet corner of markers open a whole 'nother planet of possibility.
I hope that team USA can procure ready-cut masks from the craft supplier; otherwise, this will be a big project to cut eyes & mouth from 80 paper plates!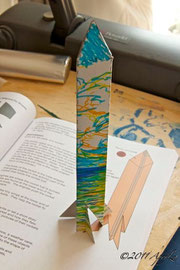 Space missions need rockets! Thanks to our generous NASA connection (by way of the Space Shuttle emergency landing strip at Istres), the Educator Guide gives excellent instructions on Pop! Rockets and launcher. You can download EG-2008-05-060-KSC for free here.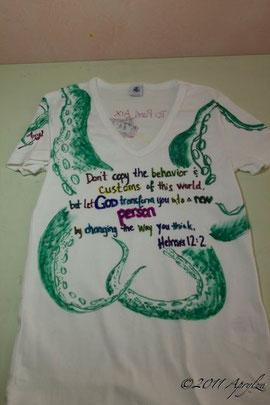 Another perennial favorite is the Tie-Dyed T-shirt. We'll get those dipping pots ready as we did last year...
What I didn't expect last year is that the children would enjoy drawing on their shirts so much. They made some wonderfully clever designs, and I want to encourage more of that with MORE permanent markers! While I've been out of the USA, Sharpie's managed to come up with a great selection of colors to inspire.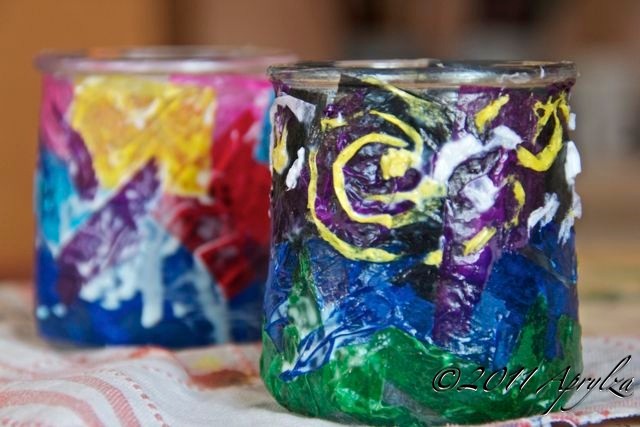 The candle pots were also quite popular two years ago.
They turn out quite nicely with 1:1 white glue & water, but that crêpe paper is a BEAR to work with!
Now, it's your turn! What's your favorite camp craft?