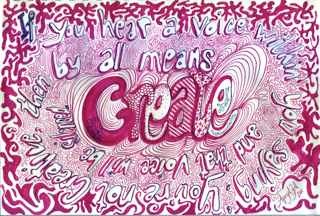 Those words are well-meant, thank-you, Mr. Henri.  Honestly though, who in his right mind would not…oh, worry.  I don't like rejection, even when it's ultimately for the best, and I know how debilitating the whispers from my inner critic can be.  It's only 'worry' if I choose to feed that negativity.  Having said that, those mental movies turn up their volume the more I let myself go with pure creation.  It's generally advised that the most effective cure is simply to prove them wrong by committedly carrying on, but what a nuisance!
Everybody that's good has gone through it.  Don't let it matter if your work's are not 'accepted' at once.  The better or more personal you are the less likely they are of acceptance.  Just remember that the object of painting pictures is not simply to get them in exhibitions.  It is all very fine to have your pictures hung, but you are painting for yourself, not for the jury.  I had many years of rejections.
As for worrying about the rejections, I've decided to make a collection; so therefore, I need to make more of an effort to approach the appropriate sales venues.  To apply the analogy of dating, I'd be a fool to commit to the first offer.  It takes time and effort to play the field.  It's the season for me to get serious about finding a suitable match, and Prince charming isn't going to come knocking on my door if he doesn't even know I exist.  Nor do I want him to find me lounging about in my comfy trousers?  No, I want to be breathtaking!
Go on, Mr. Henri.
 Do some great work, Son!  Don't try to paint good landscapes.  Try to paint canvases that will show how interesting landscape looks to you—your pleasure in the thing.  Wit.
There are lots of people who can make sweet colors, nice tones, nice shapes of landscape, all done in nice broad and intelligent-looking brushwork.
Courbet showed in every work what a man he was, what a head and heart he had.
Every student should put down in some form or other his findings.  All any man can hope to do is to add his fragment to the whole.  No man can be final, but he can record his progress, and whatever he records is so much done in the thrashing out of the whole thing.  What he leaves is so much for others to use as stones to step on or stones to avoid.
Yes, I can concede to that.  Maybe not everyone will comprehend my perspective, and there are many who do understand and choose to go another direction.  That is not mine to worry about, and I most certainly should reject their insistence that their way is better.  I'm recording my observations of what gives life.  If that also gives life to you, then we're united in that moment.  Our disconnect is not a personal rejection.
The student is not an isolated force.  He belongs to a great brotherhood, bears great kinship to his kind.  He takes and he gives.  He benefits by taking and he benefits by giving.
Our world is expanded by our exchange.  One of my ways to give is by inviting you to discover the world for yourself, and this blog is one aspect of that.  I hope that you'll accept my gift, and shape it to fit you.  Please show me what you see!   
Create!
by
AprylZA
sell my paintings online for free
with Zazzle.