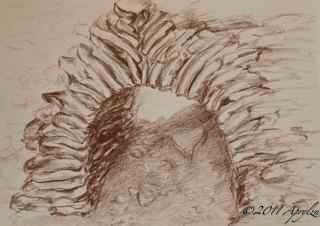 ...And women, mind you.  I'll acquiesce to Robert Henri's gender bias, because as a fellow man, I understand that these things transcend the world's petty hang-ups.  Truth be told, I'm pretty fed up with this current trend to assuming that same sex partnerships involve sexual intimacy.  Really people!  Get your mind out of bed, and DO SOMETHING MEANINGFUL WITH YOUR LIFE!  Find a friend and learn something new together.  Do you even know what an Oppidum is?
They are the bonds of a great Brotherhood.  Those who are of the Brotherhood know each other, and time and space cannot separate them.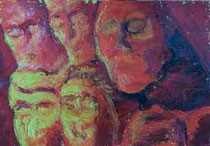 That's not an Oppidum.  Henri's merely continuing his point about knowledge and understanding as transmittable and transferable.  No man is an island, nor should he be.  These prophetic discoveries are the voice in the wilderness calling to be shared.
The Brotherhood is powerful.  It has many members.  They are of all places and of all times.  The members do not die.  One is a member to the degree that he can be member, no more, no less.  And that part of him that is of the Brotherhood does not die.
I was thinking about that while I was sketching at l'Oppidum d'Entremont with Shayla today.  A fellow artist, new to the area, inspired me to get up and get out. We went to the ancient fortified village north of Aix.  The meter-high walls are all that remains in this former home of a powerful local Celtic tribe, les Salyens.  The carved stone heads to memorialize their decapitated spoils of war are now in the Musée Granet in Aix.  The commanding view of the surrounding plains and valleys are nearly choked with pines.  What remains of this Brotherhood from 2000 years ago?
Evidently, they believed in the power of the skull.  Severed heads were hung on display following a victory, and skilled stone carvers created sculptures of great warriors sitting cross-legged with the cranial trophies on their laps.  These carvings also display wheat grains, which are to this day a recognized symbol of reincarnation.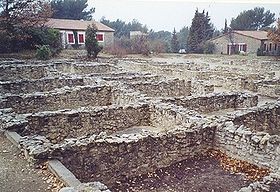 I chose to study the impressive brickwork of the ovens.  Let that be a symbol of not only the wheat (that must be planted in the soil before it can be reborn), but the bread of life and sustenance, and also the refining fire that burns away the impurities and yields a crackling crust with a tender heart…
We drove north, stopping at the farmer's market outside of Puyricard, and then on to hilltop ruins above Le-Puy-Ste-Reparade for our picnic.  It boggles this American mind to look at the plains of the Durance river valley, up to the Alps, south to la Ste Victoire, further south to the coast, realizing that for thousands of years, man has lived his story.  The wheat grows, is harvested, the land dies and the wheat grown again.
The work of the Brotherhood does not deal with surface events.  Institutions on the world surface can rise and become powerful and they can destroy each other.  Statesmen can put patch upon patch to make things continue to stand still.  No matter what may happen on the surface the Brotherhood goes steadily on.  It is the evolution of man.  Let the surface destroy itself, the Brotherhood will start it again.  For in all cases, no matter how strong the surface institutions become, no matter what laws may be laid down, what patches may be made, all change that is real is due to the Brotherhood.
Kingdoms rise and fall; yet the Word of God stands forever.  There are certain natural laws that transcend institutions and governments.  The Brotherhood knows this, and can't help but live it.  The term 'prophet' is generally out of fashion, and the artist makes his mark; creation must speak, and the creator cannot remain silent.  Those olives, artichoke hearts, fresh goat cheese with herbs, chilled rosé de Gavelle (Puyricard), and ripe figs were unqualified works of art.  Life is good.
It's your turn!  What do you see around you that will withstand the test of time?  Who else notices, and what do they have to say about it?
AIXcavating Robert Henri's 'the Art Spirit'
Friendship Postcards
by
AprylZA
Make postcards from photos
online at zazzle.com