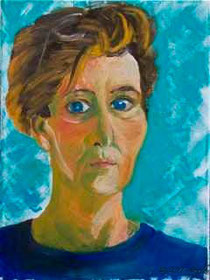 I guess I'd best get started then.  I don't want to, because I know how imperfect it's going to be.  Robert Henri's right though; if I don't begin, I won't finish.  More than that, if I can't begin, then I haven't faced the fear that I won't do it perfectly, met the challenge, and come out victorious (although battered and bruised).  Therefore, portrait painting day #2 with "Letter to the Art Students League 1915"…
As different as ideas and emotions are, there can be no set rule laid down for the making of pictures, but for students found working in a certain line suggestions may be made.  There is a certain common sense in procedure, which may be basic for all, and there are processes safe to suggest, if only to be used as points of departure, to those who have not already developed a satisfying use of their materials.
It is on this ground that I offer you the following:  With your model posing as he does in the same position every day of a week you have choice of differing modes of study, and it is up to you to decide well which will be the most profitable, which will carry you further.  Some will work the entire week on the same canvas and others will find it an advantage to make an entirely new start every day, preserving as far as possible the canvases of the early days to compare with the work in hand, and making these comparisons, sitting in judgment on them and coming to decision as to what to do next.  Some will find it advisable to start a canvas number one on the first day, and a canvas number two on the second, and alternating these two canvases for the rest of the week, they will in a sort of duel teach each other much.  I myself have found it useful to work on two canvases, alternating them with every rest of the model.  One does not sleep in this kind of work; there is an excitement in it that can improve the sometimes-dying energies in a classroom in the later days of the week.  Every mode has its virtues and its vices, but the student who is a student and attending to his own case will in the mode just described crowd into a week a lot of experience in commencing a work, and he will come to a very great knowledge of his understanding and his possible visions of the subject.  The value of repeated studies of beginnings of a painting cannot be overestimated.  Those who cannot begin do not finish.
And for all who continue to work on the same canvas, let me suggest that your struggle throughout the week should be to perfect the beginning of your painting.  If you are thinking and seeing your own work and the work about you, you must observe how general is the failure in the progress of works.  The fact is the finish cannot be separated from a perfect commencement.
There's that 'p' word again.  How realistic is that, really?  How do I know what perfection is until I've made enough trials and learned from my imperfection?
Name one thing you'd like to finish that needs a beginning.  How will you begin?