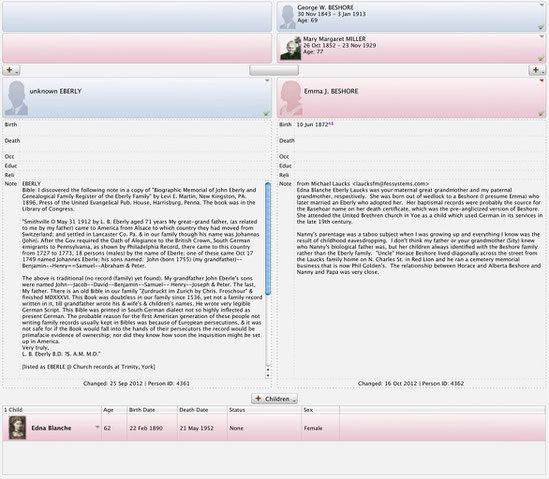 Digging into these old boxes can be a little bit like Christmas. Okay, so it's sadly lacking the tinsel and glitter, and it's not the season for decking any halls, but what fun to rediscover the forgotten diversions! The primary difference this time around is that, instead of packing them back into the box for later, it's time to confront these ghosts head-on! They can either learn to live with me, or pack up and head to the recycling center. And if they decide to stay, then I promise to do what I can to help them grow into something beautiful, not dusty and forgotten.
There are stories here, timeless treasures and priceless artworks…if we have the eyes to see. How can I apply what I know about painting and writing, and life in all its various forms, and tell the eternal story?
Evidently, Internet research has come a long way in the last 10 years while I've been otherwise occupied. I'm happy to see that others have been doing my homework for me—the family branches have certainly grown! Yet, I know that it's unwise to take any of this without confirmation. This is grade school drilling that's coming back to prove itself useful: ALWAYS DOCUMENT YOUR SOURCES!!!
So, here's my homework for Nana Zarfos's mysterious lineage…Who was Emma J. BESHORE?
Lesson #3: Consulting Death Records
Death Records usually list the medical cause of death, marital status, and the age of the deceased—not always proving that one circumstance causes the other. They will often name the funeral director and place of burial, and sometimes provide the deceased's place of birth. If death records are not available for a particular place, cemetery records might provide more information. They can help you to pinpoint a place, a personal connection (i.e. a sibling signed as informant), and other vital information concerning a person's life because every scrap of information you acquire is another piece of the puzzle. As brothers and sisters of your ancestors usually grew up in the same household, you should attempt to get death certificates for your relatives as well.

Each additional document will either confirm or dispute previous information. Never rely on one person's recollection as a completely reliable source. It is estimated that 20% of all birth and death certificates have a mistake on them. Tombstones aren't always accurate, either. There's truth to the saying, "Written in stone"—just because it's engraved doesn't make it real, although that's often what happens. It's better to record conflicting dates than to let one take precedent over the other.
The Family Tree
by
AprylZA
More
Family Cards
Obtaining a Death Record: Contact the Social Security Administration to find the address for a state's vital statistics registration office. The SSA lists current addresses and fees for obtaining copies of a death certificate from a particular state.
Emma J. BESHORE was born before the SSA's collection started in 1906, and before the York County Archives' Birth and Death records from 1893 through 1906. And I've not been able to locate any information on her death (presumably as Mrs. Charles E. KNAUB). Rumor has it that she was a member of the Brethren Church in Yoe (York Twp., York Co., PA). Their records were thrown out in an extreme moment of Spring Cleaning, and local archivists have been gnashing their teeth ever since.
Locating the Family Bible: Hopefully, your local Historical Society will have copies in your family file. If the Bible was printed in (for example) 1890, and contains family birth, death and marriage records back into the 1700s, then obviously someone wrote those records long after the fact and may not have known the facts or remembered accurately.
Take a close look at the handwriting. If several entries are in the same ink in similar handwriting, it's likely that those entries were made at the same time and probably not concurrent with the event. The most recent date of the series of recordings is probably closest to the date they were recorded.
I was able to obtain the date of great-great-grandma Emma's birth (as well as her parents and siblings) from the BASHORE family file in the York County Heritage Trust. My source is simply noted as: Bashore Family Bible, copied by G W Shaw 5 Apr 1997, "Bible in possession of a lady raised by Bashores." What lady, for goodness sakes?!! Did she copy any other artifacts, and how serious was she about accuracy? (Gnash, gnash.)
Funeral Records: If you know the funeral home, you can inquire if they maintain records concerning a person's death and funeral service. Ask about the cemetery where the person was buried and whether or not they can provide an address or phone number for the cemetery office, or the name of the keeper of records for the cemetery.
Cemetery Records: The gravestone may provide clues in the inscription. Also, take note of the proximity of other stones. Was your ancestor laid to rest in the family plot? A woman who was a widow several years or a bride who died young might be buried next to her parents, while others with different names could also be related. In another case, one of my Protestant aunts wasn't allowed to be buried in their Catholic husband's cemetery, so she interred next to her parents, even though the marriage was a strong one.
Tombstones are occasionally erected many years after a person dies, and could therefore contain erroneous dates. Or the stonecutter could have erred, or been given the wrong information. Be careful, too, of printed compilations of cemetery records (this also applies to other published material, such as marriage records), because errors can be made in copying, indexing or publishing.
When copying cemetery inscriptions, be careful not to misread numbers or letters. The number 4 is often carved with a light horizontal line that wears away leaving what looks like the number 1 or 7. Other numbers that are easy to misread: 3, 6 and 8, and 3 and 5. Letters usually are more distinct, but C, G, D and O can be confused. Mar and May are hard to distinguish, as a Jul and Jun. Note with a question mark when you aren't certain of a letter or number.
Even if your ancestor is buried in an unmarked grave, if you know the cemetery, you can sometimes get information from their records. Write a library or historical society near the cemetery to learn if such records are available. Larger city cemeteries usually have a sexton who maintains such records.
Obituaries: Old newspapers of the area are usually available on microfilm in the local library. Locate the library nearest to your ancestor's place of death from the Directory of Libraries either at your local library or online, and request a copy of that person's obituary. Be sure to include a SASE, and the appropriate fees.
Oooh, Jackpot! http://www.yorklibraries.org/Community/Genealogy.htm
Probate Records document family relationships and dates of death. A will might name the spouse and the children, possibly including some grandchildren and the married names of daughters with their husbands' names. Or perhaps it will simply state, "My beloved wife" and "all of my children" without naming any of them. Remember, too, that a particular son or daughter may have previously been provided for, and the absence of a name in a will does not necessarily mean a person was not an offspring of the deceased. In some cases, an estranged family member won't be mentioned at all, or perhaps he moved far from contact, so don't assume that he's already dead.
Many people die Intestate—meaning that they left no will, so it's useful to locate alternative documents. There might be court orders appointing an Administrator or Executor. The Executor (in the case of your ancestor having left a will) would be required to post a Bond. The naming of an Administrator indicates that there was no will. Most countries have indexes of executors' and administrators' bonds. If your ancestor owned property, then that property would need to be disposed after his decease, therefore there will be a court record…somewhere.
Deeds indicate where your ancestors lived and when. Occasionally you will find family references such as 'the same land that I inherited from my father, Samuel, as his eldest son and heir.' Also, some land records, particularly those for settlement of estates in a will could list the heirs. If your ancestor conveyed 'an undivided fifth interest' in a piece of property it would indicate that he and four other heirs, likely his siblings, might have inherited the property.
Deeds can also help establish whether an ancestor was married, since the sale of land in the USA requires the wife's consent. The absence of a wife's name would indicate that the seller was had no spouse at the time.
While most counties have accurate indexes of deed records, usually these are a Grantor (seller) index and a Grantee (buyer) index. Other persons who may be mentioned in a deed are not indexed and the information you are looking for may be lost in one of dozens of deed books. Therefore, you may have to check deeds for in-laws and neighbors of your ancestors in order to find the person you seek. It is sometimes helpful to check by location rather than family name. Keep in mind that your ancestor's life story is written in his relationships. Don't skip a chapter!
Be aware that county boundaries were continuously changing in early America, so in order for you to concentrate your research in the correct area, you need to know the geographic history of the areas you're seeking. It helps to pinpoint your search on a map following the timeline of your ancestor's life.
Guardian's & Orphan's Bonds can establish the parentage of a minor and help to define dates of a parent's death. Note that it was not necessary for both parents to be deceased for a guardian to be named. This was sometimes done in cases where a minor child was an heir to a grandfather's estate through the deceased parent or if a mother was remarrying. In both cases, and in others, the guardian was appointed to protect the child's rights to the estate.
Medical Pedigree can be determined from obituaries, insurance documents, and hospital records.
Courthouse Research Tips: Always take complete citations when extracting wills, deeds and other court records. Be sure to record the names of witnesses, or those who gave bond for certain transactions, because they obviously played some part in your ancestor's life.
Remember that in the early years of the USA, many people could not read or write in English, so pay attention to variant spellings of the name you are searching. Don't bother to search for a court record for a name change, for it was rarely necessary. Most often the spelling changes were the result of inaccuracy as a clerk wrote what he heard. Learn to pronounce your surname in your native accent, and read an index aloud to hear yourself name each possible variation. Similarly, people who spell their surname differently from yours may be related to you, while those who spell it the same may not.
Also, be aware of the translation of names. An example in my family, the German Morgenstern becomes American 'Morningstar.' This could equally apply to place names, particularly in deeds, as well.
Well now, that gives me plenty of geese to chase…
The Family Tree
by
AprylZA
Browse
Family Mugs
Name:                     Emma J. BESHORE
--------------------------------------------------
Birth:                      10 Jun 1872
Alias/AKA:              BASEHOAR (From Edna's Certificate Of Death By Informant J Kenneth Laucks)
Father:                     George W. BESHORE (1843-1913)
Mother:                   Mary Margaret MILLER (1852-1929)
Misc. Notes
from Michael Laucks
Edna Blanche Eberly Laucks was your maternal great grandmother and my paternal grandmother, respectively.  She was born out of wedlock to a Beshore (I presume Emma) who later married an Eberly who adopted her.  Her baptismal records were probably the source for the Basehoar name on her death certificate, which was the pre-anglicized version of Beshore.  She attended the United Brethren church in Yoe as a child which used German in its services in the late 19th century.
Nanny's parentage was a taboo subject when I was growing up and everything I know was the result of childhood eavesdropping.  I don't think my father or your grandmother (Sity) knew who Nanny's biological father was, but her children always identified with the Beshore family rather than the Eberly family.  "Uncle" Horace Beshore lived diagonally across the street from the Laucks family home on N. Charles St. in Red Lion and he ran a cemetery memorial business that is now Phil Golden's.  The relationship between Horace and Alberta Beshore and Nanny and Papa was very close.
Spouses
--------------------------------------------------
1:                           unknown EBERLY
Children:                  Edna Blanche (1890-1952)
--------------------------------------------------
2:                           Charles Edward KNAUB
Marriage:                 26 Oct 1890             York, York Co., PA
--------------------------------------------------
Last Modified:           16 Oct 2012
Created:                   17 Oct 2012
A Brief Ahnentafel:
1 Emma J. BESHORE. Born on 10 Jun 1872.
Emma J. married unknown EBERLY.
2 George W. BESHORE. Born on 30 Nov 1843. George W. died on 3 Jan 1913; he was 69. Buried in Yoe Union Cemetery, Yoe, York Twp., York Co., PA.
On 7 Oct 1869 when George W. was 25, he married Mary Margaret MILLER in Christ Lutheran Church, York, PA.
3 Mary Margaret MILLER. Born on 26 Oct 1852 in PA. Mary Margaret died in North Charles St., on 23 Nov 1929; she was 77. Buried in Yoe Union Cemetery, Yoe, York Twp., York Co., PA.
4 George BESHORE. Born on 12 Jan 1805. George died on 19 Feb 1861; he was 56. Buried in Union Cemetery, East Manchester Twp., York Co., PA.
On 3 Mar 1839 when George was 34, he married Susan STOKES in First Reformed & Trinity Church, York, PA.
5 Susan STOKES. Born on 13 Aug 1819. Susan died in York Co., PA, on 19 Jun 1883; she was 63. Buried in Garber's Mennonite Cemetery, York Co., PA.
6 Daniel MILLER. Born on 19 Dec 1820 in York Co., PA. Daniel died in York Co., PA, on 1 Mar 1874; he was 53. Buried in East Prospect 'Riverview' Cemetery, Lower Windsor Twp., York Co., PA. Occupation: Laborer (1850 Census); Farmer (1860 Census).
On 21 May 1848 when Daniel was 27, he married Matilda EVANS in York Co., PA.
7 Matilda EVANS. Born ca 1827 in PA.