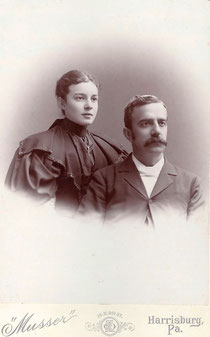 How I wish that I'd put up these photos 10 or more years ago!  Even though they have a far wider reach now than they would've at that time, so many of the ones who could've told us the stories are gone now.

Please, do the world a favor, and ask the oldest people you know to recollect their childhood.  Sure, there's nothing new under the sun, but don't you love the old-style packaging?  What was it like to ride in a car for the first time?  (My grandmother remembered.)  How did it feel to suffer the flu in a house heated only by a woodstove?  What was Grandpa's favorite book, and where and when did he read it?  Where does one find privacy amongst a dozen siblings?  Have you thought about the last time you wrote a real letter (with a postage stamp) to a friend?
Here are more spirits of Red Lion, Windsor, and others during the later-half of the 19th century in York County, Pennsylvania.  I look forward to hearing about your connections, too.