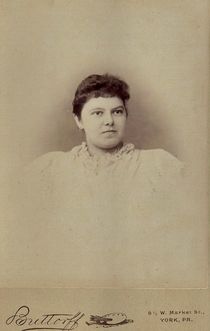 Who is this woman, and why does she look so much like my grandmother?!!
This unidentified photo was amongst the RUPP family and friends circa 1860-1880—one or two generations before the Charles Franklin ZARFOS family attended church in Red Lion (Pennsylvania) with the Charles Franklin LAUCKS family.
It's awfully hard not to make assumptions on who these people might be, but it wouldn't be the first time I've mistaken one family member for another.  Maybe we should all come with a tagging option.
Here she is, Geraldine Josephine, in about 1936: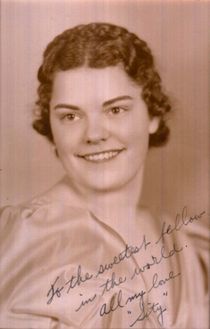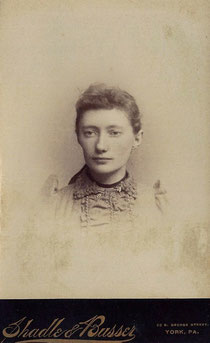 We know a bit about Lottie ZARFOS, born 1870 to George W. JACOBS.  She married William Henry 'Hal' ZARFOS in York, PA 1888, but I'm not sure if he was son of John Wesley ZARFOS & Sarah Jane LEBERKNECHT or Benjamin ZARFOS & Annie HOWARD.
They were parents to Harry L. and Rosie ZARFOS.
Her (undated) obituary reads: 
Mrs Lottie May ZARFOSS
Funeral services for Mrs Lottie May Zarfoss, who died early Saturday morning, were held at 1 am today from the Edward W Baumeister Colonial Mortuary, South Queen St, at Jackson.  The Rev Dr J B Baker, pastor of St Matthew's Lutheran church officiated.  The following grandsons of the deceased served as pallbearers:  Clair H Zarfoss, Ray Zarfoss, James Zarfoss, Robert Black, and Gordon Quickel.  Interment was in Greenmount cemetery.  (From the ZARFOS vertical file at York County Heritage Trust.)
As always, if you can positively identify any of these people, or are part of any of these families, I'd love to hear from you!
AIXtinct: the genealogy pages
---