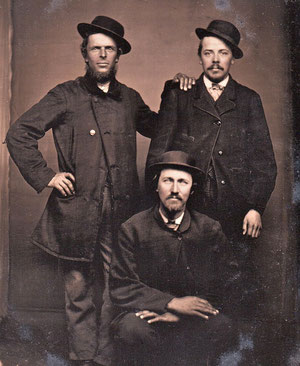 This is one of our oldest unidentified family photos, and one of my favorites.  WHO ARE THESE MEN?!!
Probably members of the John & Mary (POFF) RUPP family of Lower Windsor, York County, Pennsylvania; maybe even John's father (born 25 Dec 1795).
Their eyes implore me to know them.  More than 150 years have passed since that single captured moment, yet who they are whispers to the present...
This parade float celebrates 50 years of Red Lion's incorporation.
Representing somebody's—possibly George HOFFMAN, although Geraldine Josephine 'Sity' LAUCKS hadn't yet tied up any knots with Jay Robert ZARFOS, nephew of Addie Irene, who married George in 1919—Monuments, Charles Franklin LAUCKS (1886-1953) is at back row far right. Center are Eva (LAUCKS) & Elwood J. McGUIGAN.

Aunt Addie appears in many fabulous turn-of-the-century photographs...
Summer Picnic 1900
by
AprylZA
View more Historic Postcards at
zazzle.com
Addie Zarfos & friends along the Susquehanna River
by
AprylZA
Check out more Friends Postcards at
Zazzle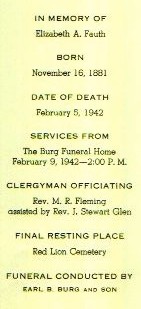 For what it's worth, here's a funeral card for Elizabeth A. FAUTH (1881-1942).  I don't know her connection to my family, but perhaps this information will be useful to someone.  After all, life is all about who we knew and what we did together.