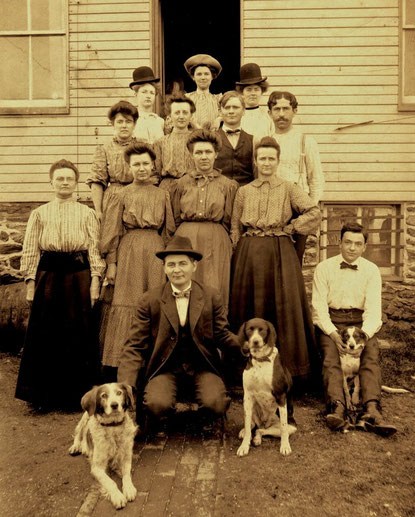 What is it to be in the right place at the right time?

Their great-grandparents left the destruction of Europe behind them, and the next generations learned to tend the new land to produce bountiful harvests. Tobacco is a tender crop, and responds only to the most diligent care.  
By the end of the 19th century, south central Pennsylvania was renown for excellence in smoking products, and Red Lion (York County) was a center of the cigar industry.  Very few of our generation would admit that their first job was rolling cigars, but until 1930 (when the trade went to Cuba), cheap labor was the first rung up the corporate ladder.
Here are more photos from the Rupp-Zarfos collection.  Please don't hesitate to contact me if you can identify any of these fine individuals!
W. A. Lahr Wholesale Cigar Manufacturer circa 1900
by
AprylZA
Design
Full color post cards
at zazzle
 From the early days of American [a well-known organization that claims intellectual property rights], the young men of Red Lion, Pennsylvania, learned to be prepared. Charles S. ZARFOS (1910-1994) and cousin James F. SECHRIST (1922-1999) are in the center of the photo...I believe I see a LAUCKS in there, too...
George Hoffman, Red Lion, Pennsylvania (1894-1950)
by
AprylZA
You can
sell greeting cards
, invitations, stamps and more on Zazzle.com!