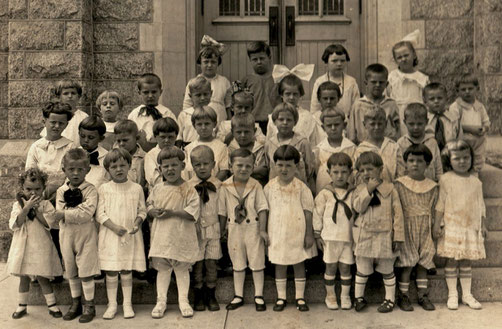 Do you know what's the best part of this photo?
That amongst the 35 adorable children of St. Paul's Evangelical Church of Red Lion, PA, I can identify my paternal grandparents!
Jay Robert ZARFOS (1916-2000) is 2nd from right in the 2nd row.
Geraldine Josephine LAUCKS (1919-1999) is 1st at left on the 1st row.  Aren't they gorgeous?!!
Are there any others we can positively identify?  Your assistance is invaluable!
St. Paul's Evangelical Church, Red Lion
by
AprylZA
Design your own
custom picture postcards
at zazzle.com
Roadside Rest Stop, York Co., Pennsylvania c.1870
by
AprylZA
Find other Early Postcards at
zazzle.com
Dress as if you mean it!
Spurgeon Pomrany, Red Lion
by
AprylZA
Make your own
postcards custom
at Zazzle