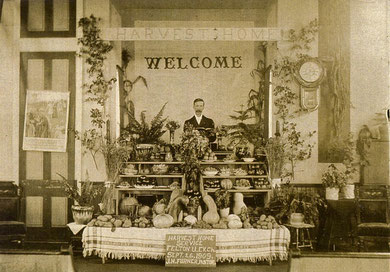 Christian fellowship was a major opportunity for our great-grandparents to socialize, and as I'm starting to recognize faces in these old photos, the speculations are flying fast and furious.  As I become more aware of names and times, I expect to be able to pinpoint the churches and places, and that will lead to even more names and places, and what went on there.
This is a photo from 26 September, 1909, the Felton United Evangelical Church held a Harvest Home Sunday.  Pastor J. H. Furner gives thanks for the bountiful table.  Look at those gorgeous fruits and veg—organic, mind you!
And those of us who remember the swealtering humidity of a Pennsylvania summer, consider how refreshing a 'camp meeting' in the woods would be under all those layers of clothing...
From a collection of unidentified photos, these esteemed saints were friends or RUPP family members from circa 1880 Windsor, York County, Pennsylvania. I believe that the old woman in black is Catherine HOWARD (mother-in-law of Benjamin ZARFOS 1823-1898).
Windsor Camp Meeting
by
AprylZA
Find more Christian Postcards at
Zazzle
...Another time, another place, different people...
Yorkana Camp Meeting, York Co., PA, USA
by
AprylZA
Look at more Christian Postcards at
zazzle
Probably a camp meeting in York County, I believe I see 'Sity' LAUCKS (ZARFOS) toward the left.  Is the tall woman in the middle eating her banana with a spoon?
The Banana Bunch: 1930s Camp Meeting
by
AprylZA
Browse other
Christian Postcards
It must've been a sign of prosperous times in Red Lion, when the milkman delivered fresh bananas!
Actually, this probably isn't the milkman, as he's only carrying a couple of cans.  I've since discovered that this was Harvey MILLER, although why the bananas remains the rest of the story...
Special Delivery
by
AprylZA
Look at more Milk Postcards at
zazzle
This seems like a cozy little family...but what's that woman in the coveralls got on her nose, and do you suppose that's a Red Lion manufactured cigar?
Hail, Hail, the Gang's All Here!
by
AprylZA
Browse more Family Postcards at
Zazzle
St. Luke's Reformed & Lutheran Church, York Co, PA
by
AprylZA
Make your own
custom photo postcards
on zazzle.
Dance Pavilion, Fairmont Park, Red Lion, PA, USA
by
AprylZA
Browse more Old time Postcards at
Zazzle