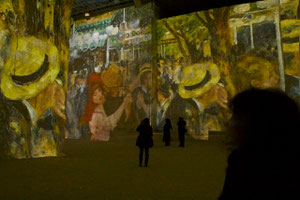 The season opened on 8 March, and I'm pretty sure that this year is better than ever!  You have until 5 January, 2014 to see it...
My photos don't do it justice; trust me on this one and go see for yourself...Carrières de Lumières 

Learn more about Mr Gianfranco Iannuzzi's amazing creations.  When I consider that each wall—and floor—is individually adapted to display the moving images...and the dozen or so pieces of music that accompany the shows...Oh, how I wish the artists could see their work displayed this way!
One's destination is never a place, but rather a new way of looking at things.  Says Henry Miller
Makes me want to voyage 'round my Mediterranean neighborhood with brushes...
More voyages in AIXperiencing Provence
A few paintings that need walls