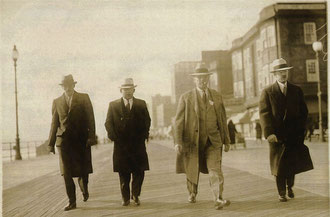 Pennsylvania German (called "PA Dutch" for their home tongue 'Deutsch') traditions never denied their offspring the enriching spirit of hard labor.  It was understood that comfort is something that is earned through righteous living, and that's not supposed to come easily.
My ancestors worked HARD, from what I see of worn and aged bodies, as well as their pristine clothes and surroundings.  From farming to cigar manufacturing and the Zarfos furniture store, the people of Red Lion gained a reputation for fine quality and service.  These photos are a testiment to the value of community.  The people were committed to doing The Very Best They Could.
Photo at above: I believe that's James Bayard SECHRIST (1885-1971) in the light colored coat, and it's my guess that these men are attending a cigar manufacturer's convention in Atlantic City, New Jersey in the 1920s.
Below: I have no idea who any of these men are.  It appears to be a winter work project; possibly for the WPA.
WPA Winter Work Crew
by
AprylZA
Find more Worker Postcards at
Zazzle
Have I mentioned that Red Lion (York County, Pennsylvania, USA) was a center of cigar manufacturing until the trade went to Cuba in the 1930s?  Nearly everyone of my grandparents' generation rolled cigars as a first paying job.  I have so many assorted photos of the local industry, that I'm not entirely sure which photo belongs to whom, or who worked for which family...
Cigar Factory circa 1900, Red Lion, York Co., PA
by
AprylZA
Get the best in
online postcard printing
at zazzle
There's Addie (ZARFOS) HOFFMAN at center back...
A Good Cigar is a Smoke
by
AprylZA
Check out more Cigar Postcards at
Zazzle
Flinchbaugh's Cigar Manufacture, Red Lion, PA
by
AprylZA
Get the best in
online post card printing
from zazzle
The sign just under the eaves of the small building at right declare it to be Flinchbaugh's Cigar Manufacture.  The family lines the porch—quite visible at a closer view—although I'm not yet able to identify any of the individuals.
Below is Red Lion's first fire house, 1904, and look at that shiny brass engine!  Also, the unplanted sprout of a water hydrant at the left corner is a reminder that the town wasn't quite 20 years old at this point, and infrastructure was still quite new.
Red Lion Fire Department 1904
by
AprylZA
Create unique
personalized photo postcards
at zazzle.com
That's George HOFFMAN (1884-1950), at left, and with a photo titled, "East Broadway Fury," they could have been acting in a school play, or musicians named after a local street, or something else entirely.  Who can tell?
Dressed up for Red Lion (York Co., PA) 1930 Jubilee, this fine vehicle also served as Zarfos & Burg's hearse. If you were too late for hospital, and no longer requiring new furniture, the funeral services were sure to please.
Let's pop over to Dallastown for a moment...Here's an advertising card for Joe RAAB (of orchard fame) on his 1960-something run for York County Commissioner—and 3 of Mrs. Raab's best fruit recipes:
Joe Raab's Orchard Recipes & Political Ad
by
AprylZA
Try
post card printing
using zazzle
Please help me to connect names with these faces! CONTACT ME here if you can positively identify anyone.