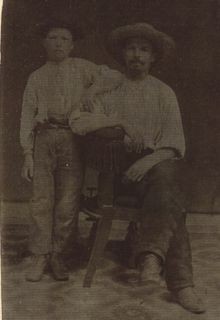 The photo (at right) is an unedited version.  Although it takes some time to tinker, I hope you'll agree that the result is an improvement.  Even if you don't agree, I have no regrets for the opportunity to study each of these photos as an art historian would study a masterpiece.  
Every portrait communicates a captured moment in time and space.  
The photographer must know his materials and be master his of technique.  The subject offers his entire life into public view for our scrutiny and judgement.  The clothes may be a mask, but the eyes truly are the window to the soul.  They may be hidden in the shadows, yet the lines on his face and the way he holds a pose tells the truest tale.
I wonder about these two...They're not dressed in their finery as the rest.  What induced them to sit for this photo?  These are working clothes, but they're not unkempt.  The boots and hats are in good order, and the garments are sturdy and clean.  Look at the way they pose: strong and comfortable.  Son doesn't look as if he's having the time of his life, but they way he rests his arm on his father is absolutely beautiful.  This is so different from the bond of that other family which shall remain nameless...No, I mean really, unless somebody knows something that I don't...Like their names....
We all need somebody to lean on.
E. Rupp, below, isn't listed in my family file.  I believe that he is a grandson of John & Mary.
E. Rupp of York Co., PA, USA circa 1880
by
AprylZA
Browse for more
postcards
from zazzle.com.
Below are two photos of Clair or Clare RUPP, assumably Clarence.  Perhaps he's a brother to E.
Hang on!  I recognize the chair.  Is this Elizabeth SCHNELL, Henry's wife that we saw in #17?  Remove the choker, add a jacket...see the black ribbon front of the dress below?  Tilt her head to give depth to her eyes...Are these the same sloping shoulders and hair (in a net this time).  Am I pushing a resemblance too far?
This chair keeps coming up.  It's also under the father & son portrait (1st photo, at top).  I wonder if they went to the studio on the same day, or if it was a traveling photographer?  It seems unlikely that he'd use straw as a prop in his own, considering the vast advantages of plaster woodlands...By golly, people, please Name-Place-Date your photos!
---
Could this be Clarence's mother, being as they're both going with the woodland theme?  The sepia tone and lighting were the same, as well.
---
Here's another little mystery: a news article from the York Gazette & Daily, dated 31 December 1962.
I don't have a connection to W. D. Rupp in my family file, but then again, I don't have any of John & Mary's grandchildren.  Maybe this isn't a mystery, but a clue!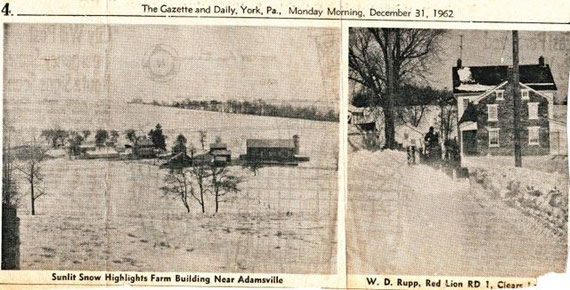 Please be sure to CONTACT ME if you can identify any of these people!