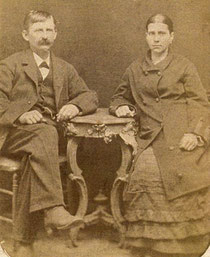 ...starts with the decision to try.
I just noticed that I used that quotation twice on recent portrait cards.  Funny, as I consider each person and every pose, a certain characteristic comes to mind, and I hunt for a quote accordingly.  Determination seems evident in quite a few of these faces.
Admittedly, this task of cleaning up the images, and making them available to a greater population, isn't the highlight of my day.  There are so many of them!  Will this project ever end?  Maybe I see determination, because I'm looking for it myself.
What do you see?
Every Accomplishment Starts with the Decision
by
AprylZA
Check out other Victorian Postcards at
zazzle.com
Starting with decision isn't really that difficult.  Finishing with determination will be a true accomplishment.
As ever, if you are connected to the John & Mary (POFF) RUPP line, or can positively identify any of these portraits, please don't hesitate to contact me!
Young Country Gentleman of York Co., Pennsylvania
by
AprylZA
Make your own
postcards custom
at Zazzle