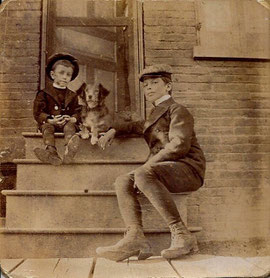 Today's entry is a varied assortment of untold stories.
I don't know if they're connected in any way to the RUPP line.
Starting tomorrow, I'll present the individual familes as far as I know them.  After that, a few more of the friends—but this time, with names!
This feels like a giant game of Memory; you know the one that you match the identical cards?  The challenge here is that the identical cards may vary by 10...20...30 years.  And have you ever heard, "You look like your mother?"  Well, so did my great-grandmother and her daughter!
Have you seen any uncanny resemblances in any of the last 20 postings?
All Genuine Knowledge Originates in Direct...
by
AprylZA
Check out Vintage Postcards online at
zazzle
The Best Effect of Fine Persons...
by
AprylZA
Create unique
personalized photo postcards
at zazzle.com
Please don't hesitate to contact me if you are related, or can positively identify any of these people!
More genealogy on AIXtinct