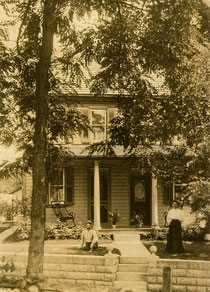 Here's what I have on Amanda Ellen's life and times.  She married John J. GRESER, they lived in Craley, and had a daughter named Ellen.  (details below)
That Bible (below) confuses me.  It's written in blue ink, probably all in one go; and then black ink, with sister Jane's death date almost as an after-thought.
First, her name and birth date, followed by her husband's birth & death dates written at the same time, probably after his death in 1945, and then her name again.  Period.  Same pen as Melvina Jane's the date of death at the bottom.  By whose hand?
...dotted line...
Next, sisters and brothers, in no clear order.  By preference, maybe?  Not that I have any notion of how to live with 15 siblings, anyway!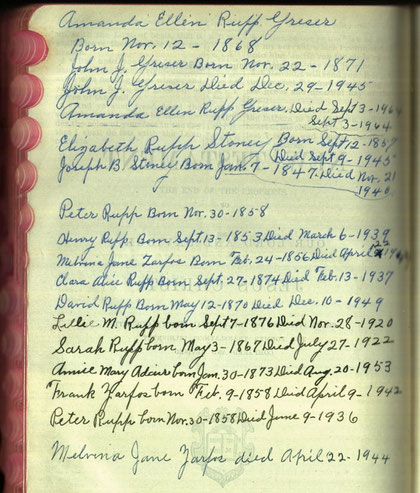 John J GRESER
Birth: 22 Nov 1871
Death: 29 Dec 1945 118 Linden Ave, Red Lion, York Co, PA
Burial: 2 Jan 1946 Red Lion Cemetery, Gay St., York Twp., York Co., PA
Father: unknown
Marriage: 9 Nov 1893 Zion Lutheran Parish, York, PA
Children: Ellen 
E Rupp of Lower Windsor Township, York County, PA Postcard
by
AprylZA
Make postcards from photos
online at zazzle.com
Ellen (RUPP) GRESER (1868-1964) & child Post Cards
by
AprylZA
Create unique
personalized photo postcards
at zazzle.com
Married Amanda Ella "Ellen" RUPP

Birth: 12 Nov 1868 Lower Windsor Twp., York Co., PA
Death: 3 Sep 1964 724 West Broadway, Red Lion, York Co., PA
Burial: 6 Sep 1964 Red Lion Cemetery, Gay St., York Twp., York Co., PA
Obituary of Mrs Amanda E Greser
Mrs Amanda E Rupp Greser, 95, of 724 West Broadway, died at 9:20 last night at Pleasant Acres.  She was the widow of John Greser.
Mrs Greser was a daughter of the late John and Mary Poff Rupp.  She was a member of St Paul's EUB church and Sunday school.  Surviving are a number of nieces and nephews.
Funeral services will be held Sunday at 2 pm at the Burg Funeral Home, 134 West Broadway.  Her pastor, Rev Dr Alfred J Thomas, will officiate.  Interment will be in Red Lion cemetery."
Funeral Card:
IN MEMORY OF
Amanda Ellen Rupp Greser
BORN
November 12, 1868
DATE OF DEATH
September 3, 1964
SERVICES FROM
The Burg Funeral Home
Sunday, September 6, 1964 at 2:00 P.M.
CLERGYMAN OFFICIATING
Rev. Dr. Alfred J. Thomas
FINAL RESTING PLACE
Red Lion Cemetery
BEARERS
Charles H. Reisinger    Marlet W. Grim
W. O. Reisinger           Arthur H. Adair
Herald D. Taylor         Wilford Rupp
---
Beauty is for Those Who Look for It
by
AprylZA
Get
Postcard
designs on zazzle.com
Easily mistaken for sisters, they are cousins Anna ADAIR & Ellen GRESER—daughters of sisters, Annie & Ella RUPP of Lower Windsor, York County, Pennsylvania, USA, circa 1900.
Sisters by Blood, Friends by Choice
by
AprylZA
Browse other
Victorian Postcards