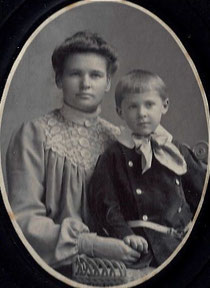 For my final exposé on the RUPP family, here are Mary Ann & Thomas ADAIR, with their children...
Remember, I want to know more!  Please pass the word to anyone you know who's researching these lines, or if you have an old box of somebody's stuff in your attic that wants sorting.  Oh, the sweet scent of discovery!  It smells a lot like old paper...
Thomas L. ADAIR
Birth: 30 Aug 1873
Death: 4 Mar 1962 Red Lion, York Co., PA
Burial: 8 Mar 1962 Red Lion Cemetery, Gay St., York Twp., York Co., PA
Married: Mary Ann RUPP
Birth: 30 Jan 1873 Lower Windsor Twp., York Co., PA
Death: 20 Aug 1953 53 First Ave, Red Lion, York Co, PA
Burial: Red Lion Cemetery, Gay St., York Twp., York Co., PA
Alias/AKA: Anna, Annie Mary, Ammie, Mary Ann
Obituary of Mrs Thomas L Adair
Red Lion, Aug 21--Mrs Annie Mary Rupp Adair, 80, wife of Thomas L Adair, and a charter member of the Red Lion Visiting Nurse Association, died at 3:30 pm yesterday at her home, 53 First avenue, following a week's illness of pneumonia.  A daughter of the late John and Mary Poff Rupp, she is survived by her husband; two children, Mrs Pansy Slenker, Dallastown, and Arthur H Adair, York; a grandson, and one sister, Mrs Amanda Ellen Greser, this place.  She was a member of St Paul's EUB Church for 56 years, and belonged to the Ladies Aid Society and Women's Missionary Society of the church for the same period of time.  She served on the church flower committee for 35 years.  She also was a member of Wisteria Council 184, Sons and Daughters of Liberty.  Funeral services will be held at 2:30 pm Sunday at the Burg Funeral Home here.  The Rev Paul A Werner, pastor of St Paul's EUB, will officiate.  Interment will be in Red Lion Cemetery.
Marriage: 28 May 1896
Children: Pansy & Arthur H.
---
Pansy A. ADAIR
Birth: 26 Aug 1897 York Co., PA
Death: 13 Jul 1968
Burial: Red Lion Cemetery, Gay St., York Twp., York Co., PA
Father: Thomas L. ADAIR (1873-1962)
Mother: Mary Ann RUPP (1873-1953)
Married Lloyd S. SLENKER
Birth: 11 Aug 1892 York Co., PA
Death: 28 Jul 1955 Dallastown, York Twp., York Co., PA
Burial: Red Lion Cemetery, Gay St., York Twp., York Co., PA
Father: Henry Jacob SLENKER (1862-1945)
Mother: Sarah Ann BAILEY
---