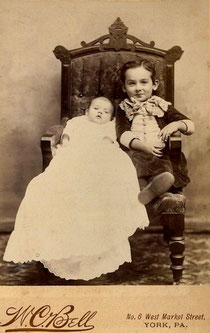 Okay, I'm confused.
If William was born in Maryland in 1875, and the photos are all marked with York (Pennsylvania) photographers, then either the LAHR's moved north shortly after 1880, or so many of these unidentified photos I'd assumed to be RUPP are actually LAHRs! Surely there were dependable photographers in Maryland, too?
Were William's parents living in Maryland at his birth?  So much about tracing family groups is location, location, location!  Who lived together, worked together, played together at any particular time and place?
There's the marvelous paradox of genealogy: It all comes down to names & dates, but those are the bare bones to life itself.  We need to know the relationships and where they related, and to do that, we need to ask the questions that reveal the stories...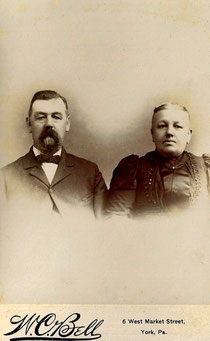 According to William's marriage license, his parents were Francis & Lena; and if this photo was marked as Father & Mother Lahr, then here they are:
Francis LAHR
Married: Lena
Children:
William A (1875-1918)
UNNAMED
Sister
Derived from the names on the backs of the occasional photo, I deduct that William had at least one sister, and she attended nursing school in Providence in 1908.  Brief internet research brings me to this conclusion:
St Joseph School of Nursing Class of 1908
by
AprylZA
Look at more Nurse Postcards at
zazzle
Now.  Did she stay in nursing?  Did she become a nun, as I'd heard from family talk?  Could this be her?
Once Upon a Town 57 Postcard
by
AprylZA
Find other Nun Postcards at
zazzle.com
Or was her name Lena, and did she marry and have children?  If so, then did she have the same name as her mother?  The photos (in my next installment) are pretty clearly a generation apart...aren't they?  Perhaps that photo of Father & Mother (above) are a reproduction of an earlier photo?  Then perhaps the man (below) is William's brother, not his uncle...
The Esteemed Reverend LAHR, circa 1870
by
AprylZA
Find other Stoic Postcards at
zazzle.com
No.  By his age and attire, he's the same generation as Francis.
More mysteries: If the happy couple are posing for their 17th anniversary, then it's unlikely that the quiverful (below) are the same pair celebrating their 27th...although stranger things have been known to happen.
This must be another one of Francis' brothers.  The family resemblace is striking!
I absolutely LOVE Mother's angelic resolve, and Dad...well, bless his tired heart.
One Big Happy Family
by
AprylZA
Browse for more
postcards
from zazzle.com.
For my final mystery of the day, that's Benjamin Franklin ZARFOS at right, and Melvina Jane RUPP at left.  I don't recognize the two couples between them, although the photo was labeled "Mother LAHR."  9 August 1907.  They're probably at a Church Camp in Southeast York County, Pennsylvania.
In the Good Old Summertime
by
AprylZA
Design unique
photo postcard
at zazzle.com