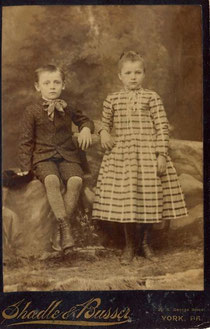 Questions lead to more questions:
Is this Lena the daughter of Lena, and therefore, William's sister?  Then is this Leo a younger brother?
And is this Lena the mother of Severa and Catherine (below)?  The resemblance is notable.
Mystery: the photos are noted LAHR, therefore, one can assume that's the married name.  So, did Lena LAHR marry a LAHR?  Did she marry?  How'd that go over?
I won't question their fashion sense—it's stunning!
Severa & Catherine LAHR, circa 1910
by
AprylZA
Design your own
custom picture postcards
at zazzle.com
"Seasons Greetings from Mr. & Mrs. John L. DOLL and son"
Little Boy Snow Bunny, circa 1930
by
AprylZA
Create
Post cards
at zazzle
Can you help me solve any of these mysteries?  I welcome your response!