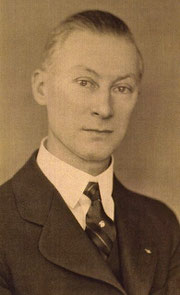 You say, "Red Lion;" I say, "ZARFOS."  
The town was incorporated in 1880, and my great-grandparents didn't wait to get involved.
Charlie & Earl founded Zarfos & Burg, furniture and funeral services, in 1907.  There's more to come, glorious photos and whatnot, but that's for another day.
Today is for a man of action!
Charles Franklin ZARFOS
Birth: 28 Mar 1883 Red Lion, York Co., PA
Census: 1910 at 110 W. Broadway, Red Lion, York Twp., York Co., PA
Death: 10 Oct 1967 Dallastown RD 1, York Twp., York Co., PA
Burial: 12 Oct 1967 Red Lion Cemetery, Gay St., York Twp., York Co., PA
Occupation: 1907 founded Zarfos & Burg, Red Lion
Religion: founding family of St Paul's EUB 1898; served on Sanctuary Building Committee
Father: Benjamin Franklin "Frank" ZARFOS (1858-1942)
Mother: Melvina Jane "Jane" RUPP (1856-1944)
Notes
1920 Census, Red Lion
ZARFOS, Charles F, age 36; Bertha (W), age 35; Gladys E, dau, 10; Charles S, son, 9; Jerald L, son, 7; Jay D, son 3-11/12; Richard L 11/12
1930 Census, Red Lion
ZARFOS, Charles F (H) own home 12,000, radio, age 47, age at 1st marriage 22; Bertha M, age 46, age at 1st marriage 21; E Gladys, dau, 20; Charles S, son, 19; Gerald L, son, 17; Jay R, son, 14.
Married: Bertha Mae SECHRIST
Birth: 22 Mar 1884 Red Lion, York Co., PA
Death: 24 Apr 1953 W. Broadway Ext'd, Red Lion, York Twp., York Co., PA
Father: Stephen Stanley SECHRIST (1857-1943)
Mother: Susan Grove STEIN (1859-1938)
Marriage: 7 Jun 1905
From an unidentified clipping:
"This month we will feature the RED LION TABLE COMPANY.  This firm was organized in 1913 with a capital stock of $140,000.  The company manufactured bedroom and dining room suites of exquisite design, expert craftsmanship and admirable quality.  The company hired local men and advanced them to top management and company directors.  Furniture showrooms were located in New York, Chicago and High Point, North Carolina.  The original officers were S S SECHRIST, Sr, CF ZARFOS and CS LaMOTTE, and the building was located just north of the Ma & Pa Railroad on North Charles Street.
In 1960, the business expanded to include the former Red Lion Woodcraft and Consumer's Box Company.  The main location of the Red Lion Table Company continued operations until 1981 when it was closed and auctioned off with machinery to David Edward Company."
Children:
Elsie Gladys (1909-1993)
Charles Sechrist (1910-1994)
Gerald L (1912-1987)
Jay Robert (1916-2000)
Richard Lee (Died as Child) (1919-1929)
Finding a trustworthy friend is the only way to...
by
AprylZA
Learn about
postcard printing
using Zazzle
Trouble in the Pool Hall and other Shenanigans
by
AprylZA
Create a
Full color postcard
with zazzle.com
---
I found this series of clippings in the York County Historical Trust's WALTEMYER family file.  As it turned out, this particular William WALTEMYER isn't one of my line, but what a surprise to see another familiar name!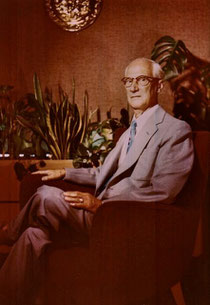 The Gazette & Daily, York, PA, Saturday morning, 3 November 1928
LOWER END FARMER STRANGELY KILLED
WM. WALTEMYER BELIEVED TO HAVE FALLEN FROM MULE, BUT CORONOR IS INVESTIGATING.
HEARS RUMORS OF FEUD
William Waltemyer, 52 years old, of Laurel RD, was found dead in a road about 2 miles east of Collinsville at 7:10 o'clock last evening, presumably having been fatally injured in a fall from a mule. Unusual circumstances surrounding the man's death, however coupled with a rumor of a few in this section of the country, have led Coroner L. U. Zech to institute an investigation.
The body of Mr. Waltemyer, lying in a pool of blood about three quarters of a mile from his home, was found by Harry K. Leiphart, Laurel RD 2, who came along in his old automobile, which also contained his wife, Lawrence Leiphart, and Mrs. Roy Shelly. Leiphart communicated with the authorities and coroner Zech went to the scene to investigate.
Investigation established the fact that Mr. Waltemyer, whose farm was located a mile east of Collinsville, headed into Clarence Trout's sawmill at Gorham in the afternoon. He left for home and was seen at a store along the way, riding a mule. The mule, with saddle and bridle still in place, returned home after it had lost its rider. Mr. Liephart, who passed the animal not far from the place where Waltemyer's body was found, said that it was walking calmly along, showing no signs of having run away, or being fractious.
Unusual Position of Body. The position in which the body was lying when found puzzled authorities. The body was lying on the west side of the road, the head toward the south and the feet pointing northward. It was pointed out that had the man fallen from the mule's back, the position of the body would likely be reversed. And, although the man's left leg was broken, indicating that you might have caught in the stirrup, there was no evidence that the body had been dragged. There is no support for the body would have been dragged along by the foot in the stirrup, and would have been left lying with the feet pointing in the direction the meal was going. Such was not the case; the body being found just reversed. Members of the Waltemyer family and neighbors were reluctant to believe that death was purely accidental. It was said that Mr. Waltemyer some time ago had had a dispute with a man living not far away over the hauling of logs. Threats of violence had been heard, neighbors declared. On the basis of this, coroner Zech decided to thoroughly probe the case.
Postmortem Likely. The exact injury which caused death has not been ascertained, and it is likely a postmortem may be held. The man had bled copiously from the nose and ears, but there were no severe external injuries. A fractured skull, or a broken neck, it was believed, had caused death, but it will require a more thorough examination of the body to definitely determine this. The theory was also advanced that the man might have had a stroke, fallen off the mule, and died of hemorrhages. Mr. Waltemyer was a heavy man, weighing probably 180 pounds. There was evidence that he had been drinking.
Cornell corner L. U. Zech announced that he would take up the case with Dist. Atty. Amos W. Herman this morning, and that, if so advised would conduct an autopsy today. The body has been removed to the establishment of Zarfos & Burg, at Red Lion, to be prepared for burial.
Mr. Waltemyer is served by his wife survived, Agnes, and 15 children as follows: Clara, Stewartstown; Elizabeth, wife of Welby Forry, Laurel; Paul and Jacob, Red Lion; Roland, Laurel; Clayton, Harry, Daniel, James, Myrtle, Thomas, Welby, Earl and Spurgeon, all at home. One brother, James, and a sister, Mrs. Sally Zeigler, Stewartstown, also survive.
The Gazette and daily, York, PA, Monday morning, 5 November 1928
ZECH NAMES JURY FOR WALTEMYER INQUEST;
FUNERAL SERVICES HELD
Coroner L. U. Zech yesterday named to the jury to conduct an inquest into the death of what William Waltemyer, who was found dead Friday evening on a road near Collinsville. Members of the coroner's jury are: Charles F. Zarfos, Red Lion; E. M. Runkle, Curvin Miller, Elisha Riale and H. A. Runkle, all of Laurel RD 2, and Howard Smeltzer, High Rock.
The funeral of Mr. Waltemyer was held yesterday morning at 9:30 o'clock, from his late residence, Laurel RD2.
Following brief services at the house, the funeral cortège proceeded to Sadler's church, near Shrewsbury, where concluding services were held. Rev. G. D. Laird, Lutheran clergyman of Felton, officiated. Interment was made in the cemetery at Sadler's church. The pallbearers were Harry Liephart, Charles McKinley, Albert Eveler, Clarence Trout, William Flaharty and Harry Runkle. Two hymns, "Rock of Ages," and "Will Never Say Good-bye," route were sung by the church choir. The funeral was in charge of funeral director Earl B. Burg, of the firm of Zarfos & Burg, Red Lion.
The Gazette and daily, York, PA, Monday morning, 5 November 1928
CORONER PROBING WALTEMYER DEATH
NOT SATISFIED THAT FARMER WAS KILLED BY FALL FROM MULE
THREATS AGAINST HIM?
Coroner L. U. Zech announced yesterday that he would conduct an inquest into the death of William Waltemyer, 52, Laurel RD, whose body was found Friday evening lying on a lonely country road in Chanceford Township not far from Collinsville. While outward indications were that the man had been fatally hurt in falling off a mule, the coroner said he felt that suspicious circumstances surrounding the case justified a thorough probe.
A jury will be empanelled today and the members sworn in. The inquest will likely be held in the latter part of the week.
At the time the man's body was found, members of the Waltemyer family mentioned a feud between him and the neighbor. It was said that there had been threats against his life. When Coroner Zech notified Dist. Atty. Amos W. Herman of the case, Mr. Herman recalled a complaint was lodged with him by Waltemyer himself.
Threatened By Neighbor. It was reported by Waltemyer that a neighbor threatened to kill him "at the first opportunity." The man who is alleged to have made the threat is an alleged bootlegger, who has been before the court and then has a similar violations of the law. Dr. Zech instructed Dr. C. E. McGuigan to perform a postmortem on the dead man's body, and this revealed the Waltemyer had a fracture at the base of the skull. The injury was not evident and probably would not have been found but for the autopsy. The Dist. Atty. was informed of the injury which caused the man's death and instructed Constable Ralph W. Keach to conduct and complete a thorough investigation.
The body was removed yesterday from the Zarfos & Burg funeral home at Red Lion, where it had been prepared for burial, to the Waltemyer residence. The funeral will be held this morning at 9:30 o'clock, with brief services at the house and further services at Sadler's church, near Shrewsbury. Intermittent will be made in the cemetery adjoining the church.
The Gazette & Daily, York, PA, Friday morning, 23 November 1928
WALTEMYER DEATH WAS ACCIDENTAL
FOUL PLAY THEORY FAILS TO RECEIVE SUPPORT BEFORE CORONER'S INQUEST
NO FEUD MENTIONED
Although Coroner L. U. Zech had been urged by a number of residents of the lower end of the county to investigate the death, one 2 November, of William T. Waltemyer, of Laurel RD, last night an inquest conducted in the grand jury room of the County Courthouse no reference to an alleged feud or threats made against the man were referred to whatsoever. Coroner Zech's jury decided that Waltemyer came to his death "from a fracture of the skull, as shown by a postmortem examination. According to evidence, it was evidently accidental. The exact manner of the accident is unknown to the jury at this time."
The jury, composed of Charles F. Zarfos, Erastus M. Runkle, Curtis Miller, Elisha Raile, Harvey A. Runkle and Howard Smeltzer, had few facts upon which to determine their verdict. The testimony of Dr. C. E. McGuigan, the physician who performed the autopsy, was by far the most important. He said that the man had an abrasion above his eye and a lump on the back of his head. There was a large fracture of the skull and the swelling of the lump was evidence that Waltemyer lived several minutes after his fatal mishap.
Evidence of Dragging. Waltemyer was found dead along a road about 2 miles east of Collinsville at about 7:10 o'clock on the night of Friday, two November. A mule, which he was riding to his home from a sawmill operated by Clarence Trout, and Goram, continued on his way home after the fatal accident. There was evidence that the man was dragged a distance of about 6 feet. His head was facing in the direction of his home. This aroused much suspicion. It is believed that the man moved during his consciousness the several minutes following his fall. Dr. McGuigan advanced the opinion the Waltemyer fell upon a rock, his foot remained in one of the stirrups and finally when he did become free, the mule stepped upon the back of his head. That the bump was not discolored in evidence that Waltemyer did not live more than several minutes after sustaining his injury.
No Runaway Accident. Harry K. Leiphart, his wife and Mrs. Roy Shelley, all of Laurel RD 2, who were on their way to church on the evening of the second, and discovered the body lying in the road, gave similar stories last night. Also the mule traveling toward the Waltemyer home walking "very gentle." Mr. Dooley part testified that there was evidence of the body being dragged. There were no shoes on the mule, he said.
Clarence Trout, at whose sawmill the man visited just prior to his death, testified that Waltemyer was visibly under the influence of liquor. He, however, had complete control of the mule, Trout said. He did not know of the man's death until the following morning.
Curvin Flaherty and Milton Flaherty, brother, who passed the man on the road a mile from the scene of the accident, claimed he appeared sober and gave them plenty of room to pass. The Flaherty's were in an automobile. The mule, at that time, was walking along very gently.
Lester Krussen, Laurel RD 2, saw the body of the man after death occurred. His actions prior to the death were questioned and the jury was satisfied that he knew nothing of the mishap.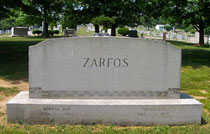 Store Founder Dies
Charles F Zarfos, 84, in Furniture Business 63 Years at Red Lion
Charles F Zarfos, 84, of Dallastown RD 1, founder of the Zarfos Furniture Store of Red Lion, died at 3:25 am today at his residence.  He was the husband of the late Mrs Bertha Mae Sechrist Zarfos.
Mr Zarfos opened the furniture store 63 years ago. He was a director of the Red Lion Table Company, a director of the First National Bank of Red Lion and a director of the former Red Lion Water Company.  He belonged to St Paul's EUB Church and Sunday school of Red Lion.
A Thirty-second Degree Mason, he was a member of Red Lion Lodge 649, Free and Accepted Masons; Gethsemane Commandery 75, Knights Templar, York; York Forest 30, Tall Cedars of Lebanon; Harrisburg Consistory; Zembo Temple of Harrisburg; York County Shrine Club; York Council 21, Royal and Select Masters; Scottish Rite Club of Harrisburg.  He was a life member of Red Lion Elks Lodge 1592.
Born in Red Lion, he was the son of the late Benjamin F and Jane Rupp Zarfos.
Surviving are four children, Mrs James F Favino, Charles S Zarfos and Jay R Zarfos, all of Dallastown RD 1, and Gerald L Zarfos, 221 West Main street, Red Lion; six grandchildren, four great-grandchildren, and a sister, Mrs Addie Hoffman, 724 West Broadway, Red Lion.
Funeral services will be held at 2 pm Thursday at St Paul's EUB Church with the Rev Dr Alfred J Thomas officiating.  Interment will be in Red Lion Cemetery.
Masonic rites will be conducted by the Red Lion lodge at 8:45 pm tomorrow at the Burg Funeral Home, 134 West Broadway, Red Lion."
In Memory of Charles F Zarfos,
Born 28 March 1883,
Entered into Rest 10 Oct, 1967,
Place & Time of Services:  St Paul's EUB Church, Red Lion, PA.  Thursday, 12 Oct 1967 at 2pm
Clergyman Officiating:  Rev Dr Alfred J Thomas
Place of Interment, Red Lion Cemetery
Active Bearers:  Samuel S LAUCKS, Philip LAUCKS, SS SECHRIST, JP BURG, Henry F BURG, Leroy E MILLER
Honorary Bearers:  Herman A EBERT, Edwill B MILLER, Harold J EBERT, Dr Oliver K MAURER, J Benton WARNER, H Stewart LEIPHART, Herman P MOBLEY, Paul E THOMAN"
Charles F Zarfos
Red Lion, Oct 14--The funeral of Charles F Zarfos, Dallastown RD 1, husband of the late Bertha Zarfos and founder of the Zarfos Furniture Store, here, was held yesterday in St Paul's EUB Church with the Rev Dr Alfred J Thomas officiating.
Interment was in Red Lion Cemetery.  Honorary pallbears were Herman A Ebert, Edwill B Miller, Harold J Ebert, the Rev Dr Oliver K Maurer, J Benton Warner, H Stewart Leiphart, Herman P Mobley and Paul P Thoman.
Active pallbearers were Samuel S Laucks, Dr Philip Laucks, S S Sechrist, Leroy E Miller, Dr J Palmer Burg and Henry F Burg.
These members of Red Lion Lodge 649, Free and Accepted Masons, conducted rites at the Burg Funeral Home Wednesday night:  Richard Weaver, worshipful master; Chester Hake, senior warden; Raymond Keener, junior warden, and Charles Stouch, chaplain.
Mr Zarfos died Tuesday at his residence."
---