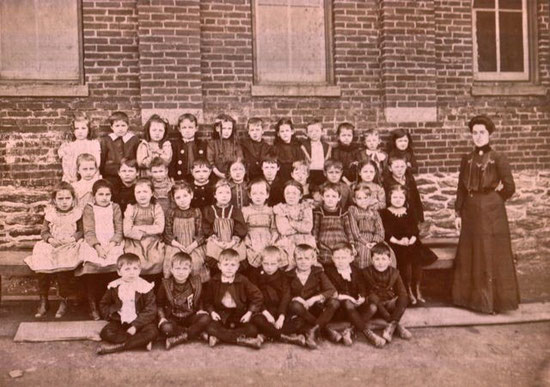 Meet the modern educated woman of 1900: Bertie SECHRIST!
The first woman in her high school graduating class; she earned her university degree two years later, and promptly taught for 3 years.  Her own children were relatively late in arriving—almost 4 years after marrying.  I wonder if she had to deal with much of the inevitable unsolicited local commentary for such deviant behavior?
The ZARFOS family acquired a camera along with their growing family.  I don't know if the primary photographer was Charlie or Bert, but there is clearly an artist's eye at work behind the lens.  (Many windows of their world coming up in later postings.)
For today, the life and times of: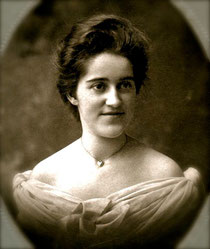 Bertha Mae SECHRIST
Birth: 22 Mar 1884 Red Lion, York Co., PA
Graduation: 17 May 1899 Red Lion High School, York Twp., York Co., PA
Graduation: 1901 Millersville State Teachers College, Lancaster Co., PA
 Appointment: 1901 St. Paul's Evangelical United Brethren Church, 1st Ave., Red Lion, York Co., PA, as church organist (assistant 1901-06) 1907-1910 & Sunday School teacher Class #12 1903-04
Death: 24 Apr 1953 W. Broadway Ext'd, Red Lion, York Twp., York Co., PA
Burial: 28 Apr 1953 Red Lion Cemetery, Gay St., York Twp., York Co., PA
Occupation: 1st grade school teacher at Red Lion
Associations & Affiliations: Women's Missionary Society/ Ladies Auxiliary Of Gethsemane Commandery, Knights Templar, York
Education: Red Lion High school 1899; Millersville State Teachers college grad 29 June 1904
Religion: St Paul's EUB Church, First Avenue, Red Lion, York Co, PA
Father: Stephen Stanley SECHRIST (1857-1943)
Mother: Susan Grove STEIN (1859-1938)
Mrs Charles Zarfos, 69, Red Lion, Dies
  Red Lion--Mrs Bertha May (Sechrist) Zarfos, 69, former school teacher and only girl member of Red Lion High School's first graduating class of 1899, died at 5:10 pm, yesterday at her home on West Broadway, extended.
  Mrs Zarfos, the wife of Charles F Zarfos, was graduated in 1901 from Millersville State Teachers college and for four years taught first grade in the Red Lion school.
  She was a life-long member of St Paul's EUB church, was a member of the Sunday school class taught by Mrs George Frey, and belonged to the Women's Missionary society of the church.  She also was affiliated with the Ladies' auxiliary of Gethsemane commandery, Knights Templar, York.
  Mrs Zarfos, who had been ill nine months, was the daughter of the late Stephen S and Susan (Stein) Sechrist.
  Besides her husband she leaves four children:  Mrs James F Favino and Charles S Zarfos, both of West Broadway, extended; Gerald L Zarfos, 221 North Main street, and Jay R Zarfos, Dallastown RD 1; eight grandchildren; a brother, James B Sechrist, Wyndham Hills, York, and a sister, Mrs Samuel S Laucks, Dallastown RD 1.
  Funeral services will be held at 2 pm, Tuesday at the Burg Funeral home.  Her pastor, Rev Paul A Werner, will officiate.  Burial will be in Red Lion cemetery."
Mrs Charles F Zarfos
Funeral services for Mrs Bertha May Sechrist Zarfos, wife of Charles F Zarfos, who died Friday at her home, West Broadway extended, were held yesterday afternoon from the Burg Funeral home, 134 W Broadway.
Her pastor, Rev Paul A Werner, of St Paul's EUB church, officiated.  Emory F Ritz was the organist.  Active pallbearers were:  Stephen S and James F Sechrist, Dr S Philip Laucks, Attorney Samuel S Laucks, Jr, Dr Chalmers D Ensminger, Dr J Palmer Burg, Robert Frutiger and Stewart Leiphart.  Honorary pallbearers were:  Harry W McGuigan, N Neiman Craley, Jr, Edwill B Miller, Paul E Lightner, Paul S Raub, Claud C Herrman, Daiel P Keener and J Benton Warner.
Interment was in the Red Lion cemetery." 
Marriage: 7 Jun 1905
Children:
Elsie Gladys (1909-1993)
Charles Sechrist (1910-1994)
Gerald L (1912-1987)
Jay Robert (1916-2000)
Richard Lee (Died as Child) (1919-1929)
Bible Study in the Woods circa 1900
by
AprylZA
Find other Nature Postcards at
zazzle.com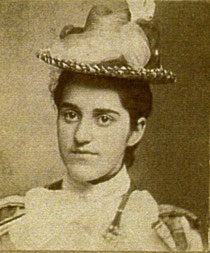 Bertha's University degree in possession of Beverly (ZARFOS) SLENKER:
"Commonwealth of Pennsylvania, Know All Men By These Presents, That Bertha M SECHRIST a graduate in the Prescribed Course of the State Normal Schools of Pennsylvania, having practiced the Profession of Teaching for two full annual terns, subsequent to graduation, and having exhibited the requisite proof of ability and good moral character, is hereby granted the State Normal School Diploma and is fully authorized to practice the Profession of Teaching, to the extent of the branches named on her Normal Teachers' Certificate, in any of the Public Schools of the Commonwealth and without further examination.
In Testimony Whereof, the proper authorities have hereunto set the Seal of the Normal School of the Second District, and their respective signatures at Millersville this 29th day of June AD 1904.
Nathan C SCHAEFFER, Superintendant Public Instruction
Issac N MOOR et al."
"This is the eighth-grade final exam from 1895 from Salina, KS. USA.  It was taken from the original document on file at the Smoky Valley Genealogical Society and Library in Salina, KS and reprinted by the Salina Journal.  [I include this as an example of the level of knowledge that Bertha would've been expected to teach.]
8th Grade Final Exam: Salina, KS - 1895
Grammar (Time, one hour)
1. Give nine rules for the use of Capital Letters.
2. Name the Parts of Speech and define those that have no modifications.
3. Define Verse, Stanza and Paragraph.
4. What are the Principal Parts of a verb? Give Principal Parts of do, lie, lay and run.
5. Define Case, Illustrate each Case.
6. What is Punctuation? Give rules for principal marks of Punctuation.
7 - 10.  Write a composition of about 150 words and show therein that you understand the practical use of the rules of grammar.
Arithmetic (Time, 1.25 hours)
1. Name and define the Fundamental Rules of Arithmetic.
2. A wagon box is 2 ft. deep, 10 feet long, and 3 ft. wide. How many bushels of wheat will it hold?
3. If a load of wheat weighs 3942 lbs., what is it worth at 50 cts. per bu., deducting 1050 lbs. for tare?
4. District No. 33 has a valuation of $35,000. What is the necessary levy to carry on a school seven months at $50 per month, and have $104 for incidentals?
5. Find cost of 6720 lbs. coal at $6.00 per ton.
6. Find the interest of $512.60 for 8 months and 18 days at 7 percent.
7. What is the cost of 40 boards 12 inches wide and 16 ft. long at $20 per m?
8. Find bank discount on $300 for 90 days (no grace) at 10 percent.
9. What is the cost of a square farm at $15 per are, the distance around which is 640 rods?
10. Write a Bank Check, a Promissory Note, and a Receipt.
U.S. History (Time, 45 minutes)
1. Give the epochs into which U.S. History is divided.
2. Give an account of the discovery of America by Columbus.
3. Relate the causes and results of the Revolutionary War.
4. Show the territorial growth of the United States.
5. Tell what you can of the history of Kansas.
6. Describe three of the most prominent battles of theRebellion.
7. Who were the following: Morse, Whitney, Fulton, Bell, Lincoln, Penn, and Howe?
8. Name events connected with the following dates:
1607
1620
1800
1849
1865
Orthography (Time, one hour)
1. What is meant by the following: Alphabet, phonetic, orthography, etymology, syllabication?
2. What are elementary sounds? How classified?
3. What are the following, and give examples of each: Trigraph, subvocals, diphthong, cognate letters, linguals?
4. Give four substitutes for caret 'u'.
5. Give two rules for spelling words with final 'e'. Name two exceptions under each rule.
6. Give two uses of silent letters in spelling.  Illustrate each.
7. Define the following prefixes and use in connection with a word: Bi, dis, mis, pre, semi, post, non, inter, mono,super.
8. Mark diacritically and divide into syllables the following, and name the sign that indicates the sound: Card, ball, mercy, sir, odd, cell, rise, blood, fare, last.
9. Use the following correctly in sentences:
Cite, site, sight,
fane,fain, feign,
vane, vain, vein,
raze, raise, rays.
10. Write 10 words frequently mispronounced and indicate pronunciation by use of diacritical marks and by syllabication.
Geography (Time, one hour)
1. What is climate? Upon what does climate depend?
2. How do you account for the extremes of climate in Kansas?
3. Of what use are rivers? Of what use is theocean?
4. Describe the mountains of North America.
5. Name and describe the following: Monrovia, Odessa, Denver, Manitoba,Hecla, Yukon, St. Helena, Juan Fermandez, Aspinwall and Orinoco.
6. Name and locate the principal trade centers of the U.S.
7. Name all the republics of Europe and give capital of each.
8. Why is the Atlantic Coast colder than the Pacific in the same latitude?
9. Describe the process by which the water of the ocean returns to the sources of rivers.
10. Describe the movements of the earth.
Give inclination of the earth."
Red Lion 1st Grade Class of 1903
by
AprylZA
View other
Vintage Postcards
---