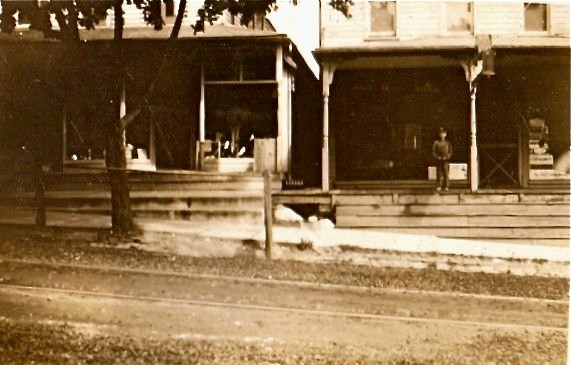 Stepping back into the early days of Red Lion, this photo depicts the first storefront for Zarfos & Burg, probably 1919, if that's Charlie ZARFOS on the top step.
The curved white figure to the far right of the photo is a larger-than-life statue of Nipper, advertising the Victrolas that were also sold with the furniture and funeral services.  Sadly, the current whereabouts of the attentive terrier are unknown.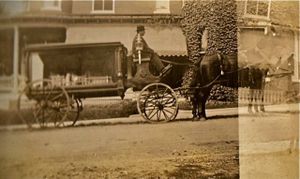 From Red Lion: The First One Hundred Years (1980), pg. 95
THE BURG FUNERAL HOME
     In 1897, Mr. Earl B. Burg, the oldest of eleven children, at age eighteen, left his home near East Prospect, Pennsylvania, and came to Red Lion.
     He was employed by the Charles Detwiler Furniture and Undertaking business, at 21 W. Broadway, where the present Zarfos Furniture Store is now located.
    For eleven years, he assisted Mr. Detwiler in the embalming of bodies and conducting of funerals.
     In 1907, the Detwiler Furniture and Funeral Directing Business was sold to Charles Zarfos, Sr., and Earl B. Burg, and a partnership was formed.
     Mr. Burg attended the Eckel School of Mortuary Science, then located in Philadelphia, and was the first person in Southern York County to receive a certified diploma to practice funeral directing in Pennsylvania.
     Mr. Burg was associated with the firm Zarfos and Burg, during which time one of the first Ambulance Services in Southern York County was begun, and operated until the present Red Lion Area Ambulance Association was formed.  In 1934, the Zarfos and Burg Partnership was dissolved and Mr. Burg, Sr., with his son, Henry F. Burg, built one of the most modern funeral homes in Pennsylvania, on the Corner of Broadway and Charles Streets, and named it, "The Burg Funeral Home."
     In 1960, Earl B. Burg retired from active participation, and The Burg Funeral Home since that time has been serving the people of Red Lion and surrounding Communities under the directorship of Henry F. Burg and Son, Earl R. Burg, now the 2nd and 3rd generation, both being College graduates and Certified Funeral Directors in Pennsylvania.  Earl B. Burg was called upon for consultation many times following his retirement, until he died at the age of 100, on January 7, 1979.
And when it rains on your parade...
by
AprylZA
Create a
Post card
with zazzle.com
The stars of this float were the children of James Bayard SECHRIST (brother of Bertha Mae), pictured below: Stephen Stanley II, James Finkbinder, and Barbara Lou SECHRIST.
"You furnish the bride, we furnish the home."
by
AprylZA
Look at American Postcards online at
Zazzle.com
Zarfos & Burg celebrate the Red Lion Jubilee, 1930
by
AprylZA
Look at more American Postcards at
zazzle
---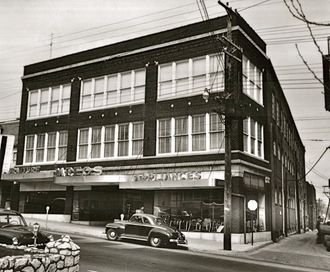 From Red Lion: The First One Hundred Years (1980), pg. 94
ZARFOS FURNITURE STORE, INC.
     On January 3, 1907 Charles F. Zarfos and his brother-in-law, Earl B. Burg formed a partnership and purchased the furniture and undertaking establishment of C. W. Detwiler, a three-story frame structure, located at 29 W. Broadway.
     In July 1923 Zarfos & Burg began construction of a brick building on the same site at a cost of over $100,000.00.  However, the new building became inadequate to serve both the funiture and undertaking businesses.  On April 17, 1934, the Zarfos & Burg partnership was dissolved, and the firm became Zarfos Furniture Store with Charles F. Zarfos as sole proprietor.  Earl B. Burg formed the Burg Funeral Home at 134 W. Broadway.
     A new partnership was formed on April 1, 1941 consisting of Charles F. Zarfos and his children: Charles S. Zarfos, Gerald L. Zarfos, Jay R. Zarfos and Gladys Zarfos Favino.  In October 1947, the parnters incorporated the business under Pennsylvania Corporate Law.
     Charles F. Zarfos died in October 1967 at the age of 84.  His children have since retired from active participation in the business, leaving management to Charles E. Zarfos and J. Richard Zarfos, sons of Charles S. and Jay R. respectively.
     Due to the expansion of the business in recent years, and the need for more space, the corporation purchased two adjacent buildings to be used as furniture and carpet warehouses: the former Neff cigar factory and parking lot August 23, 1966, and the Gemmill tobacco warehouse January 4, 1972.  This added 32,000 sq. feet of warehouse space.
     Today, Zarfos Furniture Store has one of the largest displays of furniture, floor coverings, and accessories in South Central Pennsylvania, serving all areas within a hundred-mile radius of the store.  The corporation employs 28 people, among them three professional decorators.
     Zarfos Funiture Store is proud to have been a part of the Red Lion Community and to have grown with it over the past 73 years.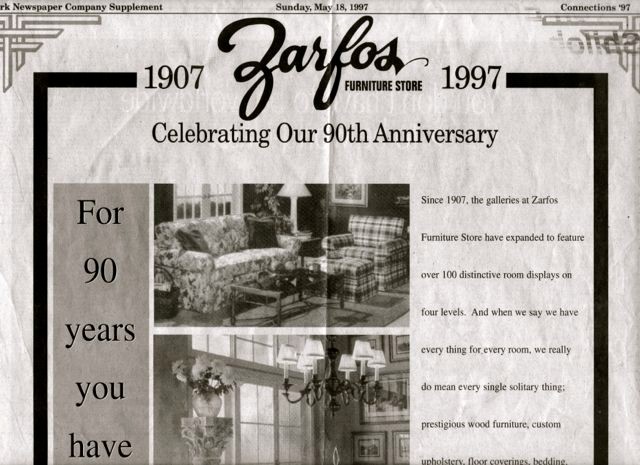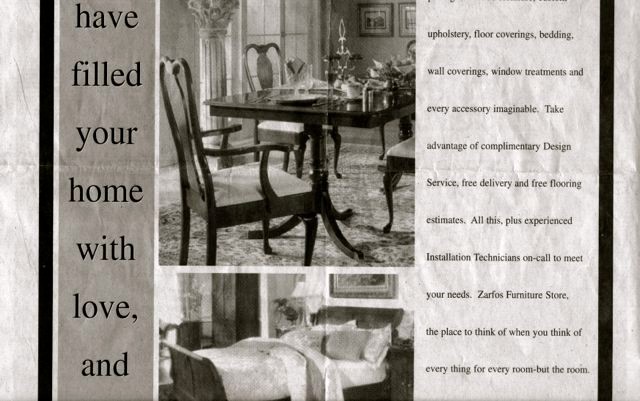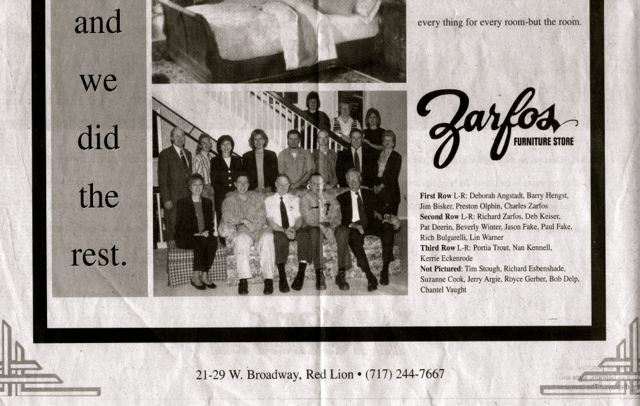 And the rest (as they say) is history.  Latest word is, yes, they are happy in retirement.