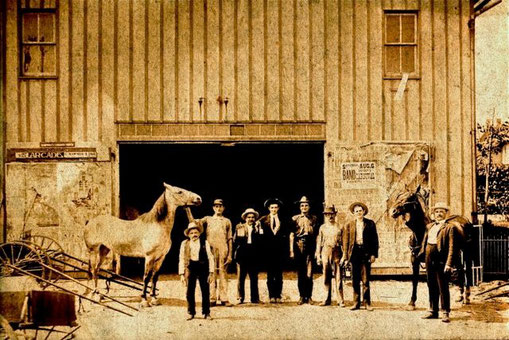 It's strange, looking through my great-great-grandfather's bio, he was obviously a very busy man.  From his grandfather's distillery to town founder, Stephen Stanley SECHRIST was Involved!
He appears in a few photos (2nd from right in this one—3rd, if you count the horse), but I really wish I knew more about him.  I'm not sure if his portrait photos make him appear bored, or boring...Which makes me all the more curious...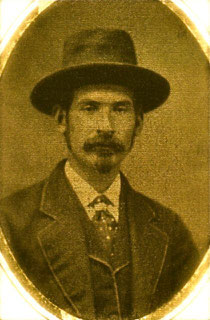 Stephen Stanley SECHRIST
Birth: 24 Mar 1857 on Family Farm Near Felton, Chanceford Twp, York Co, PA
Land Purchase: 'Rocks Of Deer Creek', Deer Creek, Harford, MD
Founded: 1884 Porto Rican Cigar Co., Red Lion, York Co., PA
Founded: Red Lion Water Co., Red Lion, York Co., PA
Appointment: 1892 founding family of St Paul's; sunday School Superintendant 1894, 1897-1902, 1904-1908, 1912-1920; teacher Class #3 1903-04
St. Paul's Evangelical United Brethren Church, 1st Ave., Red Lion, York Co., PA
Appointment: 1907 President of Red Lion Furniture Co., Red Lion, York Co., PA
Appointment: President of 1st National Bank, Red Lion, York Co., PA
Occupation: Teacher For 16 Consecutive School Terms, Being Engaged At Dallastown, Red Lion And Windsor.  He First Commenced His Present Business At Red Lion On A Small Scale, In 1884 [See Notes]
Education: local public schools ages 6-16.  For a short time he was a pupil at the Union Seminary, at New Berlin PA, and at the early age of eighteen he began teaching, in the home school in Chanceford township.
Religion: founding family St Paul's EUB, 1st ave Red Lion
Census: 1910 (York Co, York twp 0089-0142) Red Lion, York Co., PA
Death: 30 Nov 1943 at 105 W. Broadway, Red Lion, York Twp., York Co., PA
Burial: 4 Dec 1943 in Red Lion Cemetery, Gay St., York Twp., York Co., PA
Father: John Franklin SECHRIST (1813-1901)
Mother: Susan FREY (1820-1912)
Spouse: Susan Grove STEIN
Birth: 22 Oct 1859
Appointment: 23 Apr 1896,
member of Women's Missionary Society; VP 1905; Pres 1906-1912; Sun School teacher Class #4 1901-04; Class #7 1915-20, 1922
St. Paul's Evangelical United Brethren Church, 1st Ave., Red Lion, York Co., PA
Death: 20 Oct 1938
Burial: Red Lion Cemetery, Gay St., York Twp., York Co., PA
Father: Daniel STINE Jr. (1825-1905)
Mother: Susan GROVE (1826-1903)
Marriage: 11 Sep 1883, Windsor Twp., York Co., PA
Children:
Bertha Mae (1884-1953)
James Bayard (1885-1971)
Stella Elizabeth (Died as Infant) (1885-1886)
Elsie Gladys (1889-1987)
"Faith is a passionate intuition." Wllm Wordsworth
by
AprylZA
Learn about
postcard printing
using Zazzle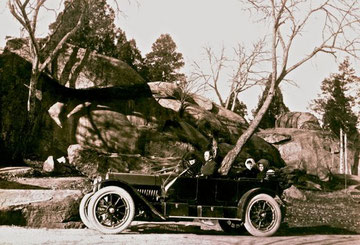 Misc. Notes
STEPHEN S SECHRIST, a well-known business man of the borough of Red Lion, in York county, comes of a family which has long been located in this region.  His grandfather was a farmer and distiller in Chanceford township, where he owned a large farm, and was widely known in his section.  He hauled his whiskey to Baltimore for sale.  He was twice married, and had children by both unions.
Stephen S Sechrist was born March 24, 1857, in Chanceford township, York county, on the old home farm previously mentioned, and received his early education in the local public schools, which he attended from the age of six years until he was sixteen.  For a short time he was a puil at the Union Seminary, at New Berlin, Pa, and at the early age of eighteen he began teaching in the home school in Chanceford township.  He continued to follow that profession for sixteen consecutive school terms, being engaged at Dallastown, Red Lion and Windsor.  He first commenced his present business at Red Lion on a small scale, in 1884, and continued to conduct the factory until 1899, when he formed his present partnership with T E Brooks and D A Horn, the firm being known as the Porto Rico Cigar Co, of which he has always been treasurer.  THe business increased rapidly from the start, and the firm now has the largest factory in the borough, occupying a building 35 x 85 feet in dimensions, with room for 100 employees; it is a substantial brick structure and was erected in 1900.  THe Porto Rico Cigar Co manufactures all grades of cigars from those that sell for two for five cents up to the ten-cent varieties, and also deals largely in leaf tobacco, doing a prosperous business in both lines.  There is no doubt that the excellent financial condition of the company's affairs is due principally to the sound judgment and good management of the founders of the business, for Mr Sechrist has always ranked among the most reliable men in the borough since he took up his residence there.  Beginning with a small shop, he has worked his way to a place among the leaders in his line in this section, without aid from anyone, and he is regarded with the utmost respect by his business associates and fellow townsmen generally.  For the past three years he has been one of the directors of the First National Bank of Red Lion, and in all his business relations enjoys the merited confidence of those with whom he has dealings.  He has been identified with the local civil administration as member of the borough council and school director, in which offices he discharged his duties with the fidelity and efficiency which might have been expected of an enterprising business man who understands the necessity for promptness and straightforwardness in municipal affairs as well as in private undertakings.  He is a stanch Democrat in political faith, and takes part in the religious life of the community as a member of the United Evangelical Church.  Socially he is an Odd Fellow, holding membership in Katahdin Lodge, at Red Lion.
Mr Sechrist was married in Windsor township, York county, Sept 11 1883, to Miss Susan G Stine, daughter of Daniel and Susan (Grove) Stine, and they have had four children.  Bertha (wife of Charles F Zarfos), James and Elsie, living, and Stella, deceased.  The home occupied by the family is conceded to be one of the finest in the borough.
from "St Paul's Evangelical United Brethren Church 1885-1968", First Ave, Red Lion, Penna.  Sherwood F Ritz, editor
p 11, "The Rev George JOSEPH was appointed pastor in 1894, and served one year.  On Mar 28, 1894 and May 2, 1894, two parcels of ground, located on the north side of First Ave, were purchased by the trustees of the church.  The Trustees were as follows:  John W ZARFOS, Red Lion; S S SECHRIST, Red Lion; Moses SMITH, Red Lion; Eli SMELTZER, Red Lion; William OBERDORFF, Windsor township.
The Trustees jointly agreed that the purpose of purchase was to build a house of worship at Red Lion, Pennsylvania."
"This month we will feature the RED LION TABLE COMPANY.  This firm was organized in 1913 with a capital stock of $140,000.  The company manufactured bedroom and dining room suites of exquisite design, expert craftsmanship and admirable quality.  The company hired local men and advanced them to top management and company directors.  Furniture showrooms were located in New York, Chicago and High Point, North Carolina.  The original officers were S S SECHRIST, Sr, C F ZARFOS and C S LaMOTTE, and the building was located just north of the Ma & Pa Railroad on North Charles Street.
In 1960, the business expanded to include the former Red Lion Woodcraft and Consumer's Box Company.  The main location of the Red Lion Table Company continued operations until 1981 when it was closed and auctioned off with machinery to David Edward Company."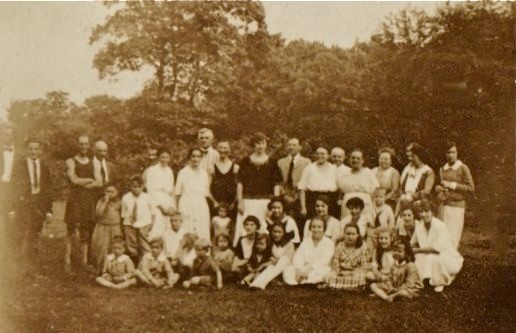 Oh, the mystery!  I recognize Charles & Bertha (SECHRIST) ZARFOS family, and because this photo was taken around 1925 at Deer Creek, Maryland, there must be a good slew of SECHRISTs here.  Who are these people?!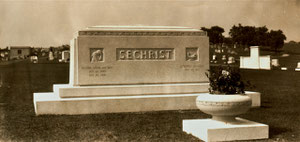 "A farmer, Sechrist took Red Lion under his wing
by Sheila Carmody, Daily Record staff
As a young adult, John Sechrist worked for his father, driving a team of horses to Baltimore to deliver whiskey for his father, who ran a Chanceford Township distillery.
John (born in 1813) would eventually have nine children of his own with wife Susan Fry.  One of those children was Stephen S Sechrist, born in 1857.
Growing up, Stephen S worked on the family farm in Chanceford Township.  The family raised the usual--wheat, corn and hay.  But Stephen wasn't fond of farming.
"One day he went out to plow and made up his mind he wasn't going to plow for the rest of his life," said Sam Laucks, a grandson of Stephen S Sechrist.
A 16-year stint as a teacher in Dallastown, Red Lion and Windsor followed.
The citizens of Red Lion petitioned for the incorporation of the village of Red Lion into a borough.  They obtained a charter in 1880.  Sechrist played a big part in the business community that developed following the borough's incorporation.
He opened the Porto Rico Cigar Co in 1884, one of several cigar companies operating in Red Lion over the next few decades.  In 1907, he was named president of the Red Lion Furniture Co.
Laucks remembers when the cigar business closed.  He was still a child, but recalls a few people still on staff in the 1920s, especially his grandfather.
"I remember that he was a rather rotund individual, bald-headed, and he was very successful in the businesses that he was in," Laucks said.
Stephen S Sechrist went on to become president of the First National Bank of Red Lion and was instrumental in establishing the Red Lion Water Co, Laucks said.  Stephen S and his wife, Susan Stine Sechrist, married in 1883.  The couple had four children:  Bertha, James, Elsie and Stella.
Laucks, who practices law in Red Lion, is the son of Elsie.
The Sechrist line goes back to Henry Sechrist, a German.  He started the Chanceford farm and distillery.
A good cigar, a shot of whiskey and a fine chair to sit in--all manufactured by the Sechrist family.
Sources:  "George Prowell's History of York County"; interview with Sam Laucks."
And this photo is so cool, I've made it available as a poster, too:
Sechrist Whiskey Distillery, York, Pennsylvania
by
AprylZA
See more Antique Posters at
zazzle.com
---