Here's a handsome couple, and you'll see them quite often in upcoming posts.  As Bertha Mae's brother, the families spent a lot of time together, outside, in many photogenic moments...
But for now: The Backstory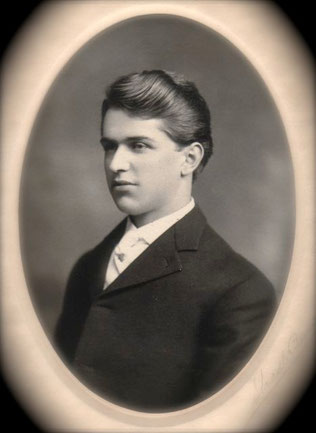 James Bayard SECHRIST
Birth: 2 Oct 18851
Death: 1971York, York Co., PA1
Burial: Red Lion Cemetery, Gay St., York Twp., York Co., PA1
Occupation: Manufacturer2
Father: Stephen Stanley SECHRIST (1857-1943)
Mother: Susan Grove STEIN (1859-1938)
Spouse: Mary Edith FINKBINDER
Birth: 1883
Death: 1971 in York, York Co., PA
Burial: Red Lion Cemetery, Gay St., York Twp., York Co., PA
Occupation: Music Teacher
Father: Charles FINKBINDER
Mother: Elizabeth
Marriage: 5 Apr 1911Red Lion, York Co., PA2
Children:
Mary Elizabeth (1912-1998)
Stephen Stanley (1916-2008)
Barbara Lou (1924-2007)
James Finkbinder (1922-1999)
Sources
1. tombstone inscription, Red Lion Union Cemetery, York Co, PA
2. Mary E Rutt, The Five Sisters:  Our Sechrist Heritage 1705-1999, Walter Shaub, Gordonville, PA.
Mary FINKBINDER-SECHRIST w Stephen & Elizabeth
by
AprylZA
Get the best in
online postcard printing
at zazzle
---
Here's a great shot!  The photo is labeled: Bluebird Studio, 2527 Boardwalk, Q11.
I assume this is the Boardwalk at Atlantic City, NJ, and J. B. (2nd from right) is attending a businessman's conference.  That looks like George HOFFMAN (2nd from left), although I can't be sure.
Right, I'll bet you're wondering the same thing.  A CONFERENCE FOR WHAT, GANGSTERS?!!  They're so Boss!
On the Boardwalk, circa 1930
by
AprylZA
Create
Post cards
at zazzle
---