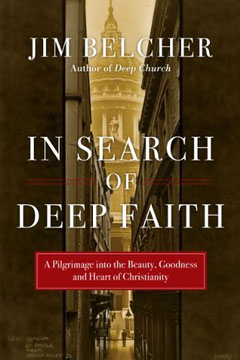 When I accepted the copy of Jim Belcher's latest book in exchange for a review, I had no idea that it was an invitation to such an enormous challenge.  What's the big deal, right?  Just read it, and critique it!  Sure, that's what you're getting here, but this is NOT where it ends.
I met the Belcher family while they attended ICCP during their stay in Provence, and was intrigued by Jim's intentions to study his heroes of the Christian faith during a sabbatical year…with his family in tow, no less.  We've been witnesses to expatriate families for many years, but none with such a clear plan—at least, none that were still holding true to that plan six months on.  Expectations often get derailed early on while "living the dream," so what makes the Belchers any different?
Their plan is the premise of In Search of Deep Faith, Downers Grove, IL: InterVarsity Press, 2013.  ISBN 978-0-8308-9576-2 (digital) ISBN 978-0-8308-3774-8 (print)
Like his favorite travel writer, Robert D. Kaplain, Jim and Michelle Belcher wondered "how to recapture the sense of endless possibilities before the accumulation of deeds to justify: when one was unaccountable to time because there was always time to make up for a mistake."  Added to that is their exploration of Pilgrimage.  Jim quotes John Inge, in his A Christian Theology of Place, saying that "a pilgrimage is characterized by three things: a rediscovery of our roots, and understanding that life is a journey and a new focus on our true destination."  In Search of Deep Faith recalls John Bunyan's A Pilgrim's Progress, and I would add that this is the family man's Blue Like Jazz.  This is a journal revealed for our own introspection.  Even in writing this review, my notes are growing, rather than being edited down for public consumption.  It's the kind of book that entices the reader to become part of the conversation—I love that.
What is the difference between vacation and vocation?  I've had to answer to that question uncountable times in the 25 years I've lived outside my native Pennsylvania.  "What are you doing here?"  Tim's employer determines where we live, and as homemaker, I've struggled to maintain equilibrium in foreign lands.  Because the Belchers voluntarily chose one year abroad, their experience was concentrated by the Refiner's fire.  We are invited as honored guests into their crucible.  Jim writes with the clear confidence that even though he doesn't fully understand God's ways, he trusts that Father's guidance will see him through.
There is an interesting flow between the 'heroes' stories and the Belchers'.  The real lessons never grow old.  Time is eternity, when it comes down to God's principles.  Each chapter highlights different characters in different countries in different generations over different periods and cultures.  It's utterly fascinating to see how such different people are similar in their quest for a higher goal, and Jim weaves past and present in such a way that invites future exploration.
As well as clear "heroes" of the faith such as William Wilberforce, C. S. Lewis, Corrie ten Boom, Dietrich Bonheoffer and Maria von Trapp, there are also considerations of Robert Louis Stephenson and Vincent van Gogh—what are the crucial elements of faith…or what derails a pilgrimage?
Oh, there is so much more I'd like to tell you about what I've found here!  But that's what's taken me so long to write this much.  In Search of Deep Faith is the kind of book that invites further study, both of the people of integrity whom Jim set out to meet, and for the possibilities for development in our own lives.  The Belcher family participated in a courageous experiment, even if they didn't know what that entailed when they began their journey.   I was reminded of a lesson that Corrie ten Boom used to share, saying that our lives resemble a complex tapestry of which we only see the tangled threads on the backside.  It's only after looking back on a life well lived that we can see the beautifully woven pattern that Father designed for us.
I hope that I've convinced you to purchase a copy, and to join me for a coffee and further discussion.  There's so much more of this journey I want to unpack!  For instance, the first several paragraphs really bother me.  Not to drop any spoilers, the beginning did not sound like the Belchers I knew, and felt incongruous to the rest of the book.  I was uncomfortable reading of their discomfort, and was frankly quite relieved that fearfulness was not a typical condition.  Discomfort, yes, the pilgrim can expect that, but unrestrained worry?  I've got a sense that this was tacked on in final editing to make us feel more at home, am I right?
To quote Jim, "This year abroad was about discovering our spiritual roots, then it certainly had to be about helping our children, and us, understand the battle within and how our old nature no longer defines our reality."  The Culture Shock that the Belcher family elicited plunged the entire family into deep change.  It could've gone either way: broken binding idols of comfort and implanted a habit of growth, or driven them more deeply into the desire for comfort and developed a life of entropy. Jim's expressed blessings on each family member are eloquent evidence that he recognizes their individual potentials and personal development.  He blesses us, too!
How do we know if we are on a tour or a pilgrimage?  According to Wright, "The test of whether pilgrimage is genuine is…the question, whether you're prepared for God to remake you instead, lovingly to break the brittle 'you' that you've so carefully constructed, to soften the clay in his hands" and to remake you in his image, not the one you imagined.  Thanks, Jim, for this blessed assurance that we are not alone on this great journey.  In fact, we are surrounded by a great cloud of witnesses, and it's a true blessing for us to remember that together.
I'm not in any way required to write a rave review simply because I received a free copy from IVP, or because I think the Belchers are people worth knowing (although both are true).  I'm raving because not every book is worth recommending, and this one is!  In Search of Deep Faith is available as an eBook, but I want to encourage you to support your independent bookseller.  One of my favorites is Dallastown's very own Hearts & Minds.  Click on this link to Byron's blog on In Search of Deep Faith for a 20% discount.  If you're looking for more thought-provoking or spirit-developing books, don't hesitate to ask!  They even ship wherever in the world you happen to be pilgrimaging.
And I want to know what's inspired you the most on your journey: