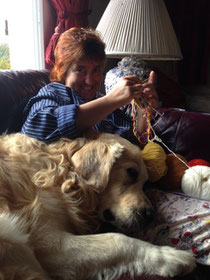 Should auld acquaintance be forgot and never brought to mind?  
Certainly not!
The start of a new year is another opportunity to consider what we've experienced and learned from the old, and then pick and choose in which direction to set our sights.
The Knitting Guild Association is currently reviewing my Level II submission (photo of Turner assisting with my Fair Isle sample above), so I'm taking the opportunity to clear up my studio.  The plan is to post more work to the print-on-demand sites, and here's a little something to inspire fellow knitters:
---
I also plan on completing more genealogical research, so I'll keep you up-to-date on the ancestral discoveries, as well.
What are you learning and hoping to discover this year?