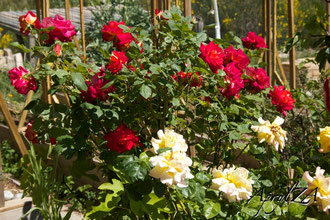 It's been a long time since I've written anything coherent, and now's the time that a picture's worth a thousand words:
Spring hath sprung at Anderland!  
There's so much opportunity for growth here, and most of my days have been filled with pruning and tending.  
Much of the action starts right here...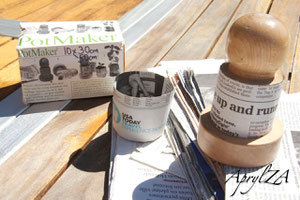 ...with the Richter & Sons, Ltd. PotMaker
Okay, so it takes a fair bit of time to slice and roll the newspapers into seed pots, but how many plants have gotten off to a good start since I purchased this fine technology in 1996?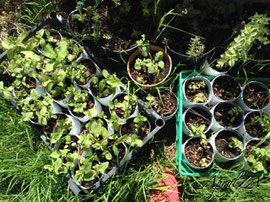 And I discoved that mint is the gift that keeps on giving.
By thinning out the excess, the bits of root planted in halved plastic 1-liter milk bottles (with drainage holes, of course), are growing apace! 
Decorating their own milk bottle pots will be a custom-made Kids' Week craft; teaching both upcycling and the principle of sowing & reaping. (As well as redistributing the glut of mint in my garden.)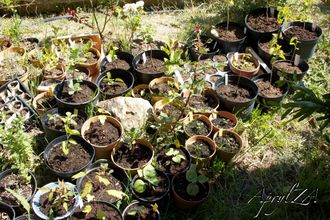 Speaking of sowing & reaping, last year's seedlings are this year's nursery. There's been a whole lot of moving going on here.
Chiltern Seeds has an enticing selection of plants to grow from seed!
Meanwhile, I've been practicing the proverb: If you can't beat it, eat it.
So many of the weeds* growing so happily around here were delicacies on the Roman table.  One of our springtime favorites is Rumex sp. (sorrel in english; oseille in french). I chop it finely, and stir into crème fraîche (sour cream) with a bit of salt & pepper. It's FANTASTIC on steamed fish and pasta, and makes a beautifully creamy salad dressing.
This sinkful of sorrel, mint and parsley is enjoying a vinegar bath to kill off any bugs and microscopic nasties. Then I give the herbs a whirl in the salad spinner to shed excess moisture, and it becomes part of a gorgeous pesto. Instead of pigñoli, I used walnuts to compliment the lemony-sour of the sorrel.
* Weed: any plant in the wrong place
Julia Child taught me how to best care for Aunt Cordie's skillet:
Spinkle salt (remember what Jesus said about when salt loses its flavor? You can use the cheapest variety available for this) all over your pan to scour food residue. If anything remains stuck on the skillet, you can heat it to a crisp before having another go at it. NEVER use detergent on cast iron--it'll ruin the finish, and you'll have to retreat it all over again.
Meanwhile, back in the garden...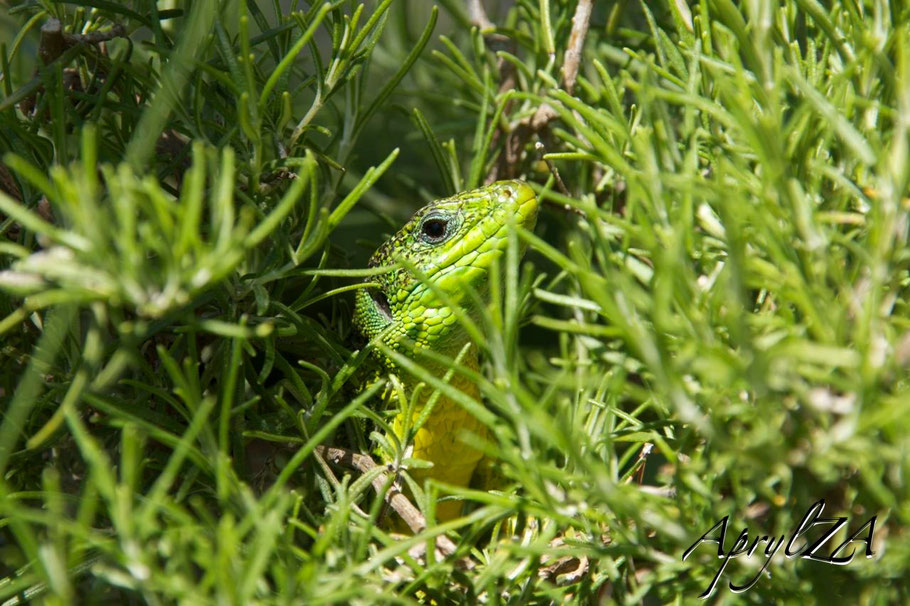 This is one of my snail brigade. I've also spotted a garden snake. Hooray for organics!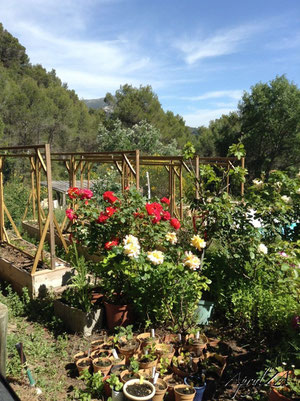 If you hadn't already noticed, Tim is a master engineer.
Over the years, I've tested all sorts of climbing arrangements for the veg, always on the lookout for the perfect solution.
These are custom-built frames with stretched wire, and the sugar snaps are already knocking themselves out to reach the top!
I went on a search recently to find out where my visiting honeybees were taking the goods...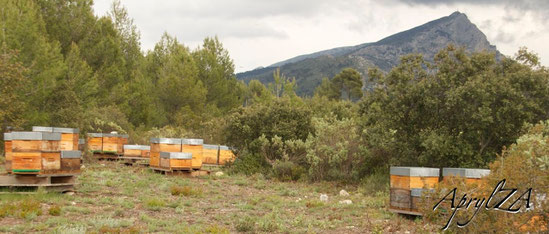 It seems they already have quite a comfortable home...homes...condominiums...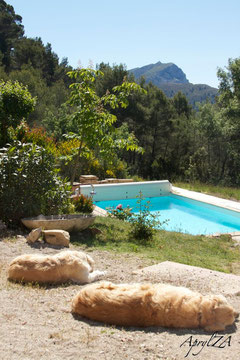 I've read that honeybees will travel about 10 kilometers to find pollen, and I'd really like to save them the commute. There's a little something else for my ToDo list.
Oh, I almost forgot to mention: Last June, I started taking a teaspoon of been pollen with my breakfast yogurt every morning. This is the FIRST YEAR EVER that I've not been a public embarrassment with explosive sneezing and allergic snuffling. I've also gotten through winter with only brief (24-hour) sore throat and cold. Thank-you, bees!
Meanwhile, back at the ranch...
I've also been harvesting, drying, and learning the voies et pourquois—aka wheres and wherefores—of making a return on my investments...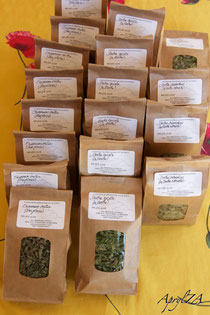 Marjolaine (Origanum onites) and 
Menthe (Mentha spicata & Mentha suaveolens)
are now ready for boarding.
Meanwhile, Turner can't resist the distraction of the finch family's new arrivals...in upturned plant pot! What were they thinking?!!
Here's a little something I made earlier: