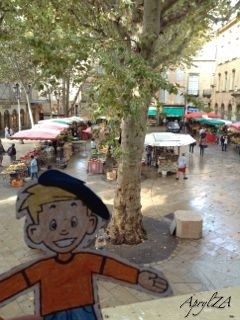 Welcome, Stanley!
Have you had the pleasure of knowing this little guest? Those of us who live in "exotic" locations see him rather often.
He's a very low-maintenance visitor, requiring minimal in the way of food, drink, and laundry services, and asking only for a day out…or as many as I can get away with in the name of education.
This fella comes from Lilburn, Georgia, USA, and he has a few questions that need answering: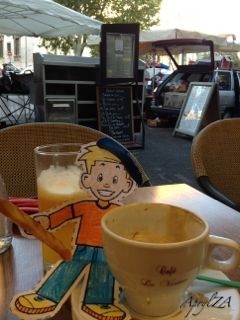 1. Where is Flat Stanley visiting?

Here we are sharing un petit déjeuner (breakfast) d'un café au lait (coffee with milk) et un jus d'orange pressé (fresh-pressed orange juice). Le croissante a déjà disparu—Where do you think the pastry went so fast?
We're at Café le Verdun. You can't see le palais de justice (the law courts) on the background of this photo because it's Tuesday, and there's a market on the square blocking our view.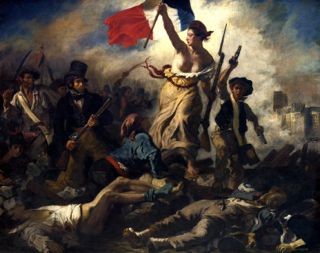 2. What are some of your state or country's symbols?
This is a famous painting of ‹‹La Liberté Guidant le people›› by Eugène Delacroix in 1830.

She is the symbol of the French Republic and the country's motto of ‹‹ Liberté, égalité, fraternité ››.  The government tries very hard to impress these ideals of liberty, equality and brotherhood into their citizens.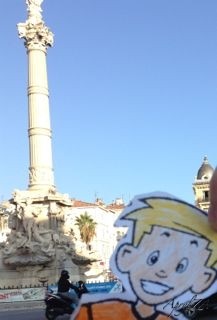 I found a link to ‹‹les Emblèmes de la France›› that probably tells you even more than you want to know (if you understand French).
It mentions ‹‹le coq gaulois›› one of the oldest species of domestic rooster that is nearest to being wild. The French love a good play on words, and this bird fits the bill; in Latin, "gallus" signifies both rooster and Gaulois—the name of the tribe who occupied the land before the Romans took over. Like the rooster, they put up quite a fight, and that feisty spirit fuels their pride to this day. The success of Astérix et Obelix is based on those ancient legends.
The national hymn is ‹‹la Marseillaise›› but many of us prefer the Resistance song, ‹‹ Le chant des partisans››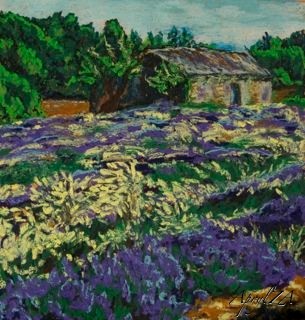 Le drapau national est le Tricouleur: The French flag is known as the Tricolor. Just as Americans are conditioned to say, "Red, white and blue," the French will immediately say, "Bleu, blanc, rouge."
The colors of the flag of Provence are red and gold. Legend has it that a dying count to Charlemagne ran his bleeding fingers over his gold shield. In case you were wondering, there was no shortage of bloodshed throughout French history.
Provence also boasts of la lavande: its famous lavender. Each region (state and department) have natural products worth boasting about, and all of France can take pride in its appreciation of great food. Fresh produce, dairy, meat, bread and wine, simply prepared is a worthwhile national pastime.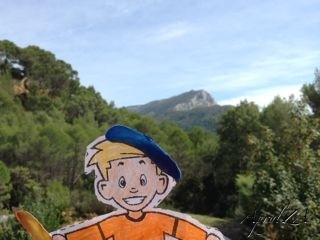 3. What do you do for fun where you live?
Here's another famous local symbol: Sainte Victoire. The impressionist artist, Paul Cézanne, painted it more that 80 times! Pablo Picasso owns a castle further down this road, and he's buried in the garden.
With such wonderful weather, we enjoy hiking national parks and walking around the many historic monuments, swimming & kayaking in the sea, and having long conversations over meals with family and friends.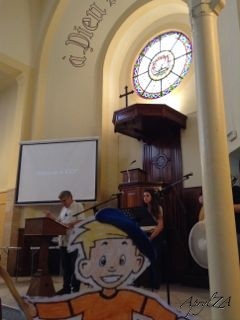 We also enjoy worshiping in English with our friends from all around the world.
Faith looks very different in France than the USA, because it is much more private, and the people have suffered so much bloodshed over centuries of discord. We don't talk so much about Jesus in public the way Americans do; instead, a person is regarded for his actions loooong before any conversation is acceptable. Back to that ‹‹Liberté, égalité, fraternité››, we practice respecting every person for his beliefs—that's the first step in learning from our rich cultural backgrounds, no matter where we come from. The next step is being about to answer the many questions that people ask. I like that the French are such logical thinkers—Philosophy is the national religion, I think— and it's helped me to question and speak reasonably about my own beliefs.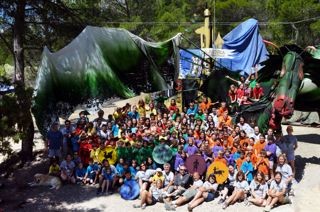 4. What is the weather like where you live?
Provence is the sunniest place in France. Aix boasts 300+ days of sunshine…but with the climate change, it's very hard to anticipate exactly when we'll see the sun. We have 4 seasons, with a very mild winter. It rarely snows here, and when it does, it usually melts in a few hours. The summer sun gets HOT, but it's a dry heat like Arizona—not humid and sticky like the east coast.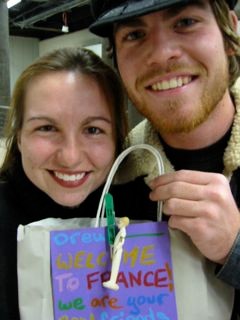 5. Tell us some interesting facts about where you live.
Wikipedia does a pretty good job of presenting Aix-en-Provence. 
Marianne has her own Wikipedia page that I find quite interesting. Even if you don't read French, you can scroll down to where it says ‹‹Modèles›› …It says that no official model exists for Marianne, although the Association of French mayors regularly chooses a French celebrity as a sculpture, and you can click on the links to see the beautiful singers and actresses.
And here's a link to a few other things to do & see in Provence, and this is a link to some of the foods we like to eat in Provence.
I'm not sure what more I can tell you, but I'm open to suggestions! What are your interests? Please drop me a line in the Comments section, and I'll check it out for you...for us ;0)