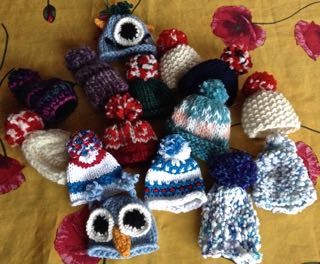 It's knitting non-stop these days as I summon the courage to peddle my latest designs in the Christmas markets of Aix. Sales is not one of my strengths, that's for sure! What's this artist type to do, with all of these ideas and colorways bursting forth continuously, having to divert the creative flow for business endeavors?
One thing leads to another in the design realm, and this busy month brought me here: While waiting for the bus into Aix as my car had her annual revision, I took breakfast at boulangerie Paul. Most café bakeries offer fresh-pressed orange juice, but as fruit is not available by the Coca-Cola company they offered an "Innocent" smoothie. Frankly, I found it a bit thick. Blending it with a yogurt could improve it for me. But back to the events of discovery…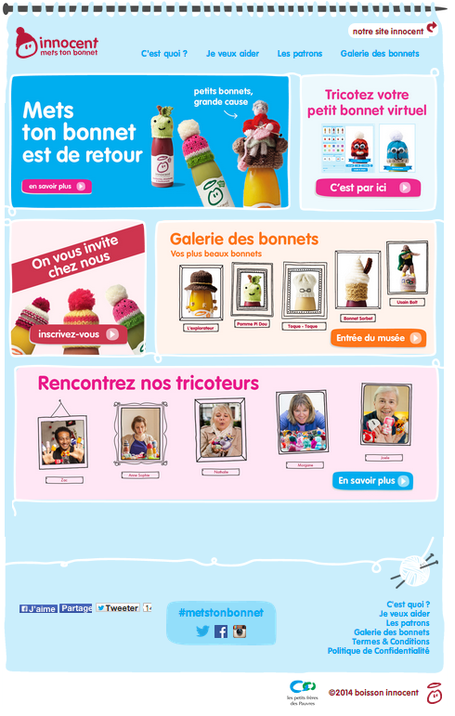 The bottle label reminded me to ‹‹mets ton bonnet›› or "Put a cap on it" before 1 December in aid of Les petits frères des Pauvres (Little brothers of the poor), an association that serves the elderly. For every mini cap they receive, 20 cents goes to the association. Why not convert my old gauge swatches into something more useful, if not adorable?
It's simple: With 4 mm needles, cast on 28 sts and work as you feel compelled for 15 rows. (I used double-pointed needles and knitted in rounds.) The piece should measure 15 cm wide by 5 cm tall. Decrease by k2tog across—14 sts rem. Work another k2tog decrease row, draw the remaining 7 sts together and fasten off. Stitch up the 5 cm sides. Add a pompom or other decoration. Deliver the lot to chez Phildar or post to the address on their website before 1 December.
Following this small distraction provided me with a perfect little sample for testing my latest cap designs and Fair Isle colorwork ideas. And along that route, I rediscovered a book from my knitting resource library: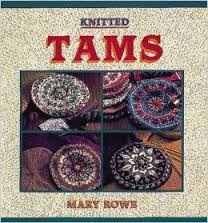 Rowe, Mary. Knitted Tams. Loveland, CO, USA: Interweave Press, 1989. 104 pgs. $12.95 ISBN 0-934026-48-3.
Ms. Rowe admits her fascination for artistic round things— mandalas, plates, clocks, pre-Columbian calendars, and so on—which led her to pursue traditional circular motifs in knitting. When her love of color uncovered classic Fair Isle Tam o'Shanters, the construction of kaleidoscopes provided her with a serendipitous method to graphing one of the tam pattern sections and duplicating for the entire design. She recommends using a teleidoscope for choosing colors and patterns because the spherical lens reflects the colors of the yarns at your fingertips into multi-images.
Book Contents:
1. Tam beginnings: Introduction, short history of tams, the "idea of the tam" (or, what makes it a tam, not a hat or a bag), materials (yarn and equipment), techniques (color-pattern knitting, weaving in, duplicate stitching, reading graphs, tubular cast on for k1p1 rib), abbreviations
2. Tam basics: The basic 10" tam, adding color patterns to the basic tam.
3. Special sizing for basic tams: changing head size, changing the finished diameter of the tam.
4. Wheel patterns for the basic tam: Using the basic pattern graph, designing shapes, more elaborate patterns.
5. Color: Using color, color in Fair Isle patterns, favorite combinations.
6. Variations: Top decrease variations and finishing options, shaping variations and additional sizing information, garland patterns and yoke-type decreasing, wall tams, tam mastery.
7. Summary: The essential tam, tam worksheet
8. Afterward, appendix (border and wheel patterns, color numbers for Shetland yarn, source list), bibliography, index.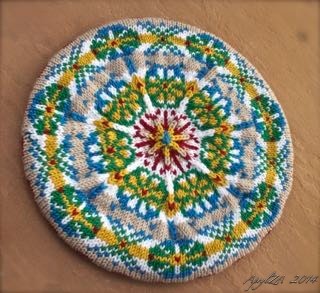 This is not the sort of book that you'd enjoy if you were the type who wants to pick up and go. Rather than a book of tam patterns, Knitting Tams walks us through each step of design and construction so that we are thoroughly capable of creating our own tams by the time we get to page 104. The perfect tam takes thought and planning, and Ms. Rowe gives clear instruction to make that perfectly possible.

            Although each of the parts that make up a tam—everything from start to finish—is contained in standard knitting reference books, this compact guide is thoroughly relevant to its subject. One can easily become a master of the tam after several readings and application of the intelligible directions. Ms. Rowe provides an excellent resource for those who seek to practice technique and experiment with color. Both the photos and line drawings are clear, with enough contrast to distinguish details. If she were to add one element to this blueprint, I'd suggest one simple colorwork pattern, so that the initiate can simply gain the confidence to progress alone.
            Interweave Press seems to distinguish itself in quality printing. After 25 years, my copy is still going strong. The cover and binding remain firmly attached, and the paper (though slightly yellowing) shows no signs of deterioration. Like the line drawings, the font is sharp and clearly readable. This book could easily withstand a turn through the photocopier.
            The Bibliography is enticing. Poor artists copy; great artists steal? Well, here's a hit list of inspiration! Woe that I didn't hang on to my old copies of Thread magazine.
            For the intermediate knitter who's looking to develop his design skills, Knitting Tams is an excellent source of both instruction and inspiration.
            Mary Rowe, of Stevens Point, Wisconsin, has been knitting almost all her life. She is a professional knitwear designer and a member of the Knitting Guild of America. Her tams have been displayed at the International Kaleidoscope Convention and have been featured in Knitter's magazine.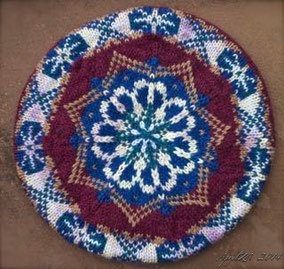 Meanwhile, I'm gradually adding pieces to my etsy site: < https://www.etsy.com/shop/AprylZA >
And, you're right; I do need a business partner.