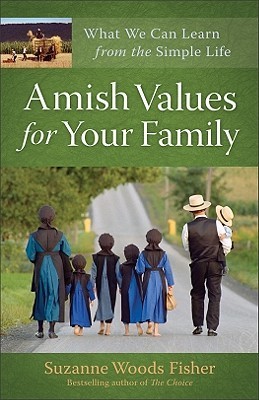 The kind of ancestors you have is not as important as the ones your children have.
Noting that the modern American puts excessive pressure on early-childhood success (in other parts of the world, as well), and families spend less time together than previous generations, Fisher contrasts these destructive trends with the Amish—one of the strongest and most stable family systems in America. The Amish seem to be doing something right, and as the introduction states, "there is much we can learn from these gentle people about raising our families well: To help prioritize what's truly important, to simplify decision making, to slow down as a family, to safeguard time together, and when age-appropriate, to let go. Amish Values for Your Family invites you into Amish farmhouses for a hearty meal, to explore the topic of rearing children who are in the world but not of it."    

Contents:
Acknowledgements, Introduction: The Disappearing Childhood
Section One: Children are Loved but Not Adored (The Rabbit Hutch, The Mud Hole, Workshop Raising, Family Vacations, Too Much Money, Christmas Day, Bill Coleman and a Quilt, Mothers-in-Law, The Christmas Bird Count)
Section Two: Great Expectations (August Pies, Laundry Day, How to Make a Marriage Last, A Teacher's Viewpoint, Snow Day!, Little Boys and Eggs, The Do-Over Boys, The Girdle, Amish in the City, Read Read Read)
Interlude: A Year in an Amish Family
Section Three: Daily Bread (God Doesn't Make Mistakes, Gas Thieves, Sitting on the Front Bench, Calvin and Goliath, Widow Maker, Northern Lights, A Rare Bird, Seventy Times Seven, The Miracle of the Neighbor)
Section Four: Letting Go (Bear!, Chain Saws and Worries, Pastimes, A Dog's Life, Chuck and Henry and Two Eagles, Rumspringa, Singing to Cora, Wedding Season, An Early Good-bye, A Circle of Life)
Epilogue: An Evening of Trivial Pursuit with the Amish, Recommended Reading, Notes
Each are vignettes into various aspects of Amish life. Fisher points out that, interviewing her (both currently and formerly) Amish friends, she asked, "What made your childhood so special?" Their responses helped her to define this simple—not simplistic—lifestyle. And each includes an "In their own words…" current snippets from The Budget, a countrywide Amish weekly published in Sugarcreek, Ohio, since 1890.
            But these are not mere voyeuristic glimpses into a forgotten way of living. Fisher invites us to consider how her reader might incorporate simple changes that can greatly affect life choices. The Amish Proverbs in each lesson are amusing, yet thought-provoking…and sweet nostalgia from my own childhood church bulletins.
            The layout is plain and simple, and the A5 size is rather like a Bible study, perhaps hinting at the meditative nature of its contents. I found the typeset a bit small, so it wasn't very easy to read by lamplight. No, but really, it could do for a starker contrast between paper and letters. The gray "In their own words…" boxes were very hard to read after sunset.
            Naturally, this book is more suited to those who want more of God in their lives, but even for those who wonder why we care, this is a respectful documentation of our humanity. Who doesn't want more love and honor in his life? Here's a good place to start.
Suzanne Woods Fisher is the author of The Choice, The Waiting, and The Search—the bestselling Lancaster County Secrets series. Her grandfather was raised in the Old Order German Baptist Brethren Church in Franklin County, Pennsylvania. Her interest in living a simple, faith-filled life began with her Dunkard cousins.
            Suzanne is also the author of Amish Peace: Simple Wisdom for a Complicated World, a finalist for the ECPA Book of the Year award, and Amish Proverbs: Words of Wisdom from the Simple Life. She is the host of "Amish Wisdom," a weekly radio program on toginet.com. She lives with her family in the San Francisco Bay Area and raises puppies for Guide Dogs for the Blind. To Suzanne's way of thinking…you just can't take life too seriously when a puppy is tearing through your house with someone's underwear in its mouth.
            You can find Suzanne online at www.suzannewoodsfisher.com.