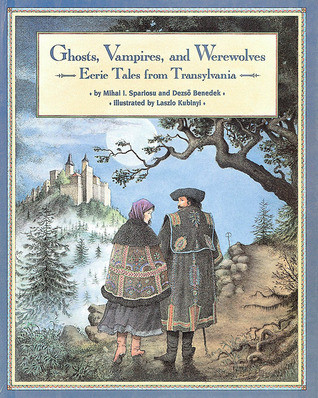 I was curious about Mihai Spariosu's writings, and have to admit that titles such as Mimesis in Contemporary Theory: An Interdisciplinary Approach: Volume 1: The Literary and Philosophical Debate or Countercurrents: On the Primacy of Texts in Literary Criticism are intimidating both intellectually and financially.
What fun to find this gem!
Ghosts, Vampires, and Werewolves: Eerie Tales from Transylvania
Spariosu, Mihai I. and Benedek, Dezsö; illustrations by Kubinyi, Laszlo.
New York: Orchard Books, 1994
ISBN 0-531-06860-9
Contents:
Acknowledgements, Introduction
Part One: Ghosts, Vampires, and Werewolves (The White Cross, The Forest, The Bitang, The Jealous Vampire, Special Delivery)
Part Two: Haunted Treasures (The Three Partners, The Gypsy Fiddlers, The Female Snake, The Six-Fingered Hand, The Red Rose, The Ancient Fortress)
Part Three: Eerie Fairy Tales (The Dark Stranger, The Red Emperor's Son, The Wheel of Fire, The Wicked Queen, The Stone Statue)
About the Stories, Further Reading
North Americans imagine Transylvania as the eerie home of vampires and werewolves. Who hasn't heard of Count Dracula? Bram Stoker's infamous character was based on the 15th century Wallachian prince, a.k.a. Vlad the Impaler, who it seems was not a vampire, after all. But the tradition of storytelling runs deep, and Spariosu and Benedek do well to keep that alive. What better reward for a day of hard work with the family than a hot meal and a good story to round out the evening? We can't change the fact that my parents' generation and mine turn to the TV for our entertainment, but we can honor those who've gone before by reviving their tales.
This book helped me to have the Best Halloween Ever, all alone on a dark and stormy night. (Yes, it really was!) I absolutely despise horror movies. They leave nothing to the imagination, and wallow in gore. Who needs that? I much prefer the visuals drawn up in my own mind, brought to life by great writing. These words summoned up long forgotten people and places from my childhood. The Pennsylvania Dutch have some great stories, too, and are well worth recalling.
…Which is probably why my favorite part of this book is the "About" section…Mihai's great-aunt was a mined her own gold?! This is just one hint that both authors have an endless treasure chest of great stories tucked away. I hope they can be persuaded to record their own memoires!
My copy was bought for a small price on amazon, and although the dust jacket is a tad faded and worn, the hardbound edition is in excellent condition. It has a sturdy binding and stitching. The type is large and the paper is thick—it would be very happy in a library. (I don't understand why children's books have larger font when their eyes are so much better than my well-read ones…unless if this is designed for grandparents reading aloud? Oh, that's awesome!)
Mihai I. Spariosu was born and grew up in Romaia. Since emigrating to the United States, he has taught at several universities. He is now a professor of comparative literature at the University of Georgia. He has written or edited several books, including a collection of stories for children published in Romania. He lives near Athens, Georgia.
Dezsö Benedek currently directs a University of Georgia program in Tokyo (or he did in 1994). His academic work in cultural anthropology and comparative literature has taken him all over the world since he left Romania. His most extensive project involved several years studying the Yami, who preserve a  "Stone Age" lifestyle on the small island off Taiwan.
Laszlo Kubinyi's family's roots in a province of Hungary bordering on the Transylvanian Mountains were a source of inspiration for this book. Prior to this one, he illustrated Come Go with Me. He lives in Teaneck, New Jersey.