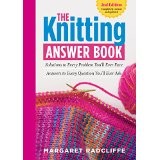 What an honor to review this new edition of a great reference guide! It's a happy start to another year of wooly wonderfulness. Would that all my tangles come with this reassuring claim:
"Solutions to Every Problem You'll Ever Face
Answers to Every Question You'll Ever Ask"
There's no point in reinventing the wheel—or in our case, circular knitting—so it's best to have a trustworthy resource:
Margaret Radcliffe compiled this second edition of The Knitting Answer Book with a reminder of the online explosion of resources in these last 10 years. Despite the changes, the essentials of knitting are unchanged. Therefore this rewrite includes additional techniques that weren't included in the first edition (the "Magic Loop" for instance), as well as expansion of sections, and updated resource lists.
Radcliffe is prepared to answer questions from all skill levels with detailed step-by-step instructions, and a reminder that there's rarely only one right way to do something.
I've got my own trusty copy of the 400-page first edition for comparison…
The only difference I see in Chapter 1 is that the lilac-tinted tip box is a shade paler, making the contrast of work to background that much easier to read. (Although I am comparing it to an Adobe Digital Edition.) I'm pleased with the font size, and clear white pages. Of course, a digital edition is easily tucked into the tablette, but I still prefer a proper book. Hopefully, the new version is the same tidy size as the former—perfect for teaching small groups. The cardboard cover with cloth spine is holding up well, even if slightly wrinkled.
Ah-ha! Here's a new trick: The Purled Long-Tail Cast On in Chapter One. By golly, I've been so used to working around the knitted long-tail, that this may already be worth the price of a new copy!
Also new is a discussion and instruction on Mirror Knitting and Knitting Backwards, the Russian method of joining new yarn, and some expanded answers such as "Q: There's a knot in my yarn. Is it okay to knit it? A: No! Cut out the knot or problem spot and treat the ends as if you were joining a new ball of yarn," is further explained with: "…Knots tend to pop out to the front of the fabric and when they do are very noticeable." (Who amongst us have ever believed we could beat the odds? Hands up!)
As I skim through my paper edition, I realize that the whole book is worth detailed study—not just checking the index when I have a question. There are so many techniques that I simply take for granted, I don't bother to understand what and why or what else? There's so much for me to learn here! No matter which edition you manage to get your hands on, this is an excellent reference for every knitter.
There is more wealth in books... post card
by
AprylZA
Browse more Vintage Postcards at
Zazzle
A (Vintage) Binder Full of Women
by
AprylZA
Design unique
custom printed 3 ring binders
online at Zazzle.
NOW LOOK HERE, GEORGE, IF THERE'S ANY MORE OF THAT CANVAS BAGS
by
AprylZA
Create a
bag
at zazzle.com
Contents:
What's Your Question?
Chapter 1: Casting On (Basic Cast Ons, All about Casting On, Special Cast Ons, Provisional Cast Ons, Solving Cast-On Problems)
Chapter 2: The Basics (The Knit Stitch, The Purl Stitch, Hows & Whys of Knits and Purls, Stitches, Rows, and Counting, Tips for Lefties, Discovering Your Personal Knitting Style, Twists and Turns, Solving Problems with Knitting and Purling, Fixing Mistakes, The Slipped Stitch, Edge Stitches, The Yarnover, Personal Factors, The Big Picture)
Chapter 3: Binding Off (Standard Bind Offs, All about Binding Off, Solving Bind-Off Problems, Special Situations)
Chapter 4: Tools (Knitting Needles, There's More to Knitting than Needles)
Chapter 5: Yarn (Yarn Labels, All about Yarn, Working with Yarn, Solving Yarn Problems)
Chapter 6: Reading Patterns (Sizing, Gauge, Measurements and Schematics, Materials and Tools, Abbreviations and Charts, Knitting Instructions, Solving Problems with Knitting Patterns)
Chapter 7: Pattern Stitches (Basic Pattern Stitches, Special Stitch Manipulations, Working with Pattern Stitches, Solving Pattern Stitch Problems, Cables, Lace)
Chapter 8: Circular Knitting (Getting Started with Circular Knitting, Solving Circular Knitting Problems, Casting On in Special Situations, Gauge in Circular Knitting, Working Circularly, Changing Colors in Circular Knitting, Pattern Stitches in Circular Knitting, Binding Off in Circular Knitting, Converting Flat Knitting to Circular)
Chapter 9: Color (Choosing and Using Colors, Multicolor Cast Ons, Stripes, Stranded Knitting, Mosaic Knitting, Intarsia, Variegated Yarns)
Chapter 10: Shaping (Increases, Decreases, Special Situations)
Chapter 11: Fitting (Before You Begin, While You Work, After You're Done, Solving Other Problems with Fit, Short-Row Shaping)
Chapter 12: Finishing (Blocking, Sewing Up, Solving Seaming Problems, Kitchener Stitch, Borders, At Loose Ends, Solving Problems during Finishing, Wash and Wear)
Chapter 13: Embellishments (Beads, Bobbles, Cords, Straps, Pompoms, Tassels, and Fringe, Duplicate Stitch)
Resources
Acknowledgements
Index
From amazon.com:
A knitter for 50 years, a designer for 30, and a teacher for 25, Margaret Radcliffe is the author of the bestselling Knitting Answer Book (Storey Publishing, 2005), The Essential Guide to Color Knitting Techniques (Storey Publishing, 2008), Circular Knitting Workshop (Storey Publishing, 2012), and The Knowledgeable Knitter (Storey Publishing, 2014). In 1997, Margaret founded Maggie's Rags and publishes a line of knitting patterns under that name.
Margaret's books explore knitting techniques in a depth well beyond what's usually presented and do so in a way that makes both the techniques and their appropriate uses clear to readers. As a designer, her specialty is rewarding garments that look complicated but rely on the simplest knitting techniques. As a publisher, she focuses on patterns that help knitters learn new techniques and improve their skills. As a teacher, Margaret enthusiastically teaches everything from beginning knitting to garment design, and is acclaimed for her ability to help all knitters to become independent and creative.
Margaret's many teaching venues include the John C. Campbell Folk School, The Knitting Guild Association (TKGA), The National Needlearts Association (TNNA), The Madrona Fiberarts Winter Retreat, Webs, cruise ships and windjammers, and shops and fiber guilds across the U.S. and occasionally in Canada.
For more information on events and knitting patterns visit < http://www.maggiesrags.com >