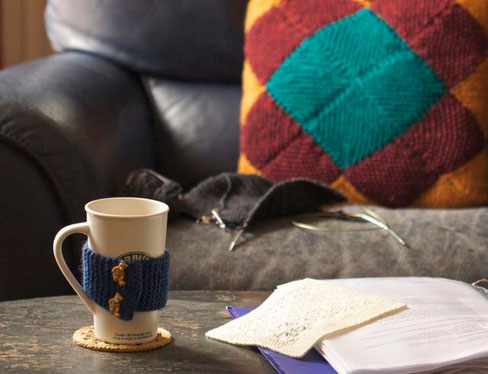 ...and Beyond...
Join Apryl Anderson as she helps to unravel the mysteries of creating your own knitted creations.
We'll start with a coffee mug cozy, make a cushion cover (or satchel), and step into design possibilities to send you knitting gracefully into the next term break.
4 two-hour sessions, Monday afternoons
14h00-16h00, starting 9 March 2015
 at English Bubble, 453 Ave. Jean-Paul Coste, 13100 Aix-en-Provence 
50€ reserves your spot & materials and 100€ is due on the 1st day of class.
Next 4-week session: Monday afternoons, 9/16/23/30 March 2015
Materials provided in class:
·      Wool for Mug Scarf, Patchwork Cushion, Tension Squares
·      2 buttons for mug scarf; 3 buttons for patchwork cushion
·      Circular knitting needles size 5 mm
·      Tapestry needle
·      Printed Instructions
·      List of Reference Books & Resources
Required Materials not provided:
·      Project carry-all
·      Tool Kit with scissors, ruler (preferably both inches & cm), tapestry needle, pen & notepad
·      Binder
Class 1: (project: Mug scarf)
·      Reading a pattern
·      Cast On & Bind Off
·      Knit and Garter Stitch
·      Yarn over, k2tog, ssk
·      Buttonholes
Class 2: (project: Patchwork Cushion)
·      Purl stitch
·      Combining Knit & Purl: Stockinette
·      Ribbing & Seed Stitch
·      Increases
·      Decreases
Class 3: Tension Squares/Gauge Swatches
·      Seaming (Mattress St, etc.) finish Cushion
·      More Knit/Purl Combinations for textures
·      Working with multiple pattern repeats
·      Blocking & Tension
Class 4: more Tension Squares and setting up a design
·      Color work
·      Cables
Lesson 1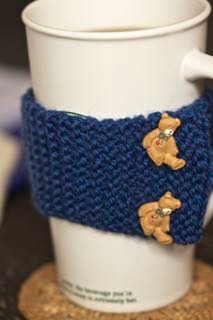 Lesson 2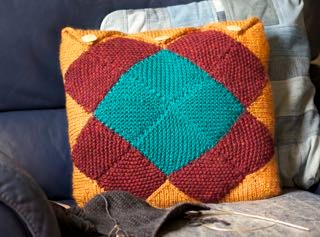 Lessons 3 & 4
Cancellation Policy:
English Bubble agrees to give 5 days notice of cancellation, if cancellation is necessary due to low class enrollment or other conflict. If Apryl must cancel due to unexpected events (such as illness, a death in the family, etc.), she will give as much advance notice as possible and reschedule as agreed to with English Bubble. As the student deposit defrays the cost of materials, it is non-refundable. If the student is unable to attend a class, it may be possible to attend a make-up session at a later date. Course fees are non-refundable.
Phone your friends and wake your neighbors!