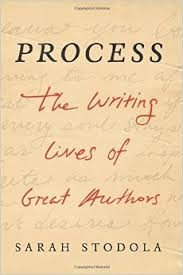 These e-readers are a love/hate thing for me. Ever since I was a teeny reader I'd get dry, tired eyes from not taking the time to blink.  I simply didn't want to miss anything. For the same reason, I eventually gave up wearing contact lenses. (Well, that and my affinity for rubbing my eyes not long enough after slicing chili peppers.)
Reading for netgalley.com is wonderful and terrible: FREE BOOKS!!! 'Nuff said, am I right? So, here's a glimpse at what I discovered in Process: The Writing Lives of Great Authors:
There is more wealth in books... post card
by
AprylZA
Create unique
personalized photo postcards
at zazzle.com
Mightier Than the Sword Post Cards
by
AprylZA
View more Oil Postcards at
zazzle.com
Process: The Writing Lives of Great Authors
by
Sarah Stodola
My rating:
4 of 5 stars
Stodola did impressively extensive research on a few of her favorite authors—both living and dead—to disclose their writing methods. I hoped to find the answers to what makes me a closet writer (not writing anything of substance, not that I write in closets, although that's certainly worth a try). As a result, I encountered the collective individuality of 18 people. There really is no "best" way of doing; only that they do. Some get up early; others stay up late. Some write in crowds; others prefer to work alone. Some knew that at an early age, while others realized they were writers by becoming authors. The depth and breadth of personal method fascinates! In reading of others' processes, we are more likely to take note of our own—what works and what doesn't.
View all my reviews
CONTENTS
Foreword by Noah Charney, PhD.; Introduction;
Nine-to-Fivers (Franz Kafka, Toni Morrison), Productive Procrastinators (David Foster Wallace, Richard Price), Autodidicats (Edith Wharton, George Orwell), Plotting Ahead (Virginia Woolf, Vladmir Nabokov), Winging it (Salman Rushdie, Joan Didion), The Author as Protagonist (Jack Kerouac, Ernest Hemingway), Slow and Steady (James Joyce, Junot Diaz), The Social Butterfly and the Lone Wolf (F. Scott Fitzgerald, Philip Roth), Two Takes on the Digital Age (Margaret Atwood, Zadie Smith); Acknowledgements; About the Author; Notes.
Sarah Stodola grew up in Kentucky and now lives in New York City. Her writing has appeared in the New York Times, Wall Street Journal, Daily Beast, Awl, and others. She founded the literary journal Me Three and served as an adjunct scholar for Lapham's Quarterly. She is currently the editorial director of Strolby.    

You can purchase the book here: