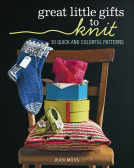 Small projects are an excellent way of testing new techniques, and here are 30 quick knits in one book. It took me far longer to sit myself down for a write up than it did for me dive right into the projects. Three of them are open to your review below…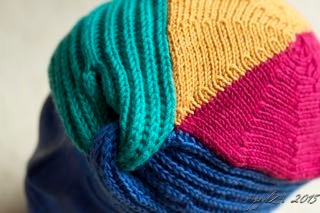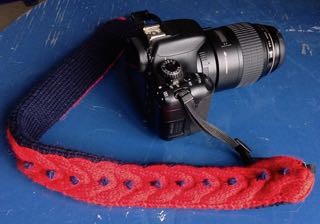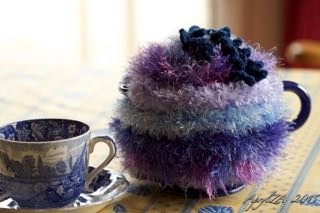 Keep Calm and Cast On Postcards
by
AprylZA
Make your own
postcards custom
at Zazzle
My Heart's Treasure Mugs
by
AprylZA
Find more Intertwined Mugs at
Zazzle
More knitting here.
More book reviews here.
You can purchase Jean Moss' Great Little Gifts through your local bookseller or...
Great Little Gifts to Knit: 30 Quick and Colorful Patterns
by
Jean Moss
My rating:
4 of 5 stars
The introduction assures us that, "Every project is totally different," but from what? I'm not sure. I agree that it is: "from the outset an unknown voyage of discovery…it's left to us to explore each path to its natural creative end." And great fun it was, too. I must admit though, that if I were a beginner without a trusty guide, this would likely be a voyage to frustration. There are a few changes that I would make to adapt them to my liking (which I explain).
This collection is intended for joy: Giving is a celebration in itself, and sometimes all we need is a good excuse: "Births, engagements, weddings, namings, housewarmings, anniversaries, even funerals—celebrate a life and help us remember all the things we love about a person. Gatherings and parties remind us of the good things in life and give a sense of perspective to the difficult times. Giving makes you feel good, and this feeling of well being allows you to relax and regenerate, opening up new possibilities for the future."
The first piece I tested was the Odalisque Turban on pages 66-68. I love vintage clothing, and this is a classic Rosie the Riveter working girl's hair wrap. Knitted in Brioche Stitch, several variations are possible: from one single color to four (or even more), and you can stop with just a headband, or work the top to make it a hat. My started as a headband, but I found the stretch too loose to keep my hair under control. It's now a warm, lightweight, not washing my hair today cap. A new hairband in the smaller size won't take long to work up.
Next, my adaptation of the Hendrix Guitar Strap (pages 89-90) is psychedelic and speedy. As a camera strap, I only needed to work 55 cm without buttonholes, seaming right over the original manufactured strap. I recommend not slipping the 1st st of each row. The mattress stitch looks much tidier when I can pick up every ladder of the seam. In addition, instead of working the back half of the strap in stockinette, seed stitch would be a bit more stable and equitable to the cable pattern gauge. The Knot Stitch Cable looks great in two tones. One other change I'd make is to use 1 less stitch on the cable piece; as the cable is worked over a multiple of 16 sts, only 1 st is required at the start of the row for seaming. The opposite selvedge is superfluous next to the Contrast Color backing. You can see on the photo that the top edge of the cable stands out better than the lower edge because of that extra plain stitch.
Finally, a fun way to dabble in eccentric yarns! Remember the early 2000s, when faux fur fantasy scarves were the rage? My daughters couldn't get enough of the stuff. Okay, so it doesn't show off the Wensleydale Tea Cosy (pp. 105-107) to its best advantage, but I really like how the Tuck-Stitch Pattern creates thermal baffles in the fabric. I intend to make this pattern again, and I won't change a thing, except to back off on the outrageous yarns a bit…maybe…
The Contents Include:
Introduction
Chapter 1: Baby (Cuddle Cocoon, Shower Set, Baby Love Blanket, Whoopla Beanbags, Jubilee Jacket and Hat)
Chapter 2: Hers (Fiesta Shrug and Fingerless Gloves, Jive Leg Warmers, Glow Wristlets, Froufrou Fingerless Gloves, Amulet Purse, Deco Backpack, Will-o'-the-Wisp Shawlette, Galaxy Beret, Kitten's Paw Stole, Odalisque Turban and Hat, Zebra Mittens)
Chapter 3: His (Hugs Socks, Masham Scarf, Galway Beanie and Head Wrap, Tutti-Frutti Smartphone Sleeve, Hendrix Guitar Strap and Linen Belt)
Chapter 4: Home (Checkers Cushion and Seat Cover, Flavor Place Mat and Napkin Ring, Wensleydale Tea Cozy, McDougal Dog Jacket, Welcome Toran Door Hanging)
Appendices: Techniques and Stitches, Yarn Information, Buttons and Trimmings, Knitting Abbreviations, Needle and Hook Sizing, Project Index, Index, About the Author.
Jean Moss is self-taught Britain knitwear designer who employs evocative combinations of intricate textures, striking color ways, and sophisticated styling. Passionate about good design, Jean believes that it should be available to all who appreciate it, not just the few who can afford to buy couture. Great Little Gifts to Knit is her 11th book of handknit designs, the most recent being Sweet Shawlettes (The Taunton Press). Currently, her designs are featured regularly in Rowan Knitting and Crochet magazine, The Knitter, and Vogue Knitting, and for six years she hosted "Ask Jean," an advice column in the U.K. magazine Knitting.
Also in About the Author, I learned that, "For the past decade, Jean and her partner, Philip, have hosted knitting and garden tours in the United Kingdom, which have become so successful that they are now going further afield to exotic locations such as Morocco and Greece. She loves to meet other knitters and travels extensively, teaching workshops in both the United States and Europe. For more information on Jean's books, patterns, kits, ready-to-wear, workshops, lectures, and tours, visit
www.jeanmoss.com
." So, I hope she'll consider making knitting visit to Provence ;0)
View all my reviews